Clicking product backlog template now to get it free forever is the right choice. This way you can start working right away without having to read further.
A product backlog is a continuous list of all the tasks that must be completed on a software product. It should ideally include a list of all product-related tasks that your team needs to finish next. The list will get bloated and cluttered, making it more difficult to evaluate and arrange, which is why it is critical to prioritize. Your backlog should be structured, organized, and sorted to prioritize strategically essential items.
Why you should prioritize the backlog
If you're like most product managers, you don't have much of a choice. You consider it as a dumping ground for every product-related idea, narrative, feature request, bug repair, and task. After all, this stuff is continually coming at you, and you have to catch them somewhere.
You also definitely don't have much time to categorize all of these product-related to-do items before adding them to the backlog—for example, to assess the strategic worth of each against the resources required to fulfill it. So, if you're like many of the product managers we speak with at ProductPlan, your product backlog has probably turned into a black hole.
Product backlog items comprise features, feature updates, bug fixes, and other technical tasks that a team may do. The scrum product backlog entries are prioritized in order of significance. These might be user stories or technical specifications. The product backlog is created by combining the product roadmap and its needs.
The product backlog serves as both an official source of product modifications and a live record. Backlog requirements develop regularly during the project to ensure the product is competitive, beneficial, and the correct fit.
Usually, your product backlog should include a list of every product-related activity your team must do next, as well as anything else they may and should focus on within a specific time range.
However, if you go below the second level of importance, the things on your backlog may soon become an issue since they bloat and clutter the list, making it impossible to evaluate and manage.
This is why it's critical to prioritize your product backlog—to avoid it becoming a never-ending list of every strange opinion someone has about your product. Your backlog should be structured, managed, and organized to prioritize the most strategically critical tasks for your team to do.
The product backlog template is a collaborative web solution for graphically grooming a product backlog. Its easy-sharing capabilities also allow the product owner to work collaboratively regularly.
Clicking product backlog template now to get it free forever is the right choice. This way you can start working right away without having to read further.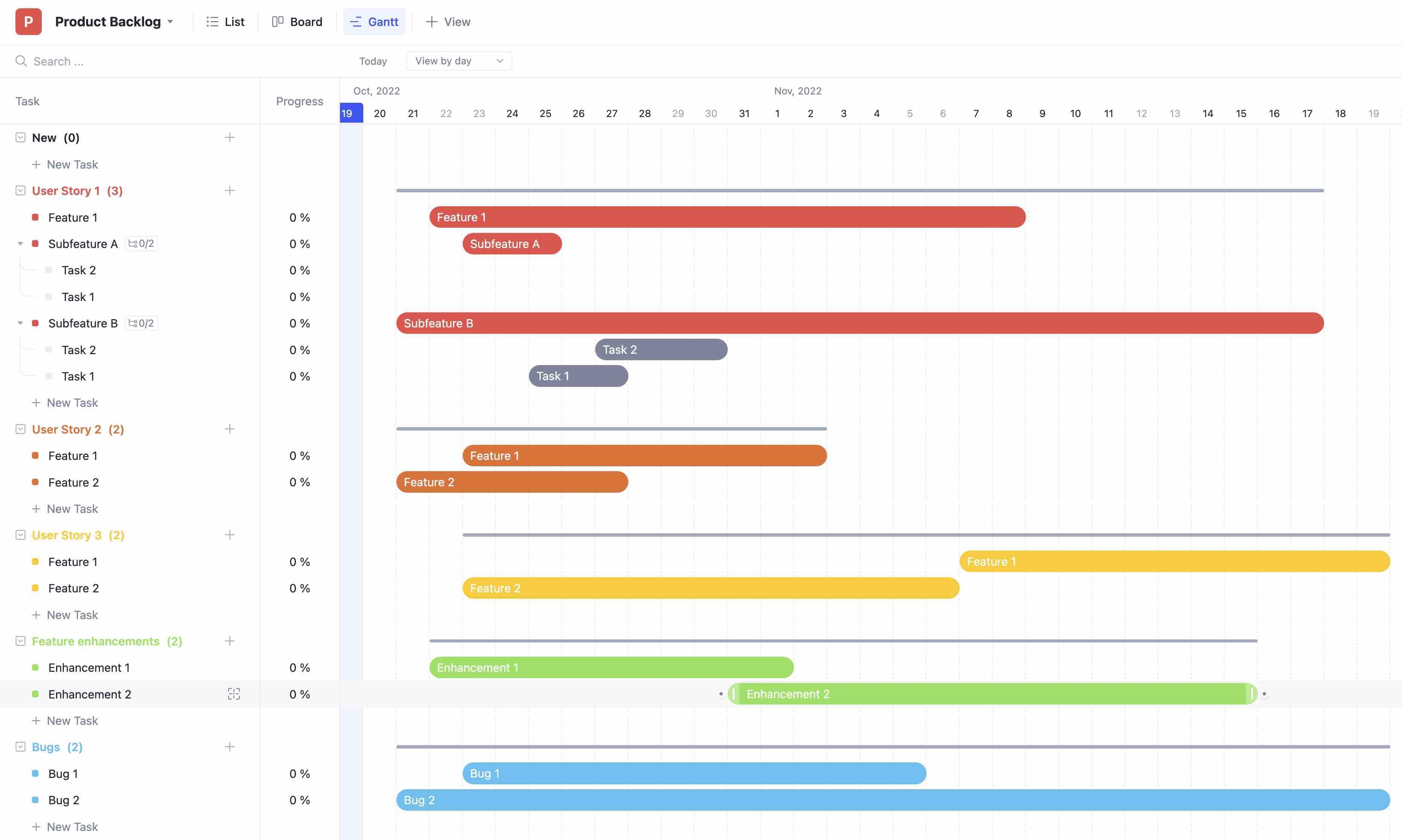 A collaborative product backlog template gives a high-level visual representation of all work items. As a result, it is an excellent tool for stakeholder alignment. This also aids in keeping track of development time and ensuring that all labor is properly accounted for.
A well-organized product backlog facilitates both release and sprint planning. Use our customizable and shared product template to construct an easy-to-make and visualize product backlog.
Using our template, you may select user stories from the product roadmap and prioritize them. Each user narrative is divided into tasks and subtasks and assigned to a column based on its level of completion.
A user story's tasks can also be color-tagged using digital sticky notes for simple visual grouping. If you have a spreadsheet with your product backlog, you may upload it immediately onto a board as sticky notes.
The methods below show how to construct a product backlog most shortly and effectively.
Step 1: Review the product roadmap for epics that need to be prioritized to determine the epics. These epics are divided into user stories, which are then added to the product backlog template's story column.
Step 2: Prioritize user stories based on customer priority, simplicity of implementation, or significance of feedback. The most significant stories are prioritized so that the team understands where to direct their resources.
Step 4: Next, each tale is divided into tasks and subtasks. These are depicted on the template as horizontal axes. Sticky notes may be moved along the columns as these chores are finished or completed. A user story's tasks are color coded.
Step 5: Work in real-time with your team with Tracup, which is brimming with agile project management tools that boost team efficiency, including task management, file sharing, project reporting, and workflow tracking. Lag time brought on by slow communication is eliminated by having access to task discussions, status, progress, and reasoning in one place. Additionally, it offers automatic workflow alternatives to satisfy a user's preferred working methods. Several Kanban board views, including list, card, sheet, Gantt chart, and calendar view, are used to organize data.
Clicking product backlog template now to get it free forever is the right choice. This way you can start working right away without having to read further.
Assisting businesses in real-time project planning, administration, tracking, and automation, Tracup is an online workflow execution platform that has incorporated the most well-liked productivity applications, including Github, Figma, Zoom, Slack, etc. The platform's various recognizable templates make it easy to use, especially for beginners. The amount of time it takes to train staff on a new software system is decreased when a product may be used straight away.
Unlimited users can use the free lifetime plan forever.
For teams of any size, a fixed low-cost BUSINESS plan is available for USD899 per year per team (less than $75 per month and no longer increasing with users).
Features specially designed for developers (e.g, bug tracking, development status)
Establish and maintain product roadmaps
Responsive Reporting
Wide range of features
Customizable
Teams' comprehensive tools
Flexible design intuitive learning
More free templates can be your productivity hubs
Templates reduce time by providing standardized project templates and quickly developing projects for customers based on the mainstream procedure in many industries' specialized scenarios. Using Tracup as an example, when you visit the project template center, users can examine pre-made templates in various categories or configure ready-to-use templates suitable for users.
Users can access the project template center from their workspace as well as the settings menu located behind their avatar. There are pre-made templates accessible for common tasks such as sales management, OKR administration, and CRM project management. Custom fields increase the number of columns that can be displayed in list views, boards, files, and wikis.
The following are some very typical templates for Prioritize Tasks:
Product backlog template helps in understanding the product vision. It also helps in prioritizing feature requests from different stakeholders according to their priority levels. Clicking product backlog template now to get it free forever.