Gain insights into your team's performance and use data to make quick and informed decisions that will lead to better results. Whether you're looking to improve internal processes or produce better results, online project collaboration tools can be your key to improved efficiency and productivity.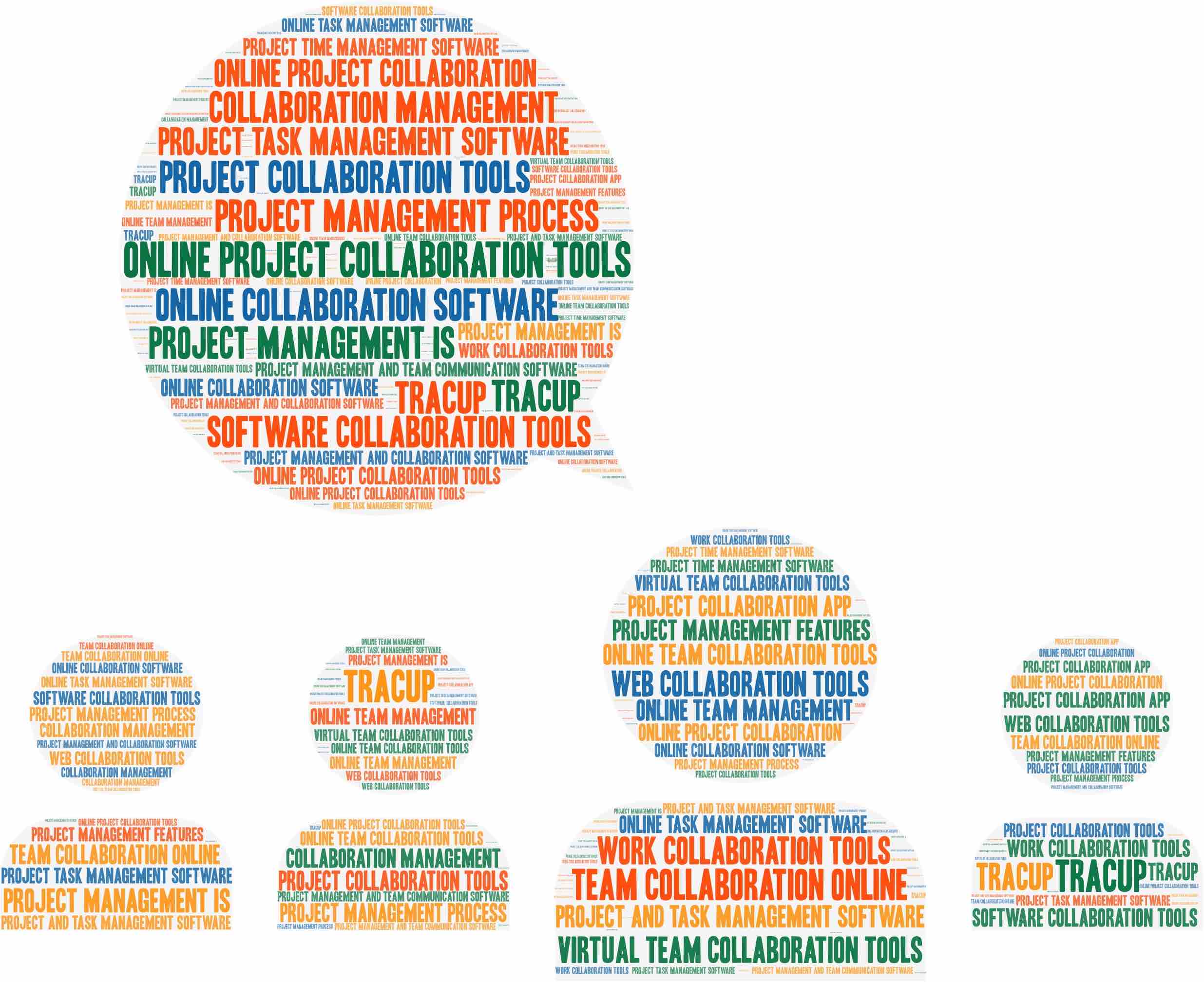 A good project outcome in the Information and Technology era frequently requires multiple teams to collaborate and good information sharing. A good collaboration platform not only supports the work of the participants but can also be a powerful management tool for team leaders. At Tracup, the project overview can provide managers with a comprehensive view of the program.
Online project collaboration tools offer a range of benefits to businesses of all sizes. It can help improve efficiency, reduce costs, increase productivity, and streamline collaboration between team members. From project tracking and scheduling to task management and resource allocation, online project management software helps you better manage your projects, enabling greater success.
Online project collaboration tools are software solutions that enable teams of people to work together over the internet on a single project. They allow remote workers to collaborate on projects from across the globe in real time, eliminating the need for physical meetings and other traditional forms of communication.
These tools provide users with a wide range of features, such as instant messaging, file sharing, task assignment and management, document editing, and other collaborative features. They also provide teams with a platform for sharing and distributing research materials, as well as a means for creating virtual workspaces.

These tools are especially useful for distributed teams. By leveraging online collaboration tools, these teams can work together on projects more efficiently than ever before. Instead of having to schedule physical meetings, these tools allow different team members to collaborate in real time, regardless of their physical location.

Online collaboration tools are also useful in the classroom, allowing teachers to upload assignments and resources, monitor student progress and engage in productive discussions with their students in real time. They also allow educators to easily access data about the work their students have been doing, enabling them to better assess the effectiveness of their teaching methods.

These collaboration tools are also popular among business owners and entrepreneurs. They offer a range of powerful tools for creating virtual teams and managing projects, allowing users to stay organized, keep track of tasks and progress, and analyze data related to their projects. By leveraging these collaboration tools, business owners and entrepreneurs can better manage and track the progress of their projects and coordinate activities in real time.

Online project collaboration tools offer numerous benefits to users. They enable teams to work together on projects more effectively, no matter where they are located. They also allow users to access documents and file-sharing options and make it easier to have productive conversations in real-time. Furthermore, they provide a platform for tracking the progress of projects and allow for data-driven decision-making.
By leveraging online project collaboration tools, teams are better equipped to assess, monitor, and manage complex projects. Working asynchronously with remote team members and contractors is easier than ever, and teams can ensure that tasks and information remain up-to-date. Team members can also share ideas and collaborate more efficiently, resulting in higher-quality projects. As the demand for remote teams and distributed workplaces continues to grow, the use of online collaboration tools is increasingly becoming the norm for team collaboration.
Organizations today have become increasingly complex, which means it can be difficult to track every project. To ensure projects are completed on time and within budget, many organizations are turning to project management software. This software offers a wide range of benefits for organizations that want to remain competitive and efficient.
Improved Collaboration: Organizations that use online project management software can more easily collaborate among teams and individual members. This is because project management software allows users to communicate quickly and easily share updates and documents. Project management software also allows users to assign tasks and keep track of workloads. As a result, team members can be kept on the same page and important tasks can be completed more quickly.

Streamlined Workflows: Online project management software can help an organization streamline its process by eliminating the need to manually track tasks and progress. This can improve the efficiency of the organization's processes by cutting down on the time it takes to monitor the project. Additionally, project management software makes it easier to identify any areas of inefficiency and create changes to increase productivity.

Improved Resource Management: Project management software allows organizations to easily allocate resources to projects. This can include human resources, capital, material, and other resources. With the right software, organizations can easily track the use of these resources and ensure they are used cost-effectively. Additionally, project management software can make it simpler to identify areas where resources can be redistributed or where more resources are needed.

Better Visibility: With project management software, organizations can get a better view of their projects. This is because project management software can provide a comprehensive overview of the project timeline, tasks, and progress. This information can be used to determine how the project is progressing and identify where it may need to be adjusted. Additionally, project management software can be used to generate reports that better help organizations track their progress.
Project management software can provide organizations with a wide range of benefits. With improved collaboration, streamlined workflows, improved resource management, and better visibility, organizations can become more competitive and efficient. By using project management software, organizations can track and monitor their projects more effectively and quickly identify areas of improvement.
3. Streamlining Project Management Processes
Project management is essential to a successful business, as it allows you to efficiently manage resources and properly manage timelines to keep projects on track. However, managing projects can be time-consuming and complicated. Streamlining your project management processes can help to simplify the process and maximize productivity.
Tracking & Scheduling Projects: Tracking and scheduling projects are the first steps in streamlining project management processes. Properly tracking and scheduling allows you to easily keep track of deadlines and milestones as well as identify any risks or issues that may arise. Project tracking and scheduling software allow you to easily create detailed project schedules and track progress against them. By having an accurate view of task completion, you can adjust project timelines and ensure that deadlines are met.

Resource Management: Resource management is a key part of project success, as resources are needed to successfully carry out tasks. Streamlining your resource management process can help to ensure that resources are allocated efficiently, so projects can be completed without delays. Resource management software can help you to easily manage and track the resources allocated to each project, as well as monitor and control the costs associated with each resource.

Collaboration Workspace: Having a centralized workspace for collaboration is essential to streamlining project management processes. By having a collaborative workspace, team members can complete tasks more efficiently as they can easily communicate, share documents, and manage projects. Collaboration tools also allow for greater visibility into project progress, so project managers can quickly identify and address any issues that arise.
By streamlining your project management processes, you can ensure that projects are completed on time and within budget. This can help to ensure long-term success in all aspects of your business.
4. Enhancing Productivity
Tracup is an innovative online project management system (OPMS) designed to help individuals and teams work better together, improve productivity, and be in complete control of their projects. It is an all-in-one platform that enables users to seamlessly manage projects, teams, tasks, deadlines, and more.
With Tracup's intuitive dashboard and drag-and-drop functionalities, users can create, organize, and manage their tasks and projects in any order they prefer. Tracup also provides real-time reports and analytics that can be used to track progress and view task performance throughout the project. In addition, users can keep their projects organized and under control with flexible controls and features that enable them to determine who can access and edit information.
All of this makes Tracup a powerful and efficient tool that helps users get their projects done faster and more efficiently.
1) Overview and Comprehensive Reporting
Project Overview Reporting is an essential aspect of any project management software system. You can create a custom report from scratch or use our pre-built templates to get started quickly. Once you're comfortable with creating reports, you can start using them in real projects.
A project management overview describes the project's goals, scope, timeline, and budget. It also includes the roles and responsibilities of those involved in the project, and it contains numerous sections that are required for project management of any type. A general idea of what it should include is as follows:
What actions will be taken? What exactly are the goals?
When does the project begin and end?
What could go wrong with this project, and how can it be avoided?
The monitoring and controlling of project management overview are where all project-related information is gathered and organized so that it can be used to make decisions, and where the project manager determines whether or not the project is on track. This stage can be completed by using metrics to determine whether or not the project is on track, as well as by holding meetings with various team members.
The consequences of remote working patterns in the post-epidemic era are far greater than people anticipated. Many multinational corporations, such as Microsoft, have issued numerous new guidelines allowing employees to work remotely on a permanent or temporary basis. It is especially important in this context for team members and managers to implement effective team project management rationally and effectively. Tracup, as one of the industry's leading platforms, is dedicated to providing effective team collaboration solutions.
At Tracup, a complete teamwork approach is provided. The platform not only includes features for developers such as task lists and file sharing but also provides team leaders with an overview of the entire project.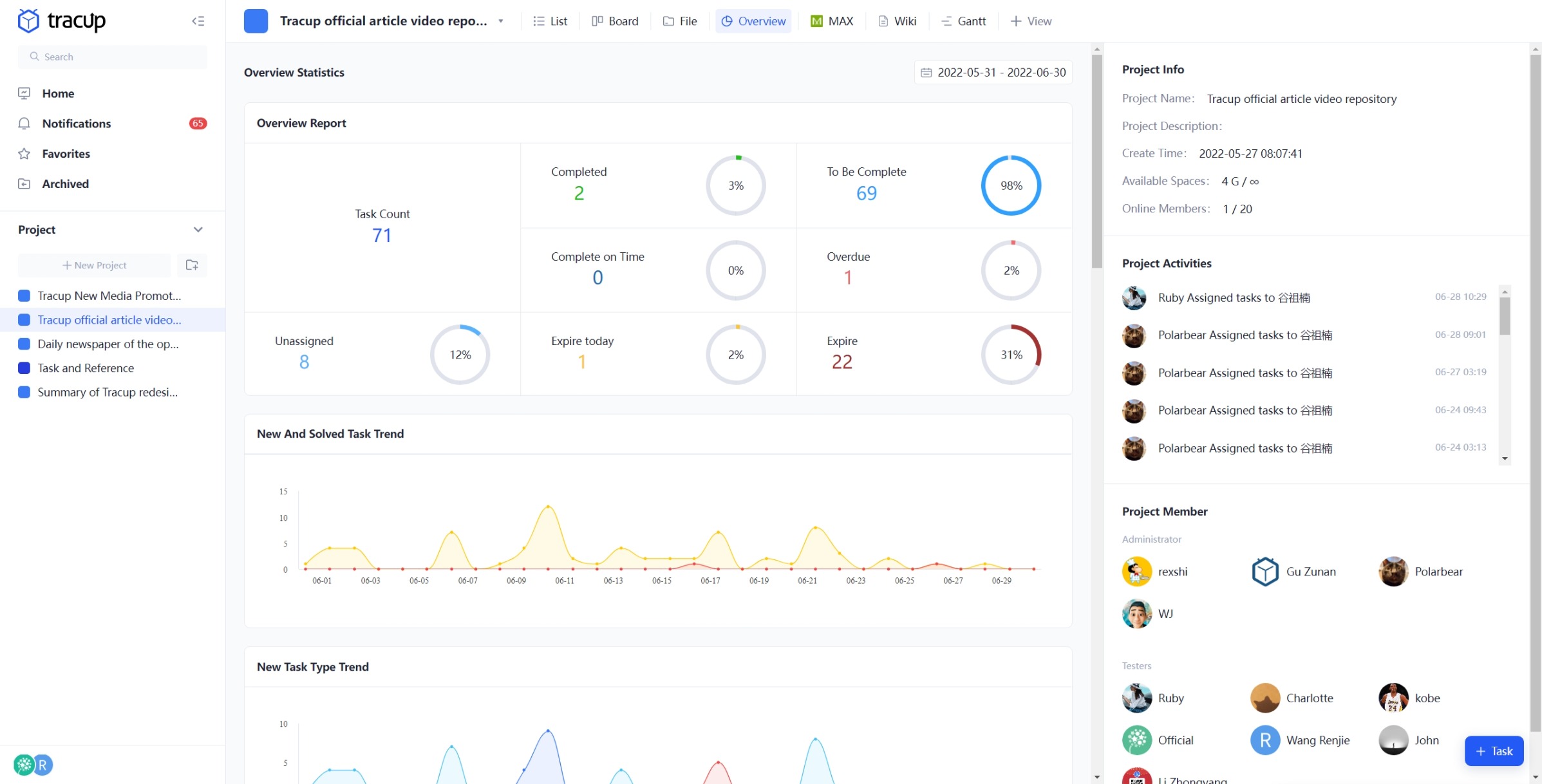 Compared to the editorial features of lists and Kanban, the overview tends to provide participants with a comprehensive view to plan a better future development. In the overview area, developers can view all the information about the project. Includes but is not limited to charts, percentages, task members, and project activities. Charts based on different data, such as types, team members, and priorities, can provide a full range of information for team members and leaders. Meanwhile, detailed project activities record all changes in detail, which allows participants to track the progress much better. In addition, by combining it with features such as lists and Kanban, developers can efficiently check the progress of tasks and prepare for the next phase of work.
For Tracup, the work of developers and the management of administrators are equally important. They complement each other and cannot be separated into individual parts. With Tracup, work could be easier and more efficient, and better teamwork and information communication could result in positive outcomes.
2) Taskflow Management
Team members can assign, prioritize, and track project tasks from one centralized location.
Tracup's Task Management system is designed to help streamline workflows, prioritize tasks, and maximize efficiency within a team. It provides users with easy visualization of all tasks assigned to team members and helps keep everyone on the same page in terms of task progress and deadlines.
Tracup's Task Management system is divided into four sections. The Tasks section contains the list of tasks assigned to each team member, including due date information, priority level, and any other associated notes. The Projects section enables users to view their team's assigned projects and track their tasks to stay on top of deadlines. The Calendar section gives users a bird's-eye view of all tasks and their corresponding due dates, with color-coded reminders to stay on top of tasks. Finally, the Reporting section offers analytics and reports on task progress and completion rate.
With Tracup's Task Management system, teams can monitor and track their tasks to improve efficiency and stay on top of goals. Team members can easily access task lists, assign tasks to other members, and track due dates and progress throughout the project's lifecycle.
3) Improved Efficiency & Productivity
Tracup is built on an online project collaboration tool that empowers teams to improve the efficiency and productivity of their projects, it has several components:
Work Flow Management: Tracup has automated processes for teams to manage their workflow, saving time and energy by streamlining processes and providing a more organized environment.
Project Visibility: With Tracup's OPMS, teams have greater visibility into their projects in real-time. With a dashboard that can show progress, tasks, and budgets, Tracup helps keep everyone on the same page.
Task Assignment & Tracking: Tracup allows team members to assign tasks, track progress, and receive feedback quickly and intuitively. This helps teams move projects forward without hitting roadblocks.
Resource Allocation & Optimization: Tracup can help teams manage resource usage and find the most efficient options to optimize their project output.
Tracup is the perfect tool for teams that are looking to maximize their efficiency, productivity, and project outcomes. The system is easy to use, intuitive, and customizable to ensure that teams are getting the most out of their projects.
4) Increased Visibility & Control
Tracup's OPMS Increased Visibility & Control helps businesses to have greater insight and control over their operations. The platform allows for real-time monitoring, visibility, and management of inventory, assets, and processes. This provides an overview of current usage, flows, and inventory levels and an accurate indication of where resources are expended.
Tracup's OPMS helps to improve operational efficiency and productivity, as well as reduce operational costs. It gives businesses the ability to easily control and monitor inventory, as well as track production, asset placement, and process, flow. With the platform, businesses can evaluate business performance, identify capacity issues, and ensure compliance with industry regulations and standards. Additionally, it enhances the tracking and forecasting of inventory, labor, and other resources, which can lead to better decision-making.
Tracup's OPMS Increased Visibility & Control also enables better communication between departments and businesses, as well as reduced risk of errors. The platform makes it easier to identify bottlenecks and other inefficiencies and accelerate the resolution. This can lead to improved operational efficiency and productivity across the organizations.
5) Maximizing Capacity & Output
Tracup is an online platform that provides users with a comprehensive package of tools to maximize their capacity and output. With its user-friendly interface, Tracup enables users to establish goals and tasks, monitor and analyze progress and results, and generate reports. The platform offers specific features for those in the field of business, finance, and other fields, to help them stay on top of the ever-evolving landscape.
Tracup provides users with several features to help them reach their goals. For instance, the Tracup "Scorecard" is a detailed analysis of performance, which allows users to set goals, track their progress, and identify areas where they need to take action. Additionally, Tracup's automation tools help users quickly assess their performance and come up with strategies to increase their impact. Through its tools, users can automate and streamline their workflows, helping them to optimize their capacity and output.
Tracup also offers an array of features to help with data analysis and insights. Through its dashboards, users can quickly view their data from various sources and analyze it to detect trends or assess performance. Additionally, the platform enables users to generate reports and graphically present their data to view their progress from multiple perspectives. By utilizing Tracup's data-driven strategies and reports users can stay informed and improve their decisions and strategies.
With its user-friendly interface, automated tools, and data analysis, Tracup helps users maximize their capacity and output. With the help of Tracup, businesses, organizations, and professionals of all backgrounds can increase their efficiency, productivity, and impact.
6) Real-Time Updates
Tracup's Real-Time Updates are designed to keep its users informed about the latest news, trends, and updates related to their business. With this feature, businesses can stay up-to-date on the latest market movements, product releases, and other important announcements.
Tracup allows its users to receive notifications in real time when changes occur in their markets, products, and business. With this feature, businesses can quickly act on emerging changes and leverage the newly acquired knowledge to their advantage.
Tracup allows its users to easily customize their updates to fit their individual needs and preferences. Businesses can select which topics they would like to receive notifications on, specify the type of information they would like to receive, and set their time frames for alerts. This ensures that businesses receive only the relevant real-time updates they are interested in.
Overall, Tracup's Real-Time Updates are an essential feature for businesses hoping to stay ahead in today's changing markets.
7) Data Sharing and Synchronization
Files, documents, photographs, and other types of data can be easily shared, updated, and synchronized, Tracup's data sharing and synchronization features make it easier than ever to save and share data across multiple devices.
With Tracup, users can access their data at any time and any place, with the assurance that their data is securely and safely synced to their devices. This means that any changes made on one device will be automatically pushed and synced to every other device with Tracup. Data is synced in the background, with no need for manual intervention, so users can rest assured knowing their data is always up-to-date.
Additionally, Tracup also allows users to share data with other users and collaborate on projects, ensuring that everyone is always on the same page.
5. Real free online project collaboration workspace
Tracup is an online workflow collaboration execution platform that assists enterprises in real-time project planning, management, tracking, and automation, and integrated the most popular productivity tools like GitHub, Figma, Zoom, Slack, etc. . The platform is simple to use, even for beginners, thanks to its numerous recognizable templates. The ability to utilize a product right away reduces the time it takes to train personnel on a new software system.
Tracup is packed with project management features that help teams increase productivity, such as workflow tracking, file sharing, project reporting, and task management. The ability to examine task talks, status, progress, and justification in a single location eliminates lag time caused by sluggish communication. It also provides automatic workflow options to accommodate a user's work preferences. To arrange data, several Kanban board views such as list, card, sheet, Gantt chart, and calendar view are utilized.
Free lifetime plan for unlimited users forever
Offers unique features designed for developers (e.g, bug tracking, development status)
Create and manage product roadmaps
Agile reporting
A large number of features
Customizable
Comprehensive tools for teams
Flexible layout
Intuitive to learn
Tracup is one of the industry's leading platforms dedicated to providing effective team collaboration solutions. The platform not only includes features for developers such as task lists and file sharing but also provides team leaders with an overview of the entire project. With Tracup, work could be easier and more efficient, and better teamwork and information communication could result in positive outcomes.
6 Rich templates empower online project collaborations
Tracup's templates empower business owners and managers to review, analyze, and plan for activities such as cost control, sales and marketing, production, personnel, finance, and project management. The templates present a user-friendly platform for accessing, editing and analyzing data related to the operations of a business to make informed decisions and plan for the future.
Additionally, the templates promote collaboration between staff members, allowing teams to brainstorm, compile, and present data in a streamlined way. As such, the Business Management Program greatly streamlines data analysis and allows teams to work more efficiently in an ever-changing corporate environment.
The following are some very typical templates for online project collaboration:
Online project collaboration tools can drastically improve efficiency and productivity in the workplace. It helps teams organize tasks, communicate efficiently, automate tedious processes, and track progress in real-time. With collaboration features and time-saving integrations, online managers can save time and increase productivity by streamlining workflows. Get the most out of your projects with online project collaboration tools today!
Can't wait for a second, hit Tracup right away!