How to organize my schedule efficiently? It is a question that many employees and managers often think about. Complicated scheduling does not represent excellent results, but rational scheduling is necessary for effective performance. Within a rapid development era, Tracup provides a fantastic solution for team members and managers to achieve specific purposes.
How to implement time management?
A project management tool helps you collaborate effectively with your team members by keeping track of deadlines, tasks, and resources. It also allows you to manage multiple projects simultaneously, create a calendar view or a task list view easily, and plan your work efficiently.
In Lyubichev's time management theory, it consists of three guidelines:
Stop working and rest as soon as you feel tired
Maintain 10 hours of sleep every day
Process tired work and enjoyable work simultaneously
As Ljubichev lived in a time when science and technology were not advanced, he had to passively record in a notebook. But now, it's possible to record and manage time more efficiently with Tracup. Meanwhile, the simple and user-friendly free web portal can provide effective assistance at low costs.
How to collaborate my schedule with project management effectively on Tracup?
Firstly, create a project on Tracup via the task list or blue button at the bottom right corner, which can be named "My Time Management".
Secondly, click on "New (Task)" in the project, and enter the task title, where users can enter the date, for example, "4 July 2022 - Monday".
Thirdly, in the task details, there is a 'Subtask' on the left, click on 'New Subtask' and the start time and brief description of an event can be entered. To facilitate subsequent statistics, different prefixes can be used to indicate the difference, such as 1-hour dinner, 30 minutes meeting, or 40 minutes of learning.
Fourthly, at the end of the day, a summary and reflection of the day can be entered in the comment box on the right side of the task details page. For example, dinner should be kept under 40min, and study time should be extended by 30-50 minutes. In this way, comprehensive-time management for the whole day is initially completed.
Fifthly, weekly, create new tasks in the ''My Time Management'' project named ''Week XX Time Statistics Summary''. Trying to summarise and reflect on the achievement and laziness of last week and identify the reasons behind it.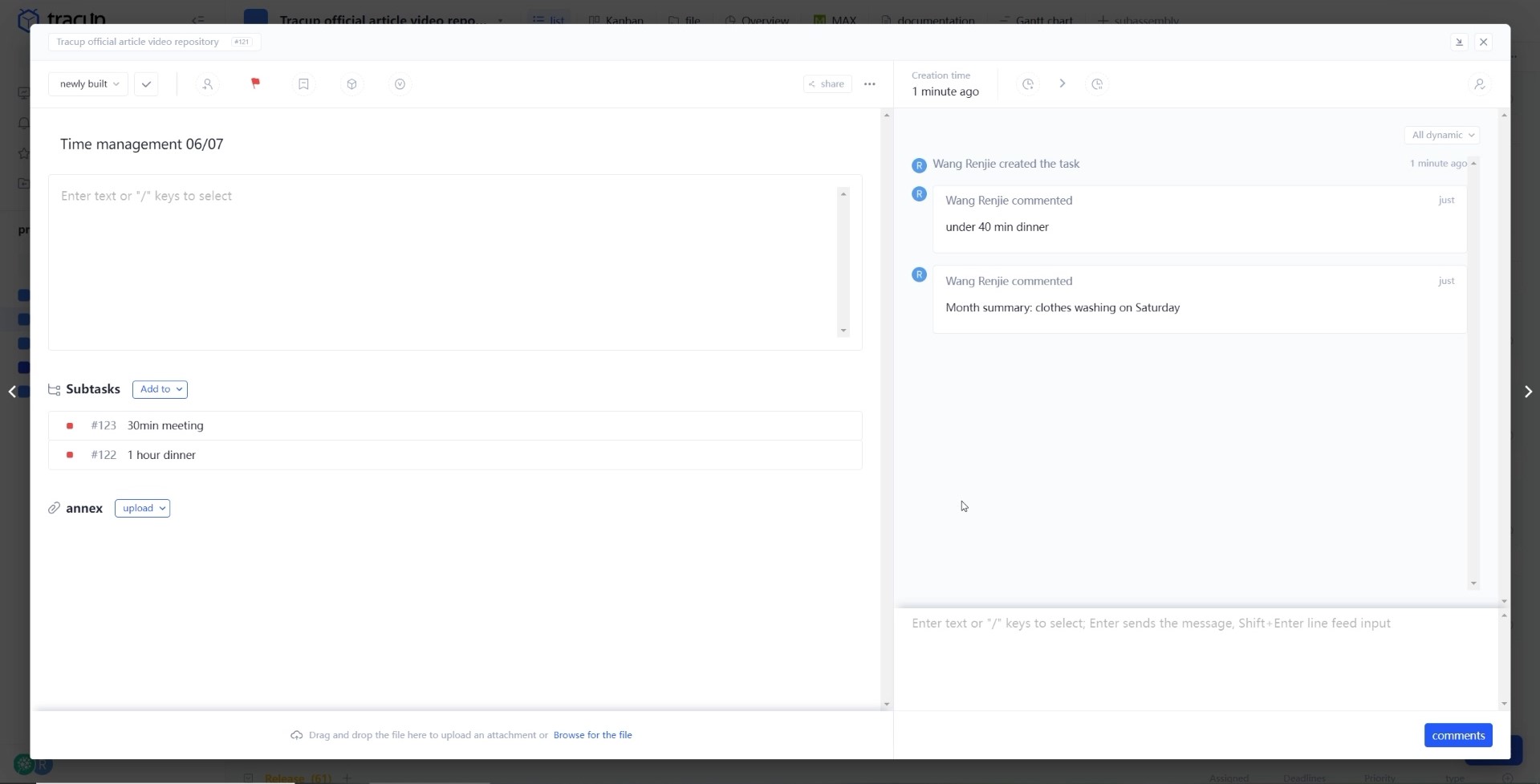 Sixthly, monthly, summarise the previous month to avoid unnecessary waste in the future, and to have an idea of the speed of completing various tasks. Besides, depending on the actual situation, divide them into categories and different time slots. For example, clothes washing can be done on Saturday mornings from 9:00 to 11:00 uniformly to maximize savings and use of time.
Nowadays, people are less likely to have a notebook at hand all the time but a mobile phone or computer. Tracup's online and user-friendly design allows people to keep track of everything they do each day more quickly to maximize time efficiency. Most importantly, doing regular things at regular times can keep people from anxiety.
Tracup is brimming with agile project management tools that boost team efficiency, including task management, file sharing, project reporting, and workflow tracking. Lag time brought on by slow communication is eliminated by having access to task discussions, status, progress, and reasoning in one place. Additionally, it offers automatic workflow alternatives to satisfy a user's preferred working methods. Several Kanban board views, including list, card, sheet, Gantt chart, and calendar view, are used to organize data.
Assisting businesses in real-time project planning, administration, tracking, and automation, Tracup is an online workflow execution platform that has incorporated the most well-liked productivity applications, including Github, Figma, Zoom, Slack, etc. The platform's various recognizable templates make it easy to use, especially for beginners. The amount of time it takes to train staff on a new software system is decreased when a product may be used straight away.
Unlimited users can use the free lifetime plan forever.
For teams of any size, a fixed low-cost BUSINESS plan is available for USD899 per year per team (less than $75 per month and no longer increasing with users).
Features specially designed for developers (e.g, bug tracking, development status)
Establish and maintain product roadmaps
Responsive Reporting
Wide range of features
Customizable
Teams' comprehensive tools
Flexible design intuitive learning
Free templates can be productivity hubs for project management effectively
Templates reduce time by providing standardized project templates and quickly developing projects for customers based on the mainstream procedure in many industries' specialized scenarios. Using Tracup as an example, when you visit the project template center, users can examine pre-made templates in various categories or configure ready-to-use templates suitable for users.
Users can access the project template center from their workspace as well as the settings menu located behind their avatar. There are pre-made templates accessible for common tasks such as sales management, OKR administration, and CRM project management. Custom fields increase the number of columns that can be displayed in list views, boards, files, and wikis.
The following are some very typical templates for project management effectively:
My Schedule: How to Create a Perfect Workday, and Want to emphasize flexibility, collaboration, customer involvement, and responsiveness and collaborate my schedule with project management effectively and better?
Hit Tracup right away.