You're probably trying to figure out how to get your startup off the ground. This means you don't have a limitless amount of resources or time to devote to your company's software development. If this is the situation in your organization, Jira can be a valuable asset in assisting in the management of product development processes so that they operate smoothly and efficiently with no problems!
Startups in the post-pandemic age are required to select a remote work model to kick off their business sometimes. Working remotely typically implies fewer meetings, which is one of its key benefits. Instead, you will carry on carrying out your duties independently. Project management may get harder for larger teams, though. How can you monitor progress when the team members are dispersed throughout the globe? Budget is the most important thing to think about while starting a business.
With the help of some excellent collaboration tools, you may streamline communication and see exactly what is happening behind the screen, thanks to technological improvements. One of the simplest ways to improve a project is by using these kinds of tools.
Why are Startups Leaving Jira?
Jira is a product provided by Atlassian. According to their website, Jira is a popular software development platform used by agile teams and is especially useful if you work in the field. It provides pre-made templates that you can modify if your needs become more complex.
However, Jira is expensive, difficult to set up and use, and lacks the flexibility that companies want.
To begin with, Jira is somewhat pricey. The basic plan starts at $3 per user per month and increases based on how much you use it (the number of projects you have open at one time). If you only have one project going at any given time, this may not be a bad investment—but if numerous projects are being worked on concurrently by multiple people or teams inside your organization, it may soon mount up!
But for Startup entrepreneurs, you have to consider not only the performance of the tool but also the budget. You need project management software like Jira but for less money.
What Should Startups Be Looking for in an Alternative?
Before you consider alternatives, you must first understand your company's requirements. This is especially true whether you're a startup looking to build something rapidly, or if you're an existing company looking for a better way to manage your projects.
The most important factor is that the alternative is simple enough for everyone in your organization to utilize, whether they are new hires or senior management. The last thing any employee wants is a sophisticated tool that takes time to learn how everything works; otherwise, having an alternative negates the purpose of having one at all!
It is critical to choose the finest JIRA replacement. There are various free options available, and you should ensure that the tool you select is capable of the job.
2 keys to determining the optimal option for your startup:
Look for a free version of a tool (or one that offers limited functionality)
Make sure it's easy to use!
Free project management software can help startups and small enterprises rapidly and easily find new methods to be more effective while working with a less budget. Jira and Tracup are two typical market solutions, however, Jira is a tool for software development, whilst Tracup is designed for a wider range of scenarios and non-technical teams. We compared Jira and Tracup to determine which would best suit the demands placed on you, your team, and your budget.
Jira vs. Tracup
Jira and Tracup are now two of the most popular project management products on the market. Both provide a plethora of features that empower teams to oversee projects, monitor development, and workflow processes, and develop original solutions.
Tracup was developed as a workflow management solution for arranging tasks and work pipelines, which sets it apart from Jira. It combines the convenience of a template with features for interactive, automated workflow, and visual timeline management. The customization capabilities for its data cells, which include conditional formatting and movable column types, make it an excellent tool for processing and storing data.
Jira, a software development solution, provides additional business-specific capabilities including effective bug and problem management. This makes it the preferred management tool for software developers and firms. Jira is used for problem management and project planning, whereas Smartsheet is used for project planning and collaboration.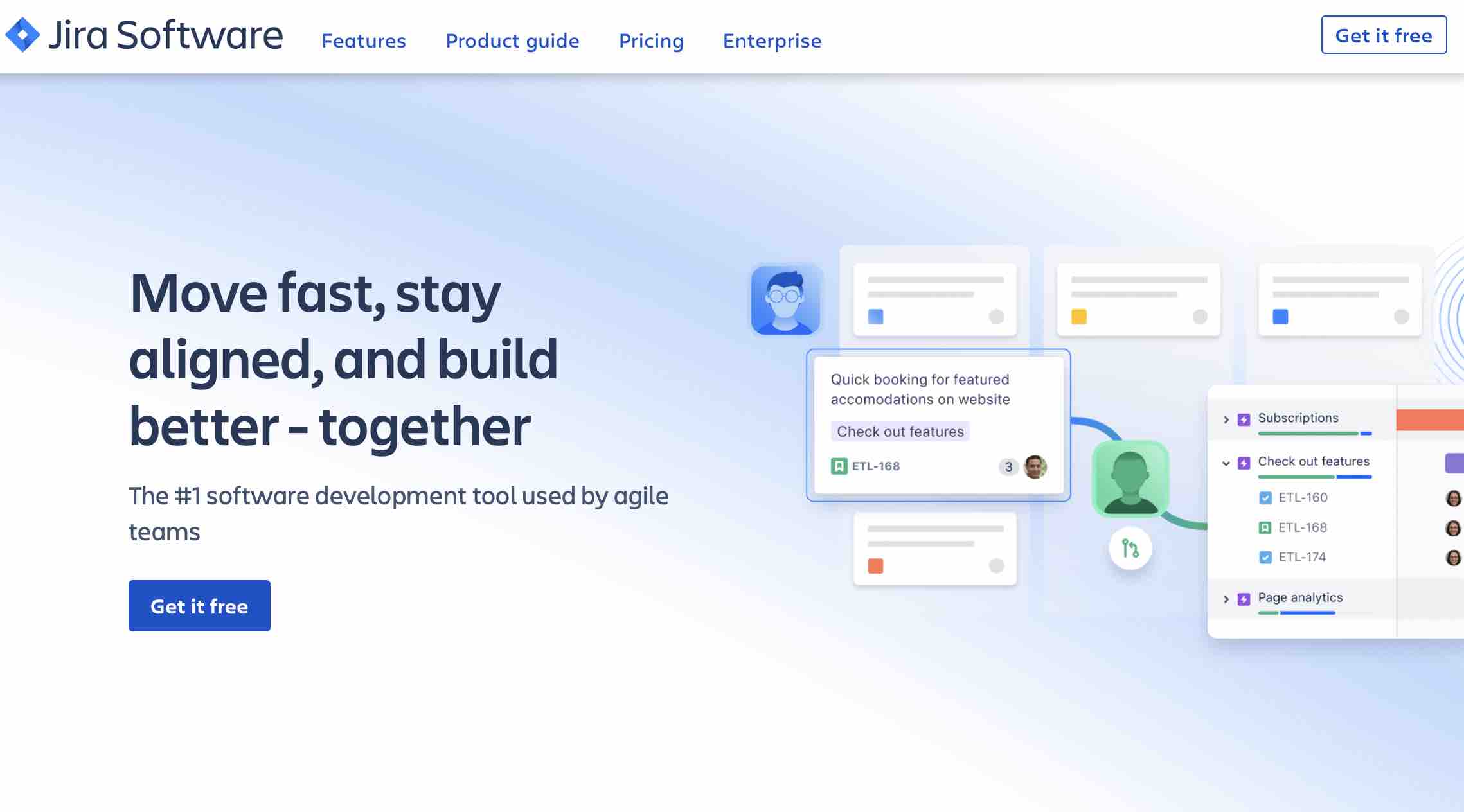 Atlassian offers Jira, as a project management tool. Because Jira was initially created as a project management tool for software developers, it is sometimes referred to as a bug and issue-tracking program. The software's task management, scheduling, automation, reporting, and dashboard features are useful for product and project management in addition to issue tracking.
Workflows may use Scrum, Kanban, or hybrid methodologies, depending on whatever model works best for a particular project. It works effectively for teams who implement Agile project management methodologies. Jira users have a huge selection of add-ons to choose from on the Atlassian marketplace, which allows them to further customize their experiences.
Up to 10 people can use the free lifetime plan
Monthly plans with pay per user a 7-day limited free trial
Unique attributes for developers (e.g. bug tracking, development status)
Viewing a repository using code
Make product roadmaps to control them
Interactive report
Rule automation saves time
Several features
Customizable
Some requests have a character limit
Arduous interface
Slope of the learning curve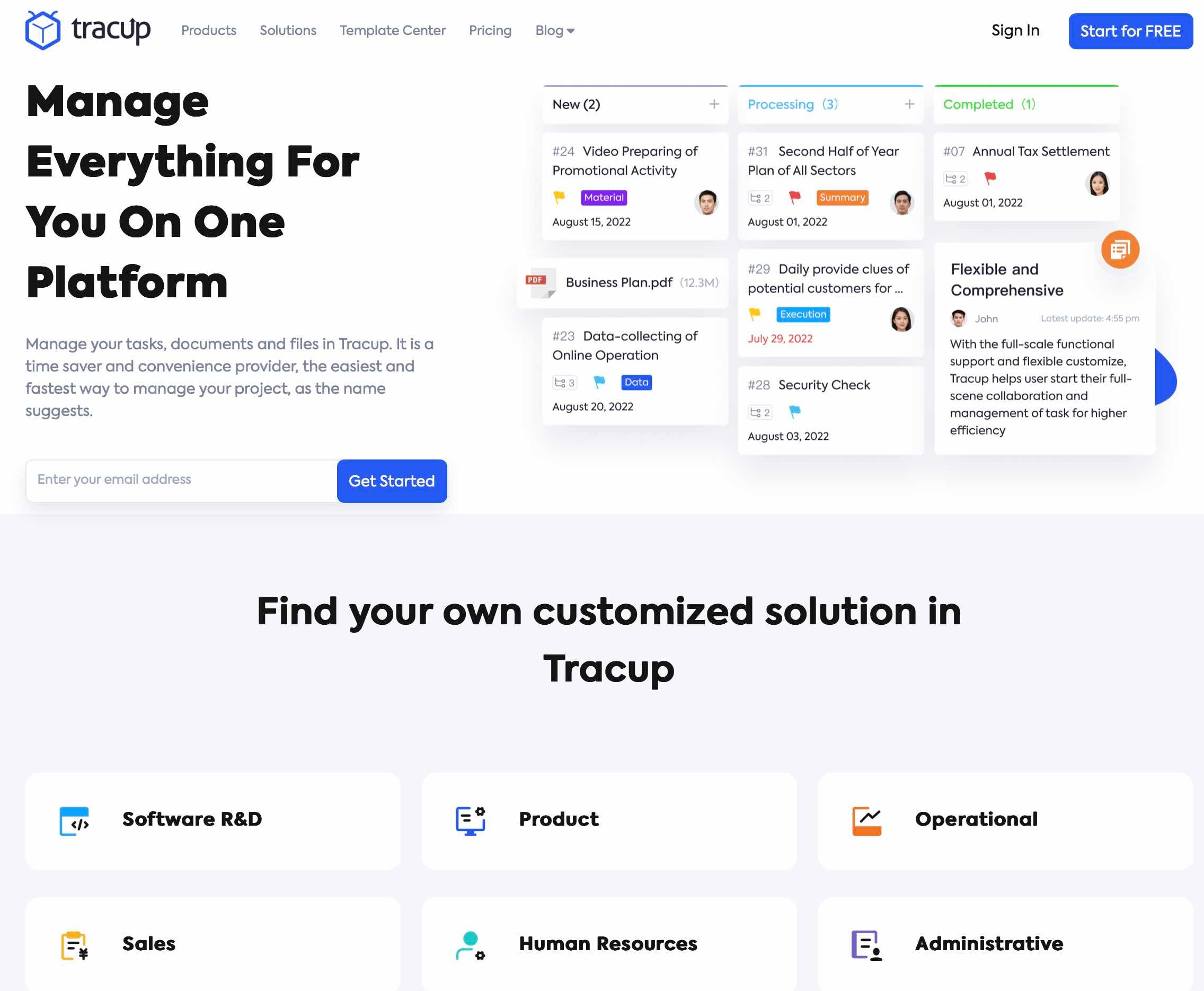 Tracup is brimming with project management tools that boost team efficiency, including task management, file sharing, project reporting, and workflow tracking. Lag time brought on by slow communication is eliminated by having access to task discussions, status, progress, and reasoning in one place. Additionally, it offers automatic workflow alternatives to satisfy a user's preferred working methods. Several Kanban board views, including list, card, sheet, Gantt chart, and calendar view, are used to organize data.
Assisting businesses in real-time project planning, administration, tracking, and automation, Tracup is an online workflow execution platform that has incorporated the most well-liked productivity applications, including Github, Figma, Zoom, Slack, etc. The platform's various recognizable templates make it easy to use, especially for beginners. The amount of time it takes to train staff on a new software system is decreased when a product may be used straight away.
Unlimited users can use the free lifetime plan forever.
For teams of any size, a fixed low-cost BUSINESS plan is available for USD899 per year per team (less than $75 per month and no longer increasing with users).
Features specially designed for developers (e.g, bug tracking, development status)
Establish and maintain product roadmaps
Responsive Reporting
Wide range of features
Customizable
Teams' comprehensive tools
Flexible design intuitive learning
Comparatively, Jira's free plan includes a user limit of up to ten people, whereas helping teams enhance productivity removes the user limit.
Most project management software on the market offers a free plan to get users started, but the number limit can prevent teams from worrying about paying fees that increase with the number of users, whereas Tracup's full functionality does not limit the number of people, which is very useful for startups. Jira does offer a seven-day trial period for customers to try the program before committing to a subscription plan, however, this looks to be insufficient.
Free templates can be productivity hubs for startups and small businesses
Using Tracup as an example, when you visit the project template center, users can examine pre-made templates in various categories or configure ready-to-use templates suitable for users.
Users can access the project template center from their workspace as well as the settings menu located behind their avatar. There are pre-made templates accessible for common tasks such as sales management, OKR administration, and CRM project management. Custom fields increase the number of columns that can be displayed in list views, boards, files, and wikis.
Templates reduce time by providing standardized project templates and quickly developing projects for customers based on the mainstream procedure in many industries' specialized scenarios.
The following are some very typical templates for startups:
Finishing Touches
Jira is intended for more sophisticated tasks like bug tracking, project management, Kanban software development, and scrum software development. This is mirrored in the platform's extremely complicated and perplexing design, which takes users a long time to understand.
While Tracup has a clear interface that is easy to use for non-technical people and offers a richer set of free project plan templates. Therefore, in addition to the many similarities between these two tools, they also have their characteristics.
However, one of the main differences is the target audience. Jira is better suited for big companies dealing with technical topics like software development, while Tracup is better for everyone else, especially startup small businesses on a tight budget, and is also easier to use and more flexible.
We hope you found this article on the best free Jira alternatives for startups useful. This is an incredible application that allows you to quickly manage all of your tasks, so take some time to look around and discover what else is available!