Task management is a critical component of productivity, but it is also one of the most difficult aspects to master. Most task managers are pricey and difficult, so we decided to build our own for you! Tracup, a collaborative workbench popular in developer communities, is a versatile Swiss Army knife for programmers, product managers, and digital knowledge workers.
To do a good job, you must have the best tools. Good tools and methods can help us do our jobs better, save time, and be more productive.
Task management is an excellent tool for both personal and business projects. It can be used by teams or individuals, and it is especially valuable for Agile teams that need to manage their time and resources effectively across various projects.
What are developers expecting?
Keys of a Free Task Management Software:
Can be utilized for personal or professional projects.
Can be utilized by Agile teams or not (the choice is yours)
Tracks time, tasks, and project phases.
Whether you are a programmer, engineer, product manager, project manager, customer manager, entrepreneur, or even an investor, the task of managing yourself, your team, your partners, your customers, and so on is an old topic for everyone in post-epidemic times.
Every morning when I wake up, the first thing I do is take out my phone and open my memo to begin editing everything I have to do for the day…… Every day, new opportunities await you. When things start piling up, almost no one knows where to begin.
At this point, it's worth considering a question: when you're facing difficulties and struggling to move forward, have you ever considered the possibility that it's because you didn't have the right approach, to begin with?
You can give each task an explanation so you don't forget why it's vital. As attachments, you can also include photographs or other files.
One of the most useful features of Todoist is the ability to attach files to tasks. This means that you can add an image or PDF file to your job without it counting toward your overall limit.
Attachments are saved in a different folder from all other things (called "tasks" by Todoist) and do not count toward your total amount!
Or if you change your mind, you may easily shift it from one list to another without interfering with anything else on the board. For example, if you want to add a new task for a meeting that hasn't yet been planned but is still important, simply click the "Add" button and write some data about the work. When it's time for that meeting (or any other occasion), simply drag this item to its proper place on your list!
What have we built?
To do a good job, you have to get the best tools. Good tools and methods can help us to do our jobs better, save time and be more productive. Tracup, a collaborative workbench familiar in developer communities, is perhaps a versatile Swiss Army knife for programmers, product managers, and digital knowledge workers.
**Tracup**'s three main capabilities: task tracking, project management, and collaborative working are available on the web and mini apps. Checking the progress of the project whenever and wherever you want. Assisting businesses in real-time project planning, administration, tracking, and automation, Tracup is an online workflow execution platform that has incorporated the most well-liked productivity applications, including Github, Figma, Zoom, Slack, etc. The platform's various recognizable templates make it easy to use, especially for beginners. The amount of time it takes to train staff on a new software system is decreased when a product may be used straight away.
Unlimited users can use the free lifetime plan forever.
For teams of any size, a fixed low-cost BUSINESS plan is available for USD899 per year per team (less than $75 per month and no longer increasing with users).
Features specially designed for developers (e.g, bug tracking, development status)
Establish and maintain product roadmaps
Responsive Reporting
Wide range of features
Customizable
Teams' comprehensive tools
Flexible design intuitive learning
Tracup is not only suitable for development teams but also product and operations teams. Each task can be easily set with type, status, priority, assignment, version, module, end time, etc. Multi-project management and workbench partitioning are easy to understand at a glance.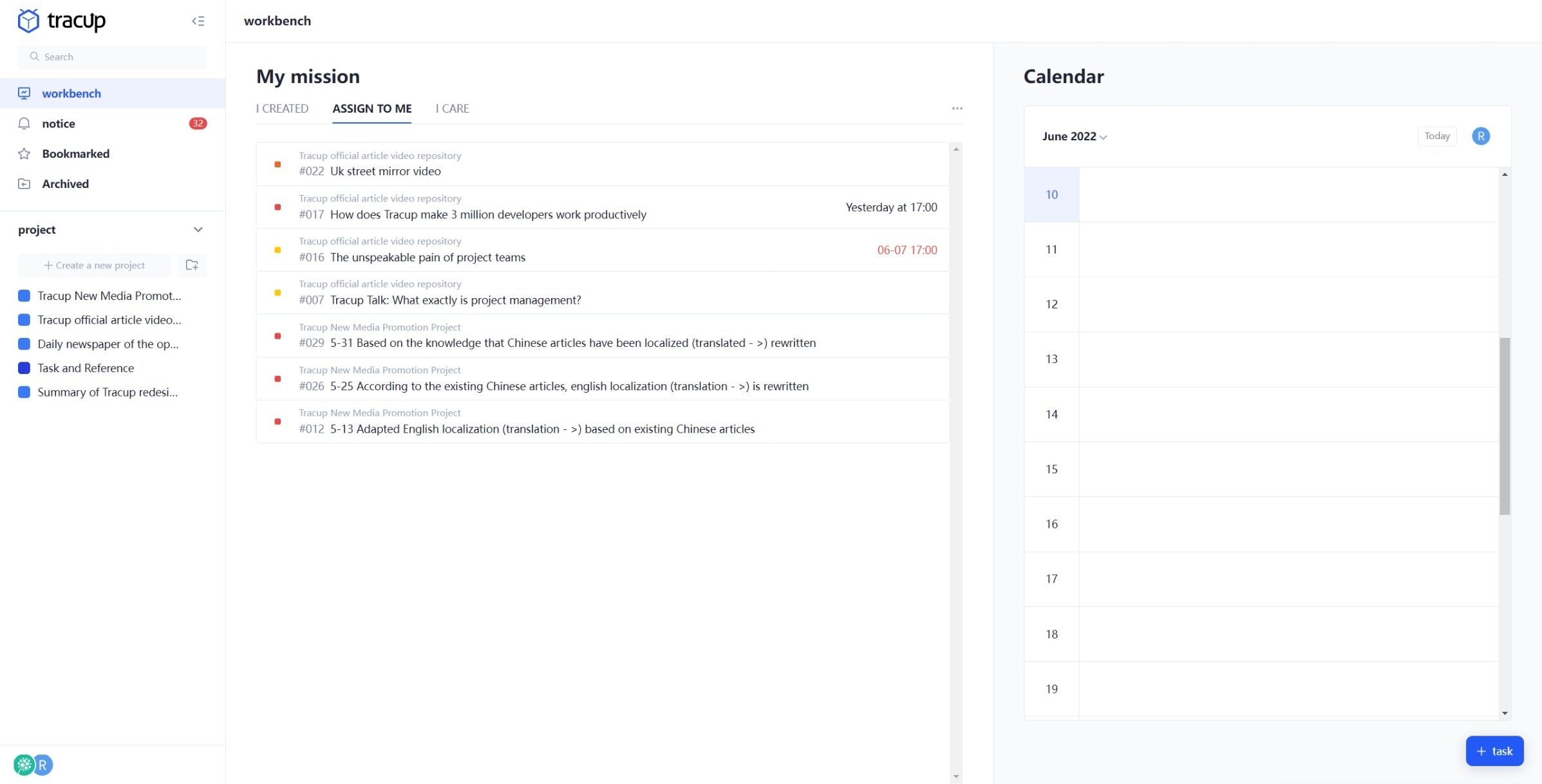 Based on the ease and need for technical teams to collaborate on projects, Tracup includes six sections of functionality: task system, project management, statistics, file sharing, plug-in system, team collaboration, and more.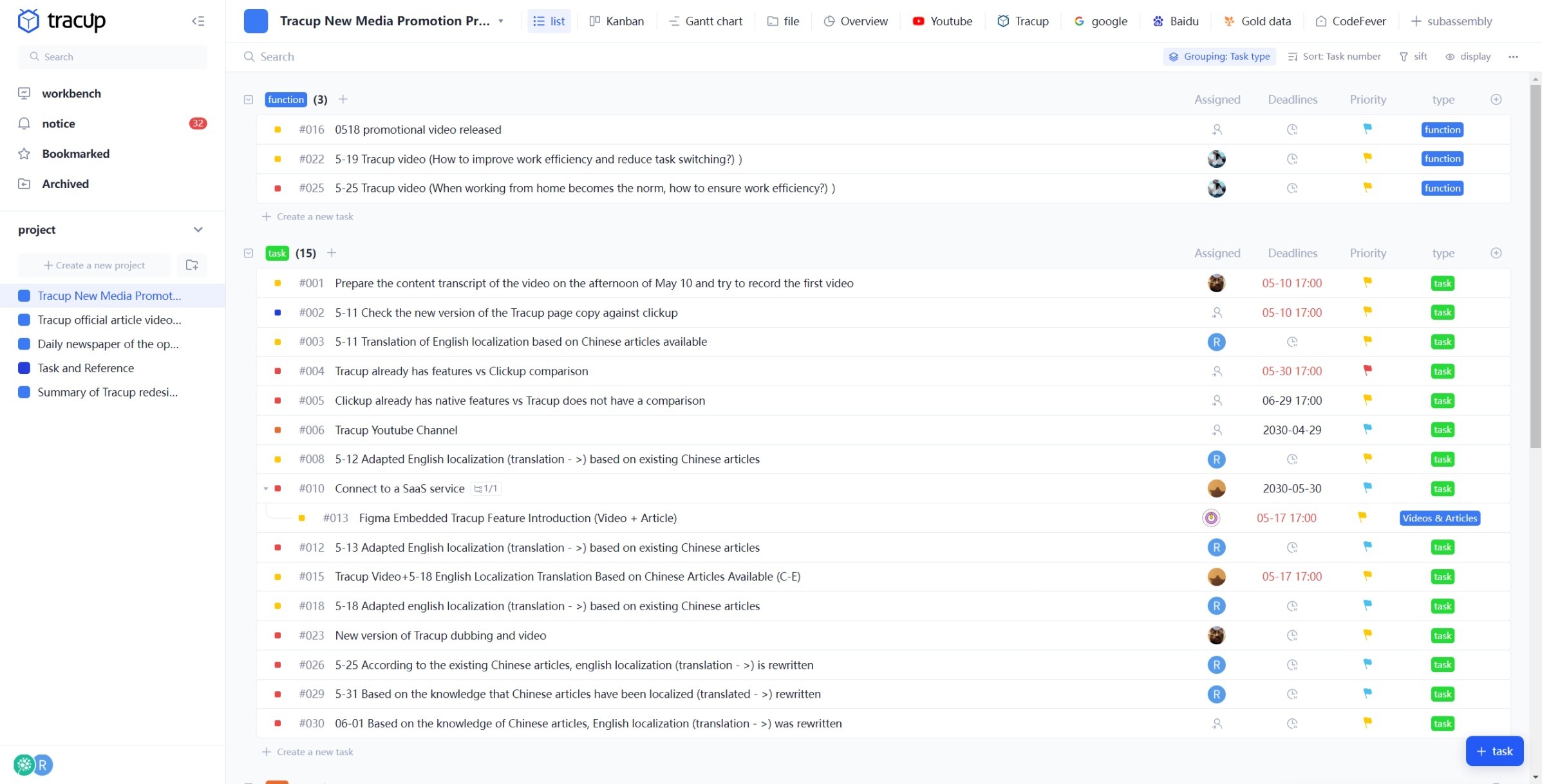 Tracup is also doing its best to find and break out more effective ways of working and is doing its best to explore development until the feature is launched. For example, the 'Project Warehouse', which is based on collaboration between technology development teams to link code repositories, enables synchronization across multiple platforms, and the 'Open API', allows for the flexible extension of functions by calling API interfaces directly.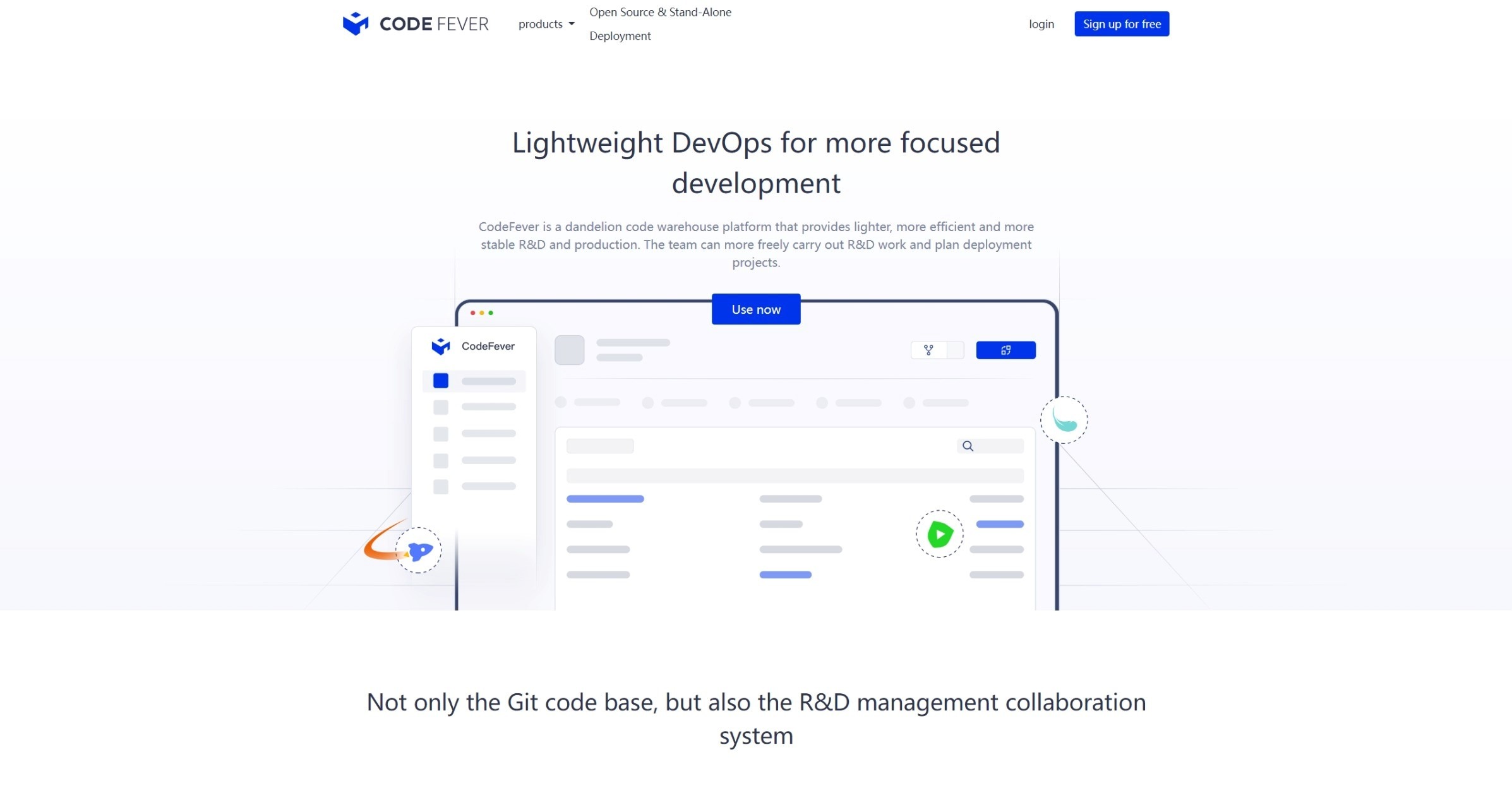 Free templates can be productivity hubs for developer startups
Templates reduce time by providing standardized project templates and quickly developing projects for customers based on the mainstream procedure in many industries' specialized scenarios.
Using Tracup as an example, when you visit the project template center, users can examine pre-made templates in various categories or configure ready-to-use templates suitable for users.
Users can access the project template center from their workspace as well as the settings menu located behind their avatar. There are pre-made templates accessible for common tasks such as sales management, OKR administration, and CRM project management. Custom fields increase the number of columns that can be displayed in list views, boards, files, and wikis.
The following are some very typical templates for startups:
As digitalization continues to accelerate, especially in the post-epidemic era, businesses, organizations, and governments are increasingly requiring multi-threaded remote collaboration to get things done. Productivity tools have been given a chance to develop at a rapid pace.
Most tools are designed to solve the problems of a single group or area, and the products tend to be simple and light to get users up and running quickly. Digital team members also work with different tools daily, including communication, email, document management, scheduling, and more.
The increasing number of tools is often independent of each other, which creates a new kind of productivity problem. People have to rely on these fragmented tools to perform each task, having to frequently switch between products in the workflow, which causes different levels of disruption in terms of overall cost, efficiency, management, security, and attention. Improving productivity through tools while generating more "works about working with tools".
Tracup is a DevOps collaboration workbench for app and digital industry developers. In addition to the already connected code repository, Tracup's collaboration management capabilities will be further opened up to give the entire team access to integrated tools and services as well as across the collaborative workflow.
Tracup collaboration workspace can satisfy the demands of mixed development environments and digital work in various contexts in current epidemic situations. For example, connecting tasks, projects, code, requirements, defects, iteration management, evaluating people, and workflows, and providing various project templates such as Agile, Waterfall, Common Task Collaboration, etc. Any team can plan, organize and collaborate to achieve a common goal in a collaborative way for each of the corresponding tasks. Team managers can assign tasks to specific groups or team members and prioritize tasks to gain a better understanding of what is happening in the current project and the real-time progress and make timely allocations and changes if required.
Tracup API connect will allow more startups and small business services to focus on products and services without promotion to improve efficiency and reduce costs for businesses. Automating productivity tools for programmers and knowledge workers, while helping teams to organize their work productively.
We hope you found this article to be helpful. If you're a developer searching for a means to get more done, look into Tracup, the tool we just mentioned. It is free, but it offers many useful features such as project planning, time monitoring, and even resource management!