How to effectively improve the quality and efficiency of teamwork is a key objective for teams. Now work together with colleagues fast and easily on Loom from Tracup, it makes creating presentations with images and videos as easy as sharing them on social media. Work together with colleagues fast and easily on Loom from Slack.
In contrast to traditional ways, Loom not only offers video recording and editing functions but also provides a platform for video sharing. Users can invite other members to create an online team or customize the type of video or platform-sharing schedule to match their requirements. The simplicity of the design reduces time costs and provides a better solution for the exchange of information between team members based on videos.
Necessary to share files such as videos in project management?
The public or private exchange of computer data, digital media, documents, and other electronic files from one person or computer to another is known as file sharing. File sharing simply implies that numerous individuals, computers, or mobile devices may all access the same file at the same time.
Sharing videos, files, and papers among team members improves teamwork and has been demonstrated to:
Superior concepts
More rapid development
A more balanced team leads to greater work satisfaction
Improved employee retention
Access to the file may include the ability to read or see it, edit or alter it, copy it, or print it. Typically, file sharing is restricted by multiple levels of security. For example, you may choose who a file can be shared with and whether the person can merely read the file or change it.
Project management software with file sharing capability, such as Tracup, allows you to exchange project files with internal and external stakeholders as needed, right from your project system.
In various situations, By failing to share critical data, such as a demo movie, with one key stakeholder, a month of work was lost, necessitating a substantial redesign.
Everything that has the potential to affect the project's result should be disclosed to all important stakeholders. This includes design reviews, technical mock-ups, prototypes, media, and any other deliverables, in addition to project reports and progress updates.
How does Loom work?
How to effectively improve the quality and efficiency of teamwork is a key objective for team members. In this context, the developers have integrated many different features into Tracup, such as Loom.
There is no doubt that productivity will be maximized when video communication is integrated with a teamwork platform.
When users are creating new tasks on Tracup, Loom's video share link can be added via the slash command and be played directly in the window. Similarly, while adding Loom videos to the task page, team members can add notes and comments below, or upload local files to the library to support the program development. Compared to articles, videos are usually easier to understand.
Thus, Loom's integration can be considered an upgrade to Tracup's information-sharing function to a certain extent.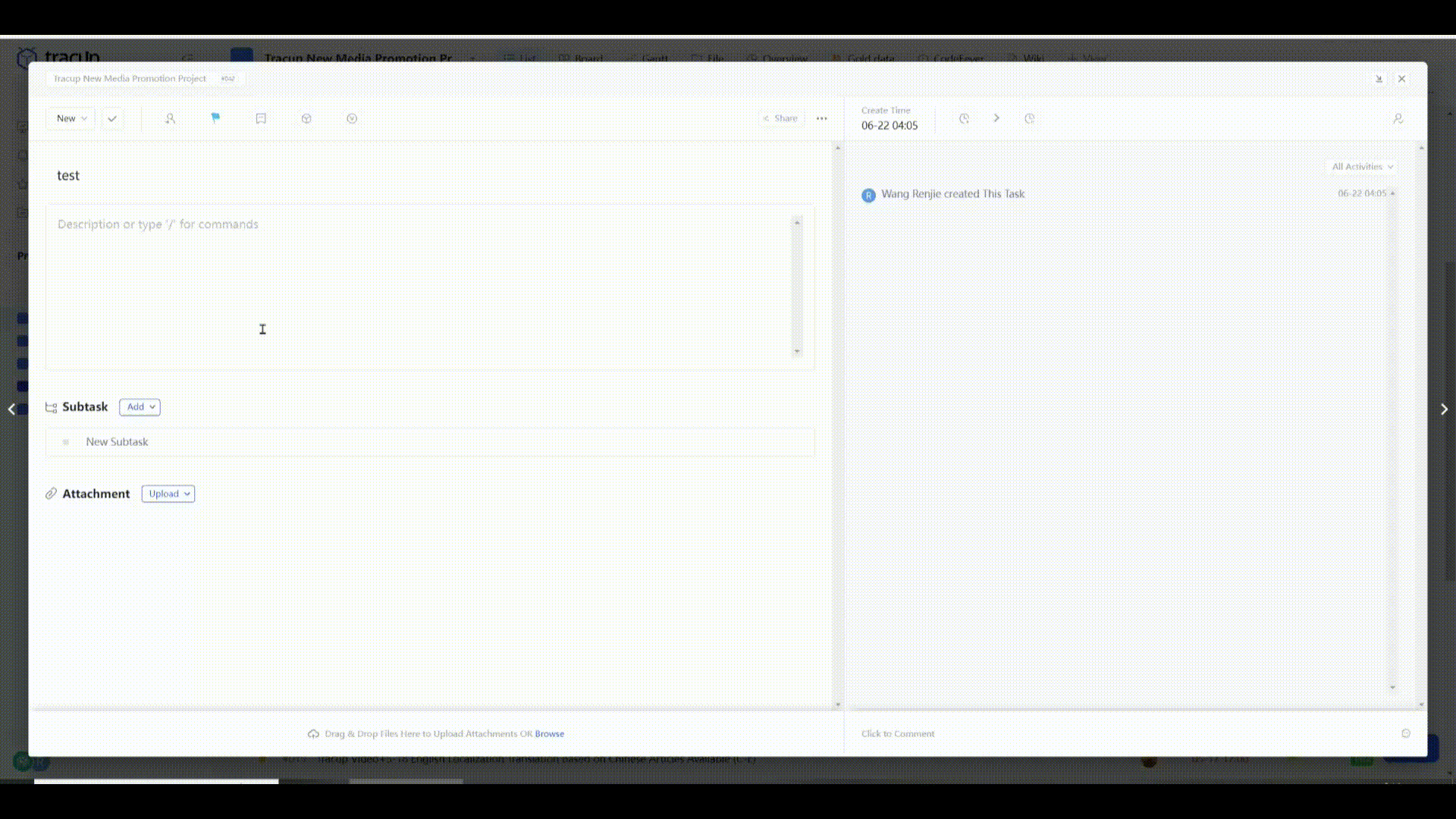 With Tracup, work could be easier and more efficient, and better teamwork and information communication could result in positive outcomes. If you would like to know more, please visit our website: Tracup.
Why Tracup?
Tracup is brimming with agile project management tools that boost team efficiency, including task management, file sharing, project reporting, and workflow tracking. Lag time brought on by slow communication is eliminated by having access to task discussions, status, progress, and reasoning in one place. Additionally, it offers automatic workflow alternatives to satisfy a user's preferred working methods. Several Kanban board views, including list, card, sheet, Gantt chart, and calendar view, are used to organize data.
Assisting businesses in real-time project planning, administration, tracking, and automation, Tracup is an online workflow execution platform that has incorporated the most well-liked productivity applications, including Github, Figma, Zoom, Slack, etc. The platform's various recognizable templates make it easy to use, especially for beginners. The amount of time it takes to train staff on a new software system is decreased when a product may be used straight away.
Unlimited users can use the free lifetime plan forever.
For teams of any size, a fixed low-cost BUSINESS plan is available for USD899 per year per team (less than $75 per month and no longer increasing with users).
Features specially designed for developers (e.g, bug tracking, development status)
Establish and maintain product roadmaps
Responsive Reporting
Wide range of features
Customizable
Teams' comprehensive tools
Flexible design intuitive learning
Free templates can be productivity hubs for project management effectively
Templates reduce time by providing standardized project templates and quickly developing projects for customers based on the mainstream procedure in many industries' specialized scenarios. Using Tracup as an example, when you visit the project template center, users can examine pre-made templates in various categories or configure ready-to-use templates suitable for users.
Users can access the project template center from their workspace as well as the settings menu located behind their avatar. There are pre-made templates accessible for common tasks such as sales management, OKR administration, and CRM project management. Custom fields increase the number of columns that can be displayed in list views, boards, files, and wikis.
The following are some very typical templates for project management effectively:
In the current context of rapid development, more and more teams are starting to communicate with each other not only by text but also by video. Traditionally, videos are usually sent by email and other similar methods, which cannot establish effective and instant communication between participants. On Tracup, the developers integrated a file-sharing function. Meanwhile, the addition of Loom offers new ideas for video sharing and information exchange.
Can't wait in a second? Hit Tracup right away.