Are you a project manager looking for a way to stay connected and keep your team productive?

Zoom video conferencing is an effective Communication way to integrate project management into your team's workflow. In this blog, we will discuss how to integrate Zoom video conferencing for effective Communication in project management.
Benefits of Integrating Zoom Video Conferencing into Project Management
Strategies for Effective Video Conferencing and Communication
Setting Up Zoom for Project Management
Utilizing Zoom for Project Management Practice
AI Disrupts Video Conferencing for Effective Project Management
Auto-rephrase transcripts into action items and task assignment
Project management is made easier and more effective through Communication with Zoom video conferencing. Learn how to integrate Zoom into your project planning process to increase communication and collaboration. With Zoom, you can quickly connect with team members and assign tasks, share files, and track progress with ease. Get started now and improve your project management today.
1. Benefits of Integrating Zoom Video Conferencing into Project Management
Project managers are increasingly turning to video conferencing solutions to keep their teams on track and manage their projects more effectively. Zoom offers many benefits that can help project managers stay on top of their projects.
Video conferencing is becoming a more and more common part of businesses' project management processes and procedures. Zoom is one of the most popular video conferencing platforms, and it has a variety of advantages when it comes to making project management more efficient and effective. In this chapter, we'll take a look at some of the benefits of integrating Zoom video conferencing into project management.
a. Time Efficiency
One of the biggest benefits of using Zoom for project management is that it can greatly reduce the time spent in meetings. Rather than having to travel to meet in person, Zoom allows teams to connect quickly and easily from any location. This saves both time and money, as teams don't need to spend resources on transportation or lodging. Furthermore, Zoom's recording capabilities make it possible to save and share meeting recordings to review and refer back to at a later date.
b. Improved Communication
Using Zoom for project management also improves communication between teams and stakeholders. Zoom's features, such as the ability to share screens, make it easy to present and collaborate on documents, designs, and ideas in real time. Zoom's chat feature also allows teams to quickly and easily send messages, documents, or other materials during or after the meeting. With these features, teams can stay in constant communication, ensuring that everyone is on the same page.
c. Enhanced Collaboration
The enhanced communication capabilities of Zoom make it easier for project teams to collaborate. Teams can quickly and easily share ideas, documents, and other materials with each other, and can get instant feedback on their work. Furthermore, Zoom's video conferencing capabilities make it easier for team members to put a face to a name, creating an environment of collaboration and trust.
d. Cost Efficiency
Using Zoom for project management can also greatly reduce costs. Not only does Zoom reduce the need for travel and other expenses, but it is also one of the most cost-effective video conferencing solutions on the market. Zoom's plans offer access to powerful features at an affordable price, making it a great choice for businesses of any size.
Integrating Zoom video conferencing into project management has many advantages. It can reduce the time spent in meetings and improve communication and collaboration between teams and stakeholders. Furthermore, Zoom is an affordable and cost-effective solution, making it a great choice for businesses of any size.
2. Strategies for Effective Video Conferencing and Communication
Video conferencing is a great tool for project management, but it can be difficult to navigate at times. Here are a few strategies to help you get the most out of your video conferencing experiences.
Zoom Video Conferencing is an online conferencing service that allows you to connect with people who are scattered across the world. It offers high-quality audio and video, making it an ideal choice for business meetings, classes, events, and even personal conversations. With this convenient platform, you can easily host virtual meetings and collaborate with people from all around the world.
a. Tips for Setting Up Your Zoom
Before you get started with Zoom, it's important to make sure your setup is optimized for the best possible experience. Here are some tips to help you get started:
Configure Your Camera and Microphone: Make sure your camera and microphone are positioned correctly so that others can see and hear you clearly.
Install Updates: Check for updates regularly to ensure that all participants have the most up-to-date version of Zoom.
Test Your Setup: Have a test run to make sure everything is working correctly and you are comfortable with the features.
b. Making the Most of Your Meeting
Once you have your setup ready, you can start making the most of your meeting. Here are some tips to help you get the most out of your Zoom video conferences:
Set Ground Rules: Establish ground rules to ensure that everyone is aware of the meeting's expectations and procedures.
Prepare for the Meeting: Make sure to prepare and organize the meeting's agenda and materials ahead of time.
Make the Meeting Engaging: Make the meeting engaging by using visuals, having interactive activities, or assigning tasks.
Monitor Your Participants: Monitor your participants to make sure the meeting remains focused and on track.
c. Wrapping Up
By following these tips, you can make sure that your Zoom video conferencing sessions are efficient and successful. With a little preparation and practice, you can make the most of your virtual meetings and collaborate with people from all around the world.
3. Setting Up Zoom Video Conferencing for Project Management
Once you've decided to integrate Zoom into your project management workflow, setting it up is easy. Here's a step-by-step guide to getting you started.
a. Installing Zoom
Go to www.zoom.us and click on "Sign Up, It's Free".
Fill out the required information to create your account.
Download the Zoom program to your device.
Follow the on-screen steps to install the program.
b. Setting Up a Meeting
Log in to your Zoom account.
Click on "Meetings" in the top navigation bar.
Select "Schedule a Meeting".
Enter the necessary information for the meeting.
Tap "Save".
c. Joining a Meeting
Get the meeting link from the organizer.
Open the Zoom program.
Paste the link in the "Join Meeting" box.
Tap "Join Meeting".
4. Utilizing Zoom Video Conferencing for Project Management Practice
Once you've set up Zoom, it's time to start utilizing it for project management. Here are a few tips to help you make the most out of Zoom in your project management process.
a. How to combine zoom video conference and work arrangements?
Meetings are one of the most important tools used by business owners to manage their companies effectively, but the key is finding ways to improve them.
Tracup is a remote teamwork platform designed for developers to improve efficiency and reduce costs with abundant features. With the Zoom plugin on Tracup, team members' communication efficiency and time arrangement could be improved a lot. With a few steps, the Zoom journey could be started easily!
Step 1:
Once a task is created, the slash command would be available for you to develop tasks. Besides, a window of Zoom would also be generated at the same time for users to enter a meeting invite link.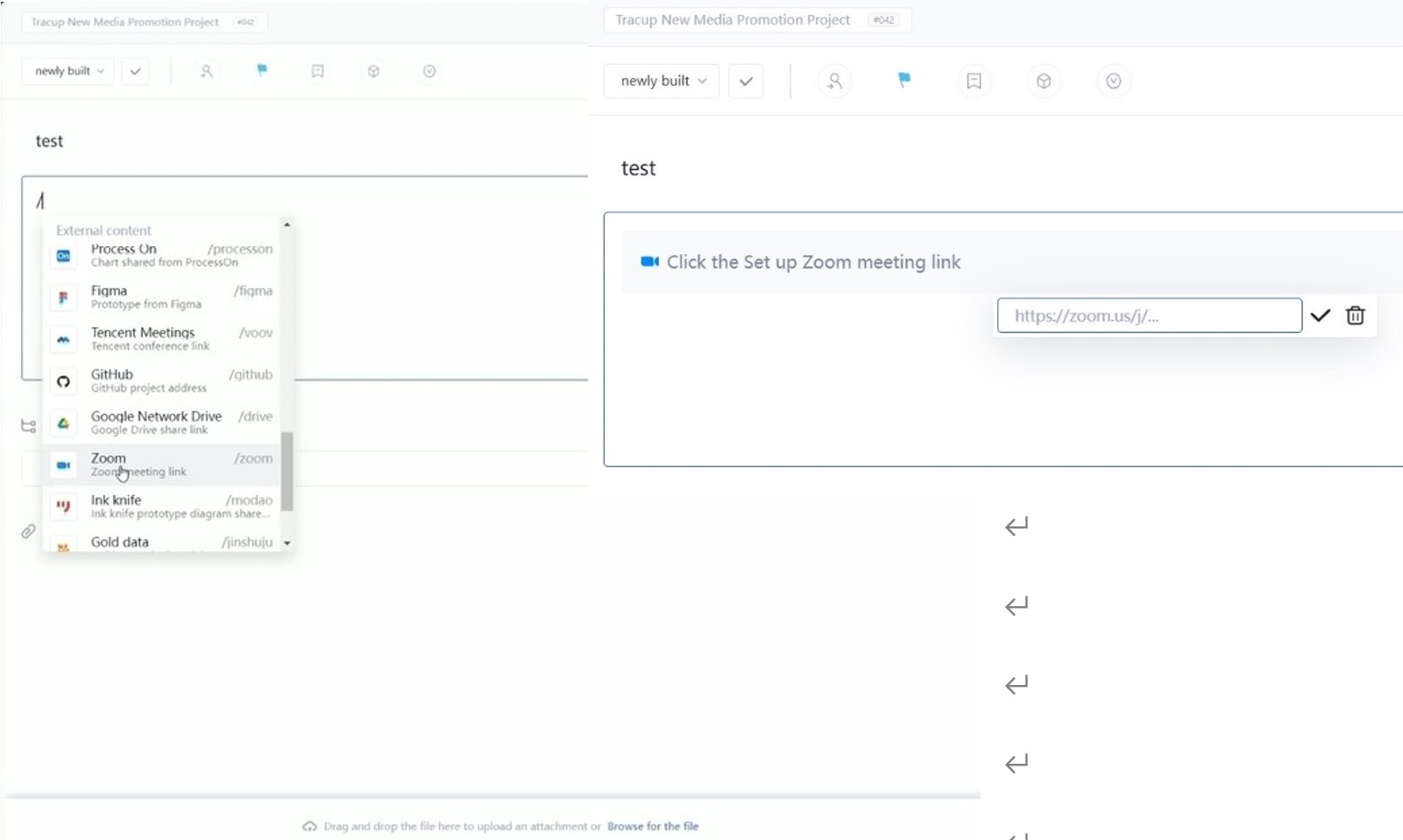 Step 2:
How to start a Zoom meeting?
1. Open a task
2. Paste a Zoom invite link into the blank
3. Join the meeting immediately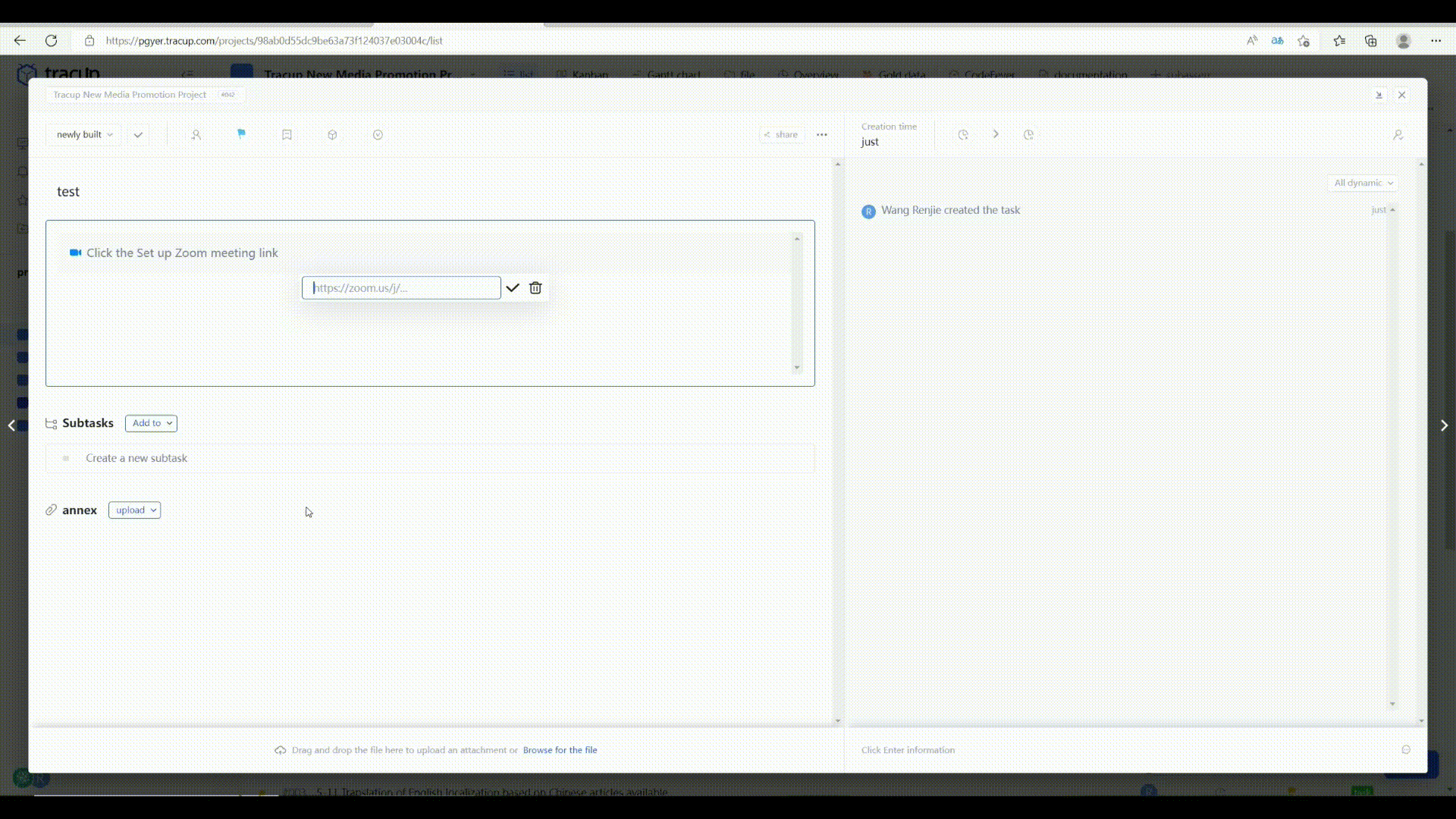 After an invite link is pasted, the meeting number and topic would be listed as a brief note. Comparatively, other team members can notice relevant task changes in real-time, which is vital for achieving efficient information communication.
b. Slash commands and more embedded applications
Tracup is used to save time and improve work efficiency. Team members do not need to sit in their offices or communicate with others all of the time to get the most up-to-date information. All they have to do is turn on their computer and log in to Tracup to access all the information they require, which includes files, team member roles, project requirements, task due dates, and much more.
However, it should be noted that as the beginning of all works, slash commands could be considered one of the most flexible and essential parts to a certain extent. Tracup does have the ability to apply a task template directly from the slash command. Making this useful shortcut even better you can access the command from many different places and Tracup will give you different options depending upon what's applicable.
For example, in Tracup, slash commands could be easily found at the bottom of the page. Once click it, you can see a small window that allows you to create new tasks. In the middle part, by entering a "Slash", a list of choices will be provided. You can customize text format, like writing texts with bold or italics, even underlining them. Or sometimes, you probably want to make the content clear, you can click "Code Block", "Horizontal Rule" and "Ordered list".
After the task is created, Slash commands could also be used to update task details and upload other information you need. For example, except for the functions we mentioned above, you can also add videos, pictures, or web pages from local or other media platforms. An example of Google scholar. If I would like to add the page of "how to work efficiency". Just copy the link and paste it into the window, and a brief note will be provided. Or integrate a video directly, for example, from YouTube. You can view the video directly by pasting the link rather than opening a new tab. Besides, external contents are also available. Just like a web page or YouTube, you only need to add a link then everything will be convenient!
c. Free Templates Improve Communication Efficiency
Templates reduce time by providing standardized project templates and quickly developing projects for customers based on the mainstream procedure in many industries' specialized scenarios. Using Tracup as an example, when you visit the project template center, users can examine pre-made templates in various categories or configure ready-to-use templates suitable for users.
Users can access the project template center from their workspace as well as the settings menu located behind their avatar. There are pre-made templates accessible for common tasks such as sales management, OKR administration, and CRM project management. Custom fields increase the number of columns that can be displayed in list views, boards, files, and wikis.
The following are some very typical templates improve communication efficiency:
In today's fast-paced world, meetings are becoming increasingly essential to completing tasks quickly. Hit Tracup right away to find out how to achieve efficiency!
5. AI disrupts Video Conferencing for Effective Project Management
Artificial intelligence (AI) is changing the way businesses manage projects. It is making video conferencing more efficient and effective, resulting in greater productivity.
AI can help enhance video conferences by providing real-time insights, such as facial recognition and automatic transcription of conversations. This allows managers to understand the conversations better and identify potential issues quickly.
Furthermore, AI can generate reports for managers to review and make informed decisions. This helps to save time and reduce the amount of paperwork required for project management.
AI-enabled video conferencing also helps to encourage collaboration and increase engagement among remote workers, enabling them to work more easily with each other from any location.
a. Tracup AI process automation meeting notes, action items and tasks
Traucup AI automatically takes notes and identifies action items in virtual meetings while keeping your data private and secure.
Tracup AI works as a meeting note and task management solution that helps organizations streamline their automation processes. It provides tools that make it easy to capture, record and track meeting notes, action items and tasks. It also helps to ensure that information is organized and updated in real-tireal timeme. This helps teams to stay organized and productive while saving time and effort.
The AI process automation features make it simple to set up meetings and tasks, making sure that everyone is on the same page. With Tracup AI, teams can quickly and easily set up meetings and tasks, making sure that everyone is aligned and informed. It also helps to ensure that action items are tracked and monitored so that everyone involved can stay on top of the situation.
b. Automatic minute summaries, as well as action and task lists
Tracup AI employs NLP AI to generate and summarize high-quality meeting minutes, identify action items, and assign tasks.
Tracup AI offers automated minute summaries and action and task lists that can save time and make tasks easier. It uses AI technology to analanalyzeyse meeting recordings and generate summaries, action and task lists that are presented in an easy teasy-to-reado read format.
The summaries are clear and concise, including key points and topics discussed. The action and task lists help users t easily review what was discussed during the meeting, follow up on action items, and assign tasks as necessary. Tracup AI is an efficient tool that can make managing meetings much easier.
c. Transcripts and tasks can be viewed in real-time.
Meeting summaries and exports are available immediately following your meeting.
Transcripts and tasks can now be viewed in real-time, meaning that you can keep track of your work at all times. This makes it much easier to stay organized and make sure that you are completing your tasks in a timely manner. It also eliminates the need to manually enter data, as you can view your progress with just a few clicks of the mouse. With this feature, you can quickly access your transcripts and tasks and keep track of your progress on the go.
All in all, AI is revolutionizing the way businesses manage projects, and video conferencing is no exception.
6. Auto-rephrase transcripts into action items and task assignment
There are many advantages to using Tracup AI to summarize your meeting notes, auto-rephrase transcripts into action items and task assignments.
You are able to participate fully in the meeting.
By skimming through brief transcripts after a meeting, you can quickly review and comprehend the main points.
All items that need to be taken will be automatically added to your task list and given to the appropriate person.
Meetings are a common way to discuss issues, share knowledge, and exchange information in order to find solutions. In the US alone, there are millions of business meetings held every day that take up most of the time of employees and managers and are typically pricy, fruitless, and unsatisfying. Meetings are necessary, though, and their length has been rising over the past few decades. While costing billions of dollars annually in the US alone, more than half of the time spent in these meetings is useless.
Participants in a meeting may talk about a variety of topics related to a specific subject or project, for instance. These discussions may lead to the creation of action items. An action item is a type of task that needs to be finished, such as performing a specific task, following up with a colleague to get a specific piece of information, reporting on the progress of a specific event, and many others. During a meeting, several action items may be developed, and these action items may be linked together by sharing the same activities, individuals, deadlines, etc. or by depending on one another.

Minutes of Meetings (MoM), also known as Notes informally, are instantaneous written accounts of a meeting. The contents of MoM1 typically include the agenda, participants, actions decided upon, decisions made, or other significant points deserving of note. With machine learning, this repetitive and time-consuming task is a top candidate for automation. People can benefit from these automatically generated meeting reports by having quick access to the details of previous meetings. Due to this, efforts are being made to effectively automate the process of creating reports from meeting transcripts.

It can be difficult to identify these dialogue acts in conversational meetings because there are often several of them. Sometimes it can be as straightforward as "The business team will develop a strategy" or as ambiguous as "Let's use his idea."

A business will benefit from creating this not only by getting instant reports but also by saving time and money by doing away with the laborious manual work of reading through meeting transcripts. These reports offer a summary of the project as well as information on its organization and progress over time. Additionally, it gives workers who were unable to attend the meeting a chance to catch up. They can be examined to determine the team's knowledge, skills, and deficiencies.
In conclusion, integrating Zoom Video Conferencing into your project management process can help you stay productive and connected with your team. With the right strategies and setup, Zoom can be an effective tool for project management. Hopefully, this blog has given you the tips and insights you need to get started with integrating Zoom into your project management process.
Don't wait, hit Tracup. com to Integrate Zoom Video Conferencing for Effective Communication in Project Management now!