In the post-epidemic era, remote working patterns are becoming increasingly popular among more and more people. Even though the negative effects of COVID-19 are gradually fading, many companies still retain plans to work remotely. In this context, the fit between video meetings and task management becomes increasingly important for project development.
How to combine video conference and work arrangements?
Meetings are one of the most important tools used by business owners to manage their companies effectively, but the key is finding ways to improve them.
Tracup is a remote teamwork platform designed for developers to improve efficiency and reduce costs with abundant features. With the Zoom plugin on Tracup, team members' communication efficiency and time arrangement could be improved a lot. With a few steps, the Zoom journey could be started easily!
Step 1:
Once a task is created, the slash command would be available for you to develop tasks. Besides, a window of Zoom would also be generated at the same time for users to enter a meeting invite link.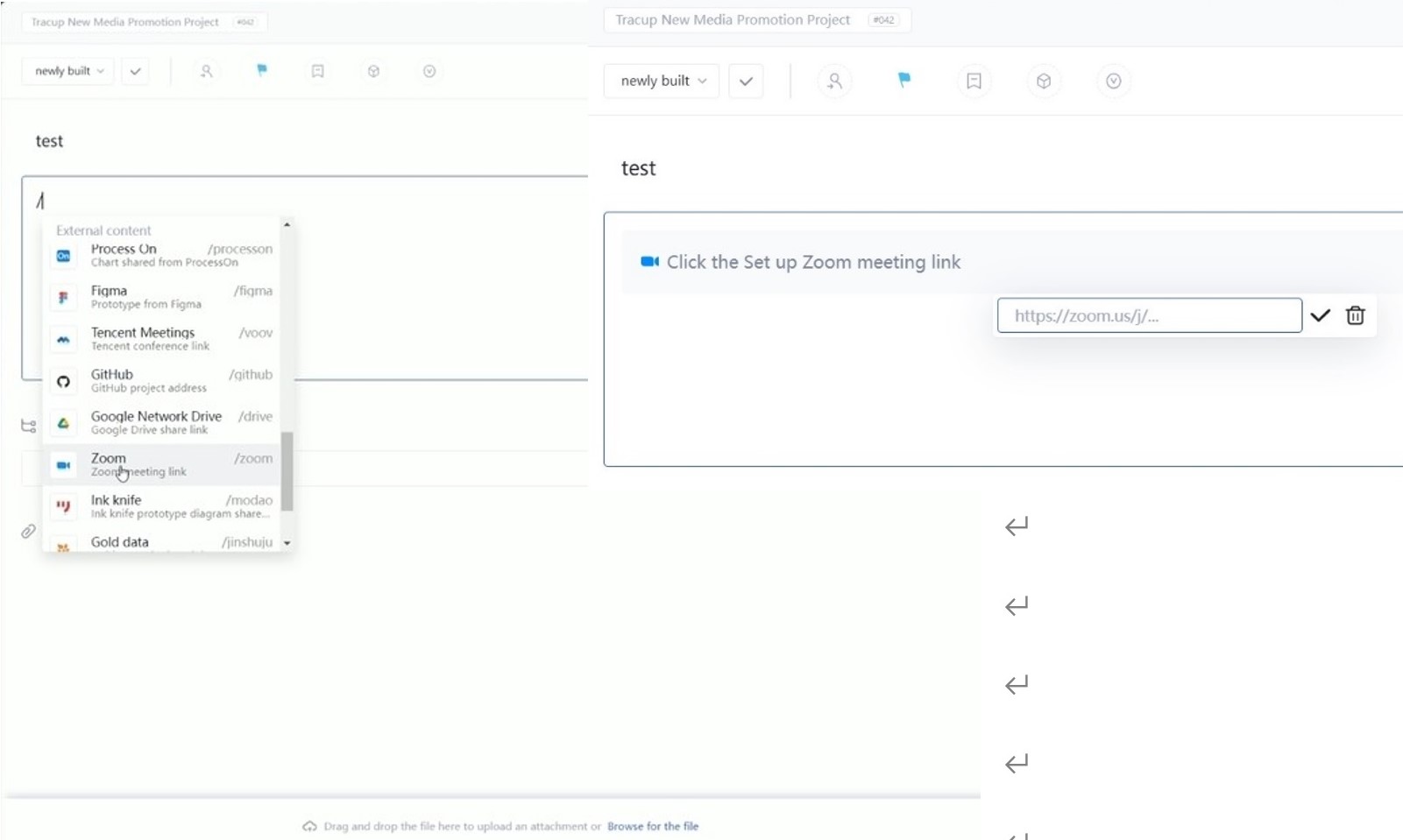 Step 2:
How to start a Zoom meeting?
1. Open a task
2. Paste a Zoom invite link into the blank
3. Join the meeting immediately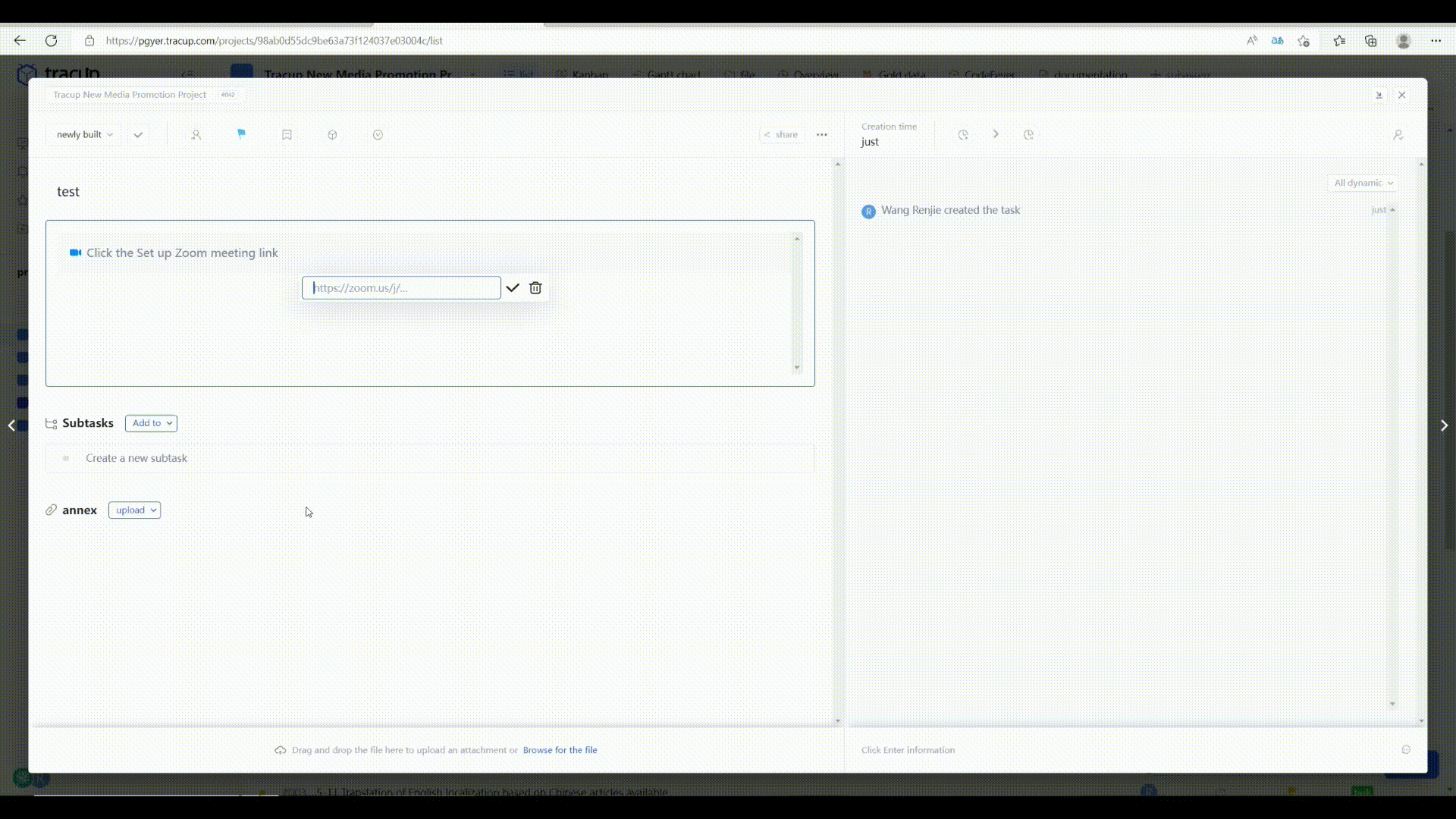 After an invite link is pasted, the meeting number and topic would be listed as a brief note. Comparatively, other team members can notice relevant task changes in real-time, which is vital for achieving efficient information communication.
Slash commands and more embedded applications
Tracup is used to save time and improve work efficiency. Team members do not need to sit in their offices or communicate with others all of the time to get the most up-to-date information. All they have to do is turn on their computer and log in to Tracup to access all the information they require, which includes files, team member roles, project requirements, task due dates, and much more.
However, it should be noted that as the beginning of all works, slash commands could be considered one of the most flexible and essential parts to a certain extent. Tracup does have the ability to apply a task template directly from the slash command. Making this useful shortcut even better you can access the command from many different places and Tracup will give you different options depending upon what's applicable.
For example, in Tracup, slash commands could be easily found at the bottom of the page. Once click it, you can see a small window that allows you to create new tasks. In the middle part, by entering a "Slash", a list of choices will be provided. You can customize text format, like writing texts with bold or italics, even underlining them. Or sometimes, you probably want to make the content clear, you can click "Code Block", "Horizontal Rule" and "Ordered list".
After the task is created, Slash commands could also be used to update task details and upload other information you need. For example, except for the functions we mentioned above, you can also add videos, pictures, or web pages from local or other media platforms. An example of Google scholar. If I would like to add the page of "how to work efficiency". Just copy the link and paste it into the window, and a brief note will be provided. Or integrate a video directly, for example, from YouTube. You can view the video directly by pasting the link rather than opening a new tab. Besides, external contents are also available. Just like a web page or YouTube, you only need to add a link then everything will be convenient!
Free Templates Improve Work Efficiency
Templates reduce time by providing standardized project templates and quickly developing projects for customers based on the mainstream procedure in many industries' specialized scenarios. Using Tracup as an example, when you visit the project template center, users can examine pre-made templates in various categories or configure ready-to-use templates suitable for users.
Users can access the project template center from their workspace as well as the settings menu located behind their avatar. There are pre-made templates accessible for common tasks such as sales management, OKR administration, and CRM project management. Custom fields increase the number of columns that can be displayed in list views, boards, files, and wikis.
The following are some very typical templates Improve Work Efficiency:
In today's fast-paced world, meetings are becoming increasingly essential to completing tasks quickly. Hit Tracup right away to find out how to achieve efficiency!
s://www.tracup.com/blog/How-to-Share-YouTube-Videos-with-Your-Friends)