You're going to be managing projects from now on. Get started today and start taking control of project management steps.
Have you ever experienced such problems? Like always running overtime when a plan has been made at the beginning? All these problems are caused by poor project schedule management! Project management is truly a thing that people love as well as hate. A project often requires a longer time commitment, which means more risks are taken. It is both a goal and a challenge for every manager to complete the project at the lowest possible cost, but not every project can be done "on time
How does Tracup assist in controlling project management steps effectively?
As one of the best collaborative platforms in the market, Tracup provides multiple solutions for users.
Step 1: Creating projects with clear standards
This stage is the start-up phase of a new project. A good start can provide an excellent basis for subsequent development. Once the team's objectives are defined, the project can be created and start to be managed on Tracup.
A little tip: Apart from the necessary task descriptions, it would be better to include clear measurements. The goal is the direction and the measures show us how to progress in the right direction. Most importantly, don't forget that measures must be quantifiable.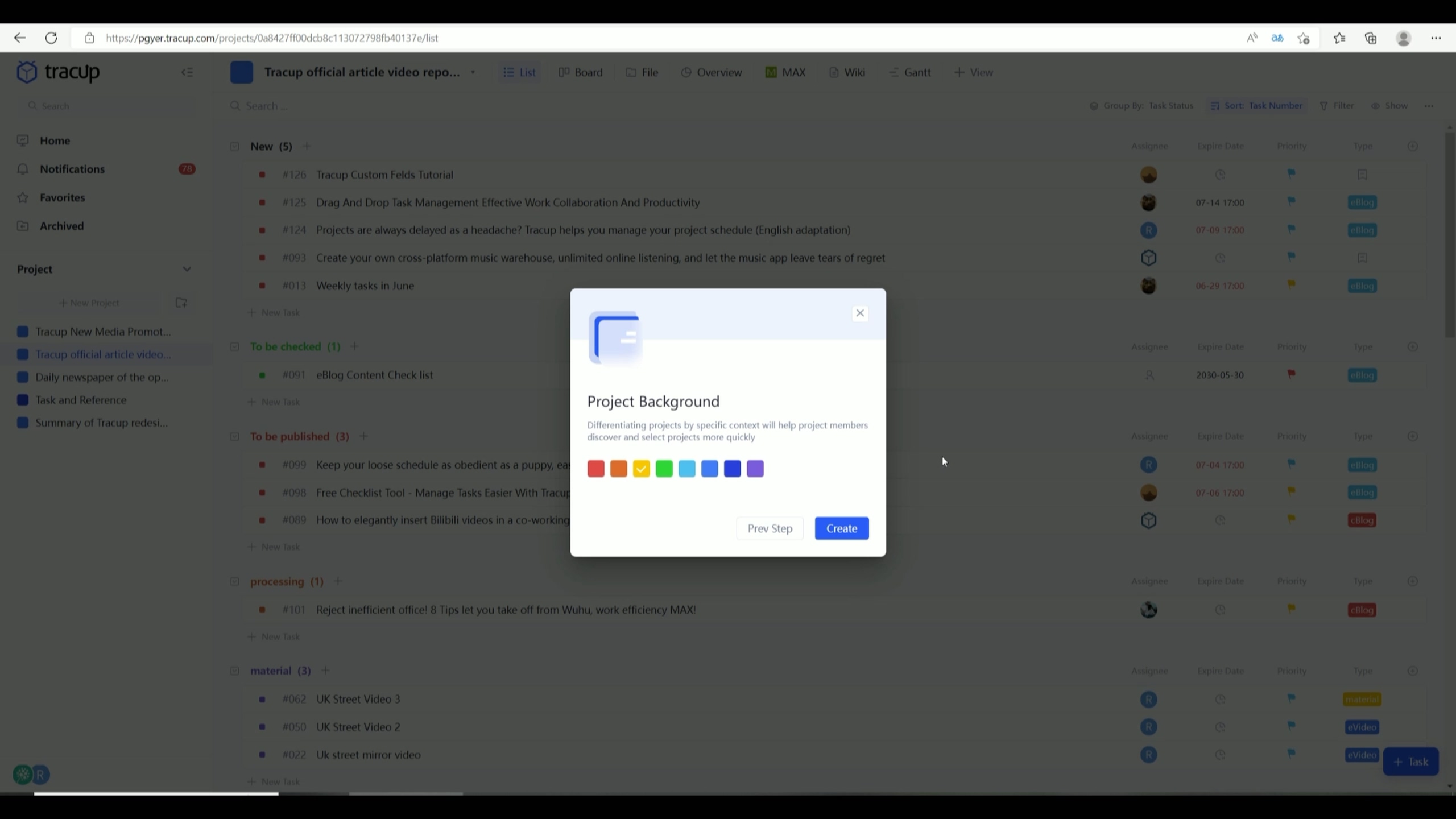 In addition, users can distinguish between different tasks within a project by categorizing them in different colors. With multi-project management, workbench partitioning can be understood at a glance.
Step 2: Project planning: splitting up tasks and making work detailed
This stage will analyse the [Assignment] in Tracup's [New Tasks]. To break down the tasks into smaller pieces, Tracup can only assign tasks to one person. The purpose of not assigning more than one person to a task is to avoid disputes by assigning tasks to individuals precisely, with only one manager in charge of each task and the rest of the people involved in the task can be set as followers. If more than one person is assigned to a task, it creates a lack of clarity in the distribution of responsibilities in the work process, which is also a big problem in the workplace. Using task completion as a measure might be better at this juncture.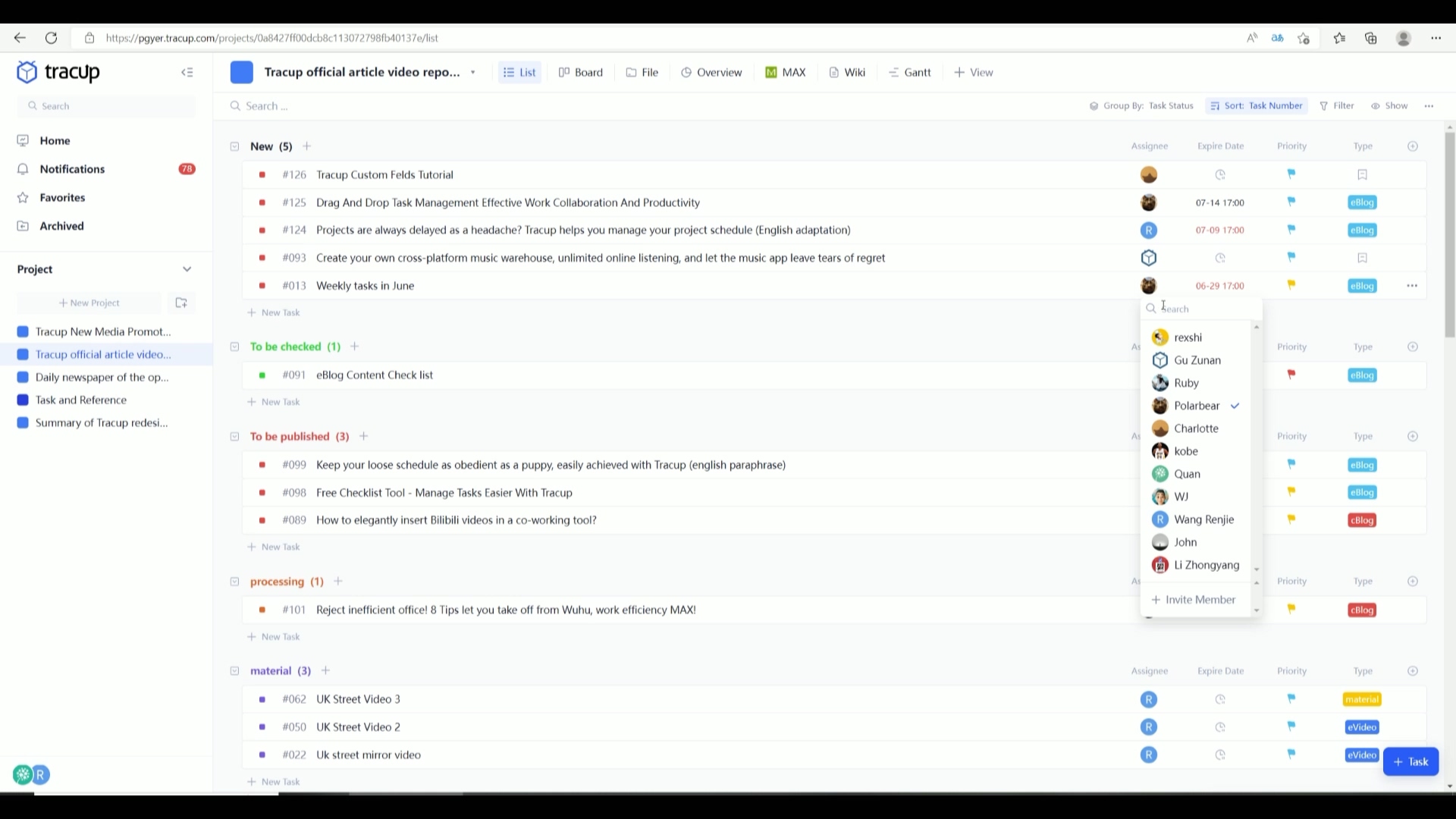 Step 3: Project execution: good project splitting and efficient team communication
Tracup allows users to add subtasks to track progress, and technicians can use this tool to manage their pending, ongoing, and processed tasks. For project managers, the logs also allow them to view the progress of each project member's work and give them an overview of the project's progress, and allow them to communicate any problems they find.
Try using [My Workbench] to manage all the issues in projects! It will make communication easier, which can save costs and make teamwork more efficient.
Step 4: Project monitoring and control: understanding schedules and monitoring project progress
Managers need to monitor and control the project during the project management process to keep the project developing in the direction envisaged as much as possible. Tracup is a useful tool for monitoring projects. Users can keep up to date with information about the project in the [Overview] section.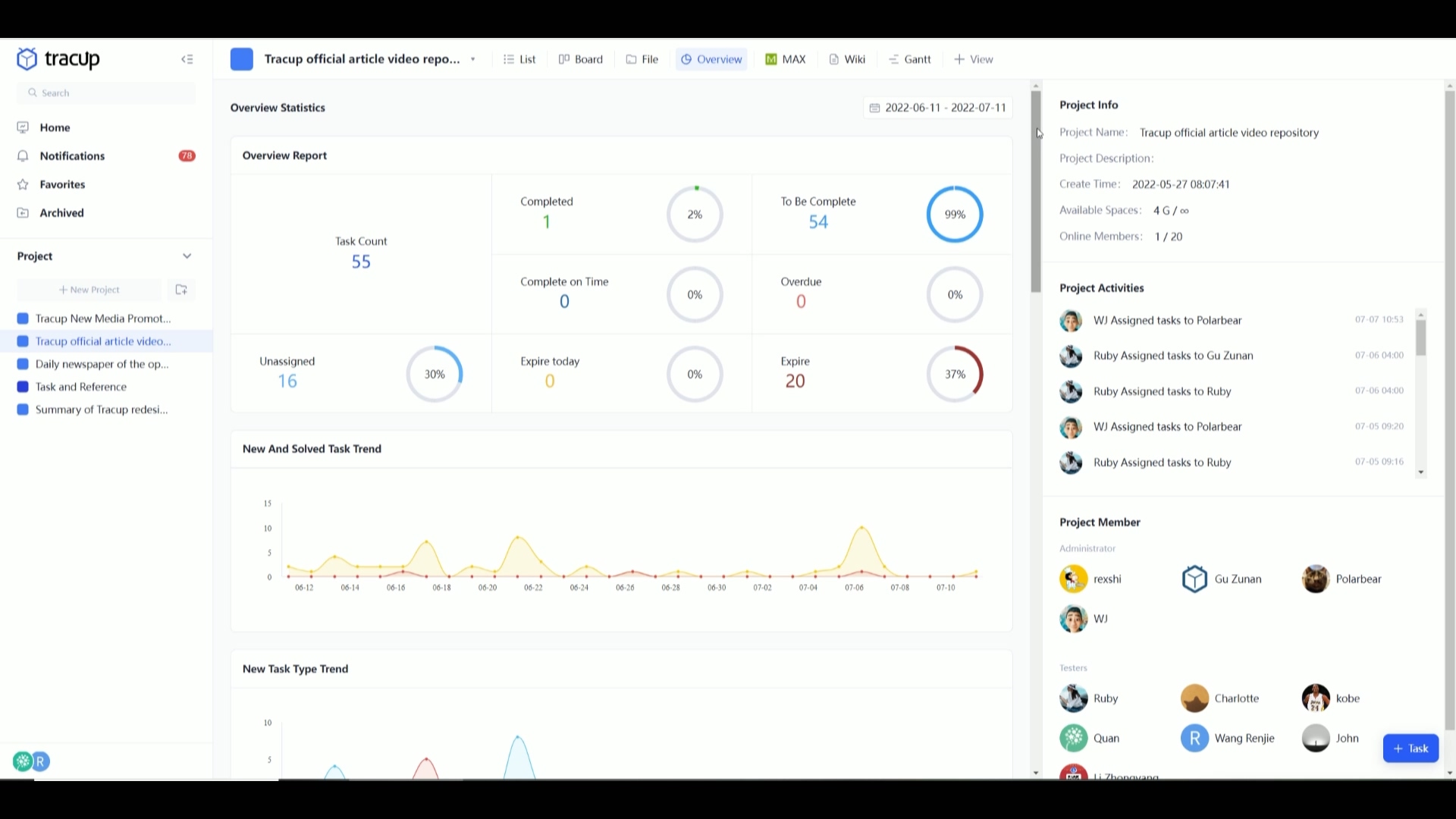 By viewing the completion status of each task through the [Statistics] in the project section, users can know how the project is progressing and better control the schedule of the project. Besides, there is also a Gantt chart to check individuals' progress and know how well the team members are doing to make appropriate adjustments.
Step 5: End of the project: summarise the strengths and weaknesses
At the end of a project, the result needs to be recorded. At this time, a project review can be done to absorb the experience gained during the process to better guide the next one.
With the [visual diagram] in Tracup, it is easy to summarise a completed project and analyze what worked well, what was not good enough and what are the reasons. In this way, developers can reference previous projects and avoid the same mistakes before starting a new task.
Tracup is brimming with agile project management tools that boost team efficiency, including task management, file sharing, project reporting, and workflow tracking. Lag time brought on by slow communication is eliminated by having access to task discussions, status, progress, and reasoning in one place. Additionally, it offers automatic workflow alternatives to satisfy a user's preferred working methods. Several Kanban board views, including list, card, sheet, Gantt chart, and calendar view, are used to organize data.
Assisting businesses in real-time project planning, administration, tracking, and automation, Tracup is an online workflow execution platform that has incorporated the most well-liked productivity applications, including Github, Figma, Zoom, Slack, etc. The platform's various recognizable templates make it easy to use, especially for beginners. The amount of time it takes to train staff on a new software system is decreased when a product may be used straight away.
Unlimited users can use the free lifetime plan forever.
For teams of any size, a fixed low-cost BUSINESS plan is available for USD899 per year per team (less than $75 per month and no longer increasing with users).
Features specially designed for developers (e.g, bug tracking, development status)
Establish and maintain product roadmaps
Responsive Reporting
Wide range of features
Customizable
Teams' comprehensive tools
Flexible design intuitive learning
Free templates can be productivity hubs to control project management steps effectively
Templates reduce time by providing standardized project templates and quickly developing projects for customers based on the mainstream procedure in many industries' specialized scenarios. Using Tracup as an example, when you visit the project template center, users can examine pre-made templates in various categories or configure ready-to-use templates suitable for users.
Users can access the project template center from their workspace as well as the settings menu located behind their avatar. There are pre-made templates accessible for common tasks such as sales management, OKR administration, and CRM project management. Custom fields increase the number of columns that can be displayed in list views, boards, files, and wikis.
The following are some very typical templates to control project management steps effectively:
Want to emphasize flexibility, collaboration, customer involvement, and responsiveness and help the team control project management steps effectively. Hit Tracup right away.