Set goals and objectives for work and managers to succeed, then you can easily set your priorities and achieve success. Some people have even used goal setting as an effective method to motivate workers. Find out more about the process of setting goals and objectives here. You'll also learn why it's important to keep goals flexible.
A proper plan is one of the main tasks of the team manager. such as improving sales performance, and productivity and reducing staff turnover. However, even though a detailed plan is completed, the goal is still unattainable sometimes. Managers do their best to plan and team members work hard. In this context, it is particularly important to effectively avoid uncertainties during development. Therefore, how to reduce risks is gradually becoming an important issue for team leaders.
We set goals to see an improved or newly achieved outcome over a specific time. It's a psychological tool that can help boost productivity. But why do so many people struggle to stick to their goals and see them through to completion? A faulty goal-setting process is frequently to blame.
Setting goals helps people follow them through to completion. Sure, you can say something out loud or discuss your goals with your manager, but unless you put it down on paper (or in a structured OKR/KPI doc), your goals are likely to fall through the cracks.
Goal-setting in the workplace is critical not only for an individual's success and growth but also for the success and growth of the company. Everyone will succeed if you can motivate employees with attainable and measurable goals.
1. Prioritization of objectives
There are many employees in the team, so sometimes managers would think that they can progress toward more objectives at the same time. However, employees have daily routines such as contacting customers, preparing reports, and dealing with unexpected tasks, thus it is difficult to achieve consistency to a certain extent. Therefore, it is important to set priorities and measure completion through key criteria over the same period.
2. Team members did not understand the objectives accurately
Managers sometimes complain that employees did not take their tasks seriously enough and it is not necessarily a matter of their ability. It is most likely that the employee does not understand his or her work objectives and the specific expectations of the leader. For example, the progress of goal completion must be communicated or reviewed regularly in weekly meetings, and the milestones of progress need to be repeated over and over again to ensure that each team member, truly understands the work they need to do.
3. Did not spend time on the important things
Important and urgent matters are the priority. However, many people spent a lot of time and effort on unimportant but urgent matters, causing many team members to be very tired and busy at the end of the day. Therefore, it is particularly important for managers to accurately target and prioritize objectives.
How to avoid the above three factors getting in the way of accomplishing team objectives?
With Tracup, team members can process all tasks efficiently. Getting started in a minute!
![Alt text](/article_pictures/Tracup-Gnatt chart.jpg)
Tracup is a delicate teamwork platform that supports the quick creation of projects in a variety of ways and allows for the intuitive monitoring of projects. With just one account, users can manage all projects simultaneously, including but not limited to those users created and participated in. More than that, it has more surprises.
Kanban: view project progress at a glance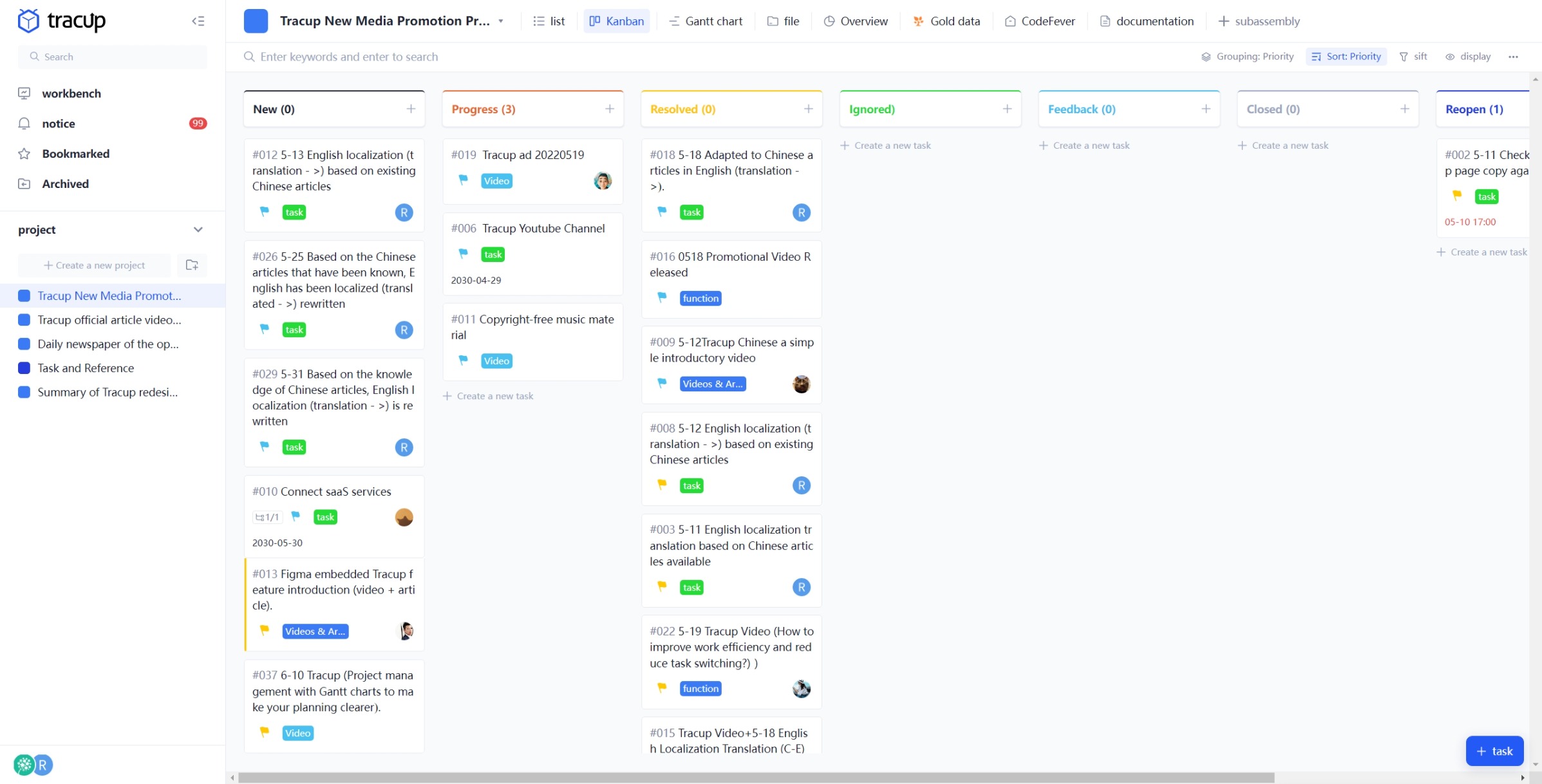 Do plans fail to change as quickly as they should? Sort the Kanban board as you wish, with a high degree of customizable access. In Kanban mode, the cards can be flexibly sorted by dragging and dropping, which is perfectly matched to the actual work of the team. In addition, users can set permissions based on the team's role to enable collaboration between multiple team members.
Except for the Kanban view, there are more ways to use Tracup
Different from most project management applications, Kanban is just one of the features that can help users and the team to multiply efficiency. Project statistics, developments, members, and issues are all available at a glance; automatically updated data visualization charts for monthly and weekly reports can do more than users ever thought.
Tracup is brimming with agile project management tools that boost team efficiency, including task management, file sharing, project reporting, and workflow tracking. Lag time brought on by slow communication is eliminated by having access to task discussions, status, progress, and reasoning in one place. Additionally, it offers automatic workflow alternatives to satisfy a user's preferred working methods. Several Kanban board views, including list, card, sheet, Gantt chart, and calendar view, are used to organize data.
Assisting businesses in real-time project planning, administration, tracking, and automation, Tracup is an online workflow execution platform that has incorporated the most well-liked productivity applications, including Github, Figma, Zoom, Slack, etc. The platform's various recognizable templates make it easy to use, especially for beginners. The amount of time it takes to train staff on a new software system is decreased when a product may be used straight away.
Unlimited users can use the free lifetime plan forever.
For teams of any size, a fixed low-cost BUSINESS plan is available for USD899 per year per team (less than $75 per month and no longer increasing with users).
Features specially designed for developers (e.g, bug tracking, development status)
Establish and maintain product roadmaps
Responsive Reporting
Wide range of features
Customizable
Teams' comprehensive tools
Flexible design intuitive learning
Free templates can be productivity hubs for Effective Settings Goal And Objectives For Managers
Templates reduce time by providing standardized project templates and quickly developing projects for customers based on the mainstream procedure in many industries' specialized scenarios. Using Tracup as an example, when you visit the project template center, users can examine pre-made templates in various categories or configure ready-to-use templates suitable for users.
Users can access the project template center from their workspace as well as the settings menu located behind their avatar. There are pre-made templates accessible for common tasks such as sales management, OKR administration, and CRM project management. Custom fields increase the number of columns that can be displayed in list views, boards, files, and wikis.
The following are some very typical templates for Effective Settings Goal And Objectives For Managers:
Set goals and objectives for work and managers to succeed, then you can easily set your priorities and achieve success. Some people have even used goal setting as an effective method to motivate workers. Hit Tracup right away to find more.