Online Competitor Analysis Template is available as part of your real free plan forever!
Do you know what competitor analysis means? It's an important tool that helps you understand who your competitors are, where they fit in your market space and how you can beat them.
Entrepreneurs should concentrate on learning how clients are currently dealing with the issue
A competition analysis is an essential component of any business plan. Once you've established your product's vision and the client problem you're tackling, it's critical to study the other firms in your industry. This assists you in identifying opportunities and risks. It also enables you to develop plans that better answer the demands of your prospective clients than your competition.
Entrepreneurs should concentrate on learning how clients are currently dealing with the issue. This necessitates a thorough awareness of all available options, including direct and indirect rivals. Within the same market, direct rivals provide a comparable sort of product. Indirect rivals provide a different sort of product that fulfills the same function. Considering all of your prospective clients' alternatives allows you to differentiate your service and develop a durable competitive edge.
The free Competitor Analysis Template given here makes organizing and communicating your competitive research a breeze. They save a lot of time. Choose from a variety of samples and download them for free. Of course, you may use the Competitor Analysis Template for free indefinitely if you wish to swiftly gather competitor information, construct product roadmaps, and design go-to-market strategies utilizing a collaborative and web-based method.
Understanding the market landscape may be aided by doing competition analysis. This assists you in identifying alternate solutions to prospective clients' concerns. It's also a wonderful opportunity to examine the strategies of other providers. This provides valuable insights into how other businesses are attempting to bring value to your target consumers.
Your competition analysis should address the following key issues:
Who are the other firms in your market competing for customers?
What are their products and services?
How much market share does each competition have?
What are their strong points and weak points?
How do your goods and services measure up?
How do you set your products and services apart?
These insights are used by product and marketing teams to guide their strategic strategies and identify what will make their product successful. It enables companies to develop a strategy that takes into account the strengths and shortcomings of their product in comparison to the competitors.
Online Competitor Analysis Template is available as part of your real free plan forever!
6 steps of competitor analysis
Follow the methods indicated here to maintain your research properly formatted and organized.
Identify relevant rivals to include in your research by selecting competitors.
Create a workspace for competition analysis that can be readily shared and updated over time, and compare and contrast rivals based on various criteria such as price range, product offers, social media involvement, and other features worth evaluating.
Identify rival kinds to assess how they will interact with your company.
Determine the positioning of your competition
Determine comparative advantage and offers, comprehend rivals' message, examine their competitive advantage and product or service offering, and compare competitors' products and services to your own. Examine internet evaluations of your target demographic to see why people pick their business. They may provide comparable items at a lesser price or are concerned with sustainability. In any case, you'll want to understand their edge and figure out how you might provide something better.
Do competition analysis, think about conducting competitive analysis to go along with the data you acquire. It's a framework for the competitive analysis that identifies your company's strengths, weaknesses, opportunities, and threats and may help you shape your entire marketing strategy. The competitive analysis looks at the strengths of your rivals and compares them to your company's to identify development opportunities.
It informs your break-even analysis and keeps you up to date on the competitive scene. You can predict difficulties and continuously improve your company. If you want to seek finance, provide an updated competitive analysis in your proposed business plan.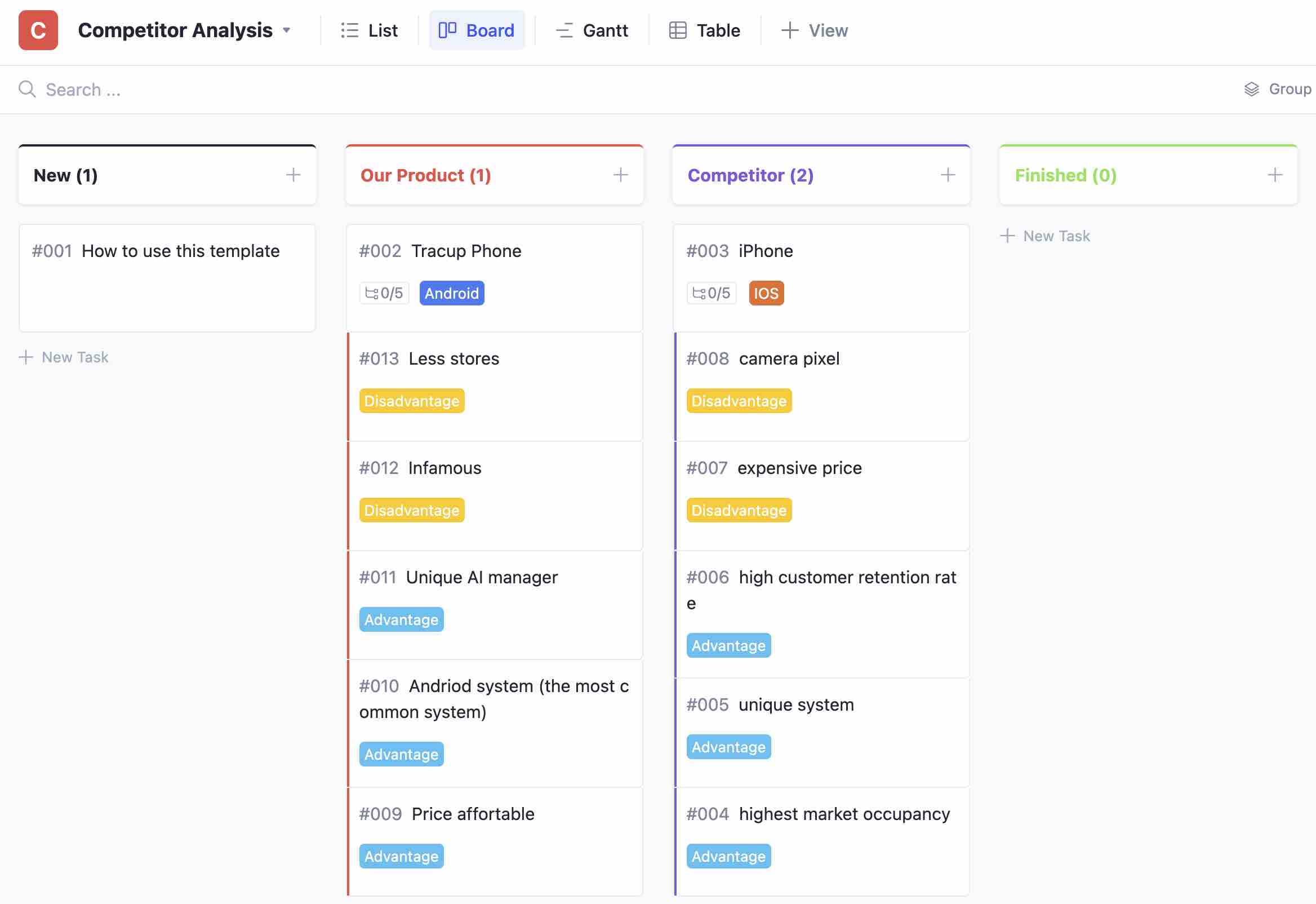 When you launched your product, you must know who your competitors are and what their advantages are. Use this template to create a clear contrast and comparison chart.
Create your product information under the "Our product" category.
Set several competitors under "Competitor."
Fill in "Price" and "Market Share" for both your product and competitor.
List every advantage and disadvantage of your product and competitor by using subtasks. Tag them.
Make comparisons and contact, and see what you can do to improve strength.
Competitor Analysis Template has already created an example of cell phones to inspire you. Easy delete them and edit yours under this template.j
About Tracup
Tracup is brimming with agile project management tools that boost team efficiency, including task management, file sharing, project reporting, and workflow tracking. Lag time brought on by slow communication is eliminated by having access to task discussions, status, progress, and reasoning in one place. Additionally, it offers automatic workflow alternatives to satisfy a user's preferred working methods. Several Kanban board views, including list, card, sheet, Gantt chart, and calendar view, are used to organize data.
Assisting businesses in real-time project planning, administration, tracking, and automation, Tracup is an online workflow execution platform that has incorporated the most well-liked productivity applications, including Github, Figma, Zoom, Slack, etc. The platform's various recognizable templates make it easy to use, especially for beginners. The amount of time it takes to train staff on a new software system is decreased when a product may be used straight away.
Unlimited users can use the free lifetime plan forever.
For teams of any size, a fixed low-cost BUSINESS plan is available for USD899 per year per team (less than $75 per month and no longer increasing with users).
Features specially designed for developers (e.g, bug tracking, development status)
Establish and maintain product roadmaps
Responsive Reporting
Wide range of features
Customizable
Teams' comprehensive tools
Flexible design intuitive learning
Free templates can be your productivity hubs
Templates reduce time by providing standardized project templates and quickly developing projects for customers based on the mainstream procedure in many industries' specialized scenarios. Using Tracup as an example, when you visit the project template center, users can examine pre-made templates in various categories or configure ready-to-use templates suitable for users.
Users can access the project template center from their workspace as well as the settings menu located behind their avatar. There are pre-made templates accessible for common tasks such as sales management, OKR administration, and CRM project management. Custom fields increase the number of columns that can be displayed in list views, boards, files, and wikis.
The following are some very typical templates for your Marketing Strategy:
Many companies have trouble getting even basic information from their competition. So what if there was a way to do a deep dive into your competitors' business strategies and tactics? Once you've found the information, you need to figure out what to do with it. That's where we come in.
**You'll analyze your competitors' strengths and weaknesses so you can start planning your strategy. Hit Competitor Analysis Template to get started right away!**z