You're probably thinking about working up from home right now to improve team collaboration, efficiency, and productivity. But what if I told you there was a way to work from anywhere in the world?

While people are gradually recovering from the pandemic, cross-regional travel is still limited, more and more corporate employees are working from home as the norm, and new models of remote management of teams are emerging.
In fact, this change in work rules and the way we all suddenly have to adapt to working from home is actually a difficult adjustment for many people.
Being concentrated in an office is a natural working pattern that has developed over the course of human evolution, where people are all in the same place. You can look up and see what's going on and easily discuss it with your colleagues, and you can always ask the colleague sitting next to you: 'Hey, how's this task going? How's it going?'
How do you work up if you are not in the office, improving collaboration, efficiency and productivity?
Maybe opinions are gradually working up on this status all over the remote site, the team is actively working up proposals, and that is what we are working up to now if we can get over these difficulties.
A work management tool like Tracup is a reliable tracking template, but when everyone is spread out, different disciplines are needed to make it work. In the office, it might be the place to store the agenda for the next set of meetings, or to create and track project plans. But now that everyone works from home, it has become the primary way to keep track of who has done what.
Instead of sitting at your desk showing your productivity, the new "On Your Deck" over time sends notifications to your colleagues and team that you got things done in Tracup. That's the real measure of productivity.
Working in the Tracup workspace, collaborating, motivating, and monitoring changes in the structure to get things done in a transparent and accountable way, that's really what it's all about. The signals are clear because you're actually showing that you've clicked on tasks. Your manager isn't using how long you've been sitting at your desk as a proxy for measuring your commitment or productivity.
That's because tools like Tracup provide a shared way to break down a task or project into individual steps that everyone can track.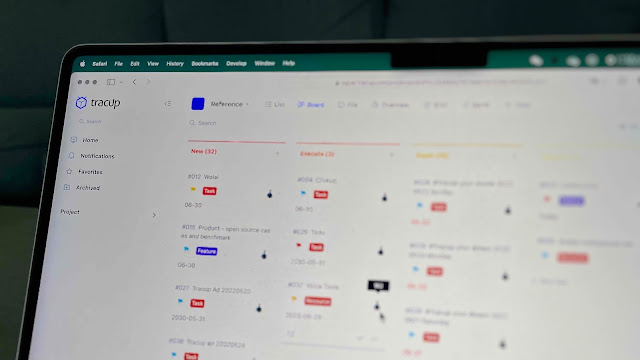 Create your kanban board and template, track task status types and improve work efficiency
If you're going to take people out of the office, which is the structure that holds teams together and assigns them as we do now, you need some kind of virtual alternative structure. That's what Tracup needs to be.
In the old world, a very small percentage of remote work was done where someone would travel to work on a project and then come back and report back, and that was usually done in a highly trusted environment where the office was home base.
Kanban Board software is a work management tool that helps you visually manage and track the workflow of your projects, usually including Kanban boards, work-in-progress, task dependencies, Gantt charts, and more to help teams create and automate their workflows. Online Kanban is a tool that allows teams to visually organize their work and track the progress of their tasks.
Kanban also stands for a "virtual kanban system" to simulate processes and track the work your team is doing. You can create columns for different stages in the process, such as "Backlog", "To Do", "In Progress" and "Completed" and track the progress of your work by moving cards to the corresponding columns.
With Tracup, you can break down a large project into different parts. Many of these parts may be cross-functional. The manager, or team member, can first see how all these parts fit together. But at the same time, you can log in in the morning and you can see the exact status of the 99 steps that are actually needed to complete the project, rather than someone leaving and working for three weeks and days and coming back with all 99 steps completed.
In other words, instead of having someone do a job and waiting for them to finish it, you can break the work down and maybe share it among different team members. But this type of teamwork requires more transparency and accountability because the team is now collectively responsible for getting the work done, so everyone needs to be able to see the big picture.
When a team is working together, you as teammate care that all the pieces that need to be in place to succeed are in place. What we've seen is that progress tracking and work product are what this platform is all about. As a person, you can make sure that nothing slips through the cracks.
Using SMART goals approach helps your project management department get the job done
SMART Goals Project management helps teams achieve their mission goals by setting specific, measurable, achievable, realistic, and time-sensitive task goals. But there are so many complexities involved that using a project management tool that supports the SMART goals approach, such as Tracup, is an effective way to do this.
Referring to Wikipedia, SMART is an acronym for a helper word that gives guiding criteria in setting goals and objectives for better results, for example in project management, employee performance management, and personal development.
George T. Dolan developed the acronym SMART goal planning in 1981 to make goal setting more practical. It helps teams set goals and objectives more realistically. the SMART approach prepares individuals and teams to be more productive. They can focus their efforts, clarify their thinking, use their time and resources wisely, and increase their chances of achieving more.
Once task goals are defined, setting objectives is the next step in moving forward with a clear understanding of how to achieve the desired outcome. The difference between a goal and an objective is that a goal is a precise action or measurable step that the company and team can take to get closer to their goal.
For more information on SMART goals refer to https://tracup.com/blog/How-Smart-Goals-Help-Project-Management-Highly-Productive
Change is ongoing
Now that we must all begin to adapt to these new ways of working, some things will remain the same.
First, working remotely places different demands on team leaders thanks to essential tools such as Tracup, which includes task and results tracking so that everyone on the team can maximize results no matter where they work and know who is responsible for what task at what time.
Second, create a standard workspace that tracks the workflow of different tasks, documents, images, videos, music and even web links.
Once people get used to having a workspace handle status updates, there is no need for meetings to keep everyone on the same page, and once they are back in the office, they no longer need any kind of real status updates.
Tomorrow when you can wake up in your slippers, walk to your dining room table, boot up your laptop and click Tracup at www.Tracup.com, you'll see clearly the status of everything on deck.
Read more: https://tracup.com/blog/A-New-Style-of-Working-From-Home-with-Tracup and https://tracup.com/blog