Tracup is built as a free collaborative office project management software, a multi-one productive tool for any career, and any type of teams.
Have you been troubled with massive amount of apps to deal with all kinds of works, such as sending emails for communication, using GroupMe to contact with colleagues, or uploading important files via iCloud, or analyzing data by excels?
Switching between one and another apps would deplete a huge portion of your energy and time. We've been looking for many office tools or software, no one can satisfy our demands. That's why we created Tracup, a project management software which includes all the features we've mentioned previously.
What is Tracup?
You could spend three minutes to have a brief image about Tracup either by watch this video or reading this article.
"There are a thousand Hamlets in a thousand people's eyes."
So as Tracup users.
You could concentrate all works in one place by using Tracup. Besides that, Tracup also provides extendable structure, convenient team corporation, complete problem system which pushes it became one of the most popular project management software in the market. In Tracup, you could easily create, follow and share any programs, you could also build a perfect working process, establish marketing events, manage development sprint. More then those features, Tracup holds every single features for facilitating working processes, saving times, increasing work efficiency, and advancing business growth potentials.
What Can Tracup do for you?
In conclusion, it can help you manage all the works for your team or companies.
Software R&D

Using Tracup to manage software R&D:
R&D teams need appropriate tool to support plans and deployments, and give efficient backups for emergencies. Using Tracup, plan and follow everything, to ensure effective progress.
Processing requests: Tracup Calendar allows you to check up multi-member across projects issues. You could display all the requests together. Calendar provides leaders a overall review of all the tasks in process, you could easily arrange and allocate priorities!
R&D deployment: from plans to preparations, then to deployment, you could track and manage every steps to clarify things to do and when to do it!
Test feedbacks: real time feedbacks, make sure every problemed detail of users, modules, versions are displayed, ensure problems are completely solved!
Products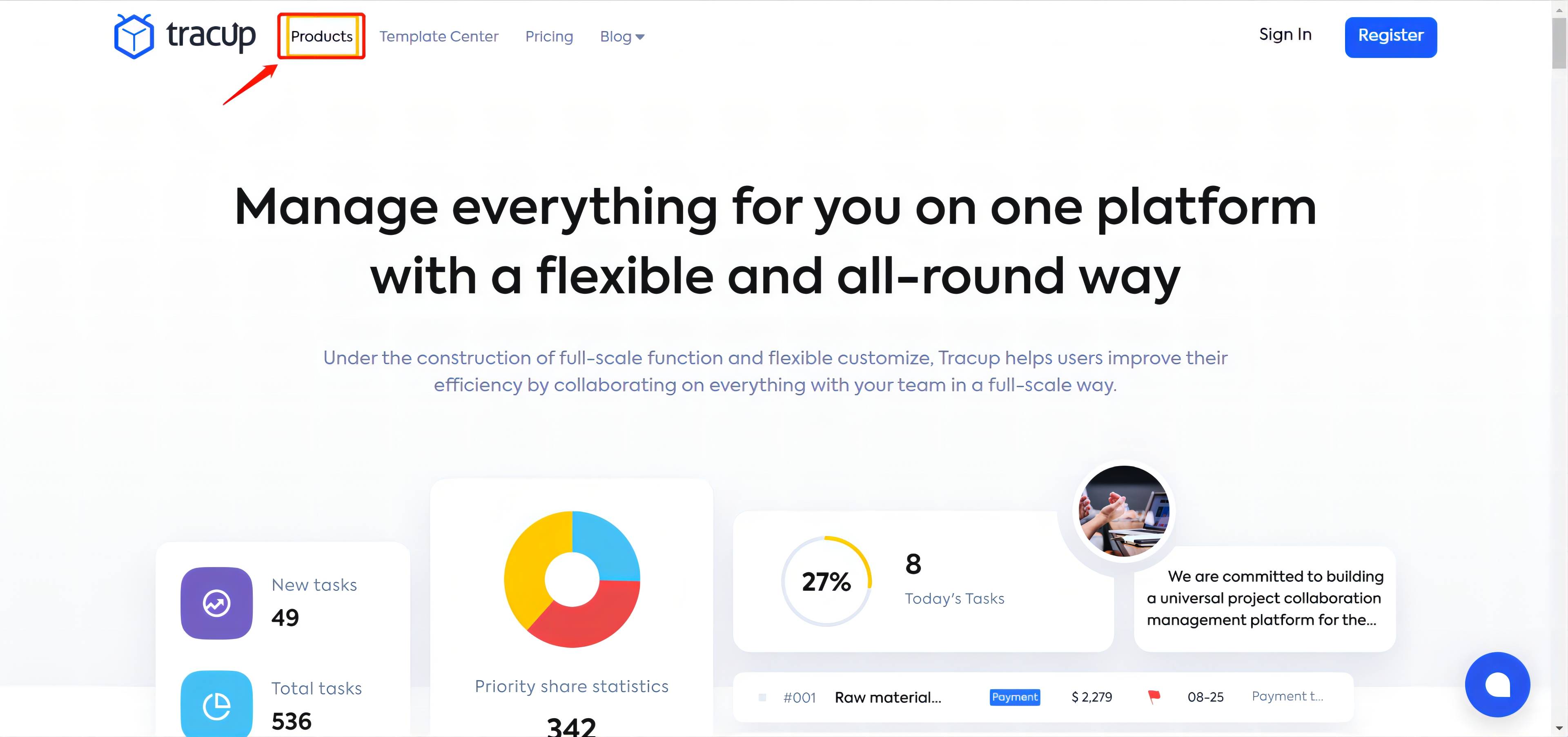 **Using **Tracup to accelerate your products to customers:
Using Tracup to manage product routines, help clarify status of products, track process of products, and adjust resources to improve your products. Tracup will help you implement and advance those works.
Product Routine Management: Manage the routine of products, summarize ideas that your team would use to achieve those goals. Let everyone in your team to know your aims and working process status.
Collecting User Feedbacks: collect and concentrate user feedbacks, convenient for users of noticing market changes in a shorter time. Correct decisions can be made and advanced improvements can be created. Thus customers could receive better products.
Releasing Management: execute releasing plans, clear and definite related events before and after releasement. Make sure release complete and usable products to customers in time.
Error Management: manage and track errors in a specific place to notify engineers understand the priority of errors. Make sure everyone knows the issues faced, and amount of time needs to be solved.
Marketing
Help build better marketing plans:
Using Tracup, reducing processes to focus on more important marketing.
Build plans: creating clear plans and connect them to control marketing works always on the right trucks. You could simply edit it once the plan changes.

Allocate works: allocate marketing works to the team members in a proper way, balance time usage. At the same time, adjust time and spaces for plans to ensure works follow the schedule.

Automatic execution: using automation from Tracup to simplify processes of your marketing ideas. Clear steps, reduce errors and manual works for creative thinkings.

Key of Accomplish Elaborate Operation Management:。
Simplify Works: create clear and standard frame to execute plans efficiently and timely.
Manage team missions: check plans and deadlines at anytime, share important program schedule to team members. Improve efficiency and productivity instead of repetitive works.
Staff Management: using standard way to manage employees, suppliers, purchases and etc. Using simple and accurate data to manage all the works.
Sales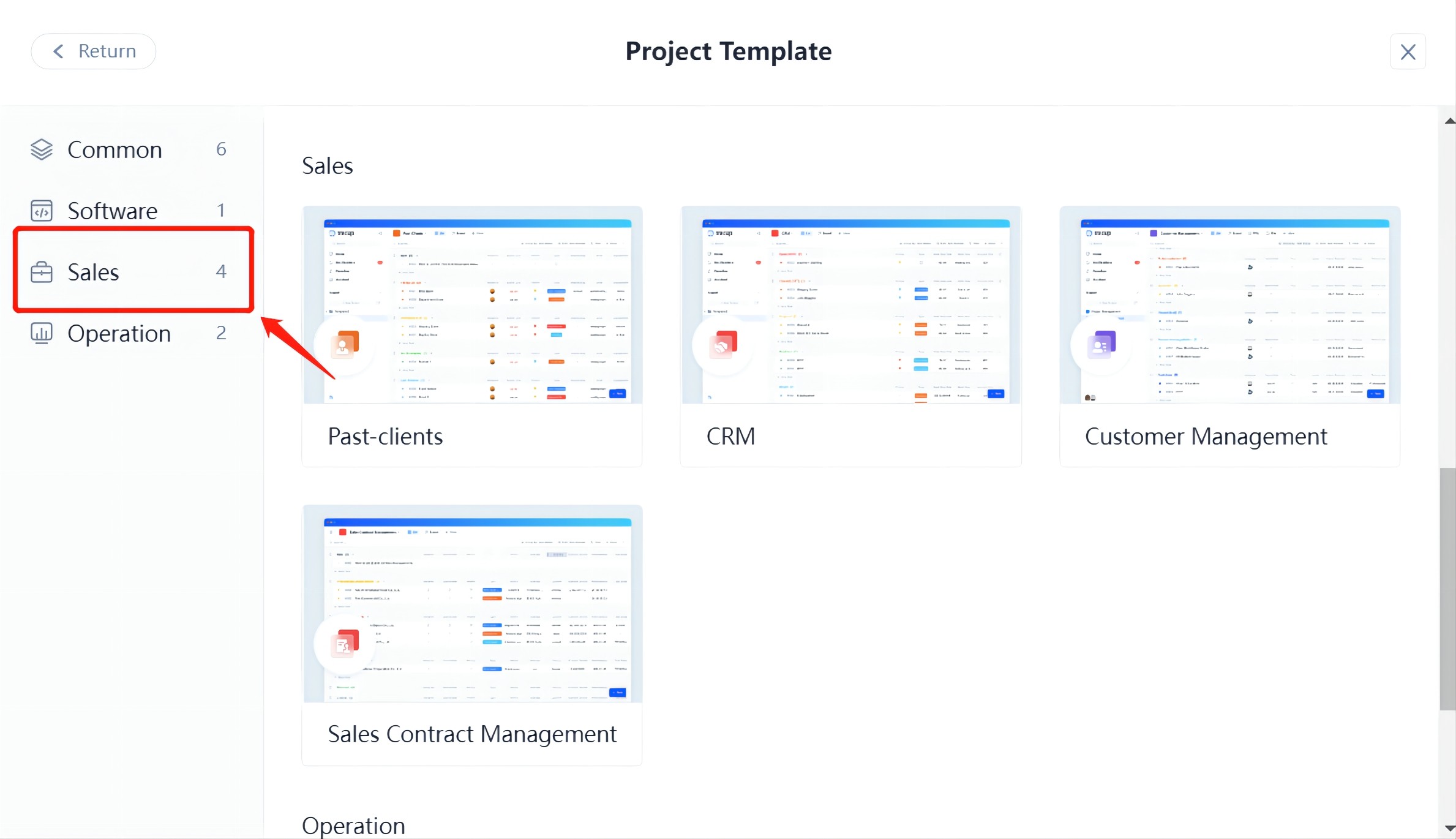 Better Sale Assistant:
Great sale teams choose Tracup to order customer demands in priority, keep everything in records.
Response Customer Requests: create simplest process to respond for presale supports, make sure every emergency gets solved in a short time.
New Customer Settlement: automate sales processes and close faster. Ensure a flat transition between customers and customer manage teams.
Manage Customers: provide excellent services and supports for customers. Record real time messages and status of customers to give feedbacks of healthiness of client relations.
Planning

**A Brand New Plan Starts with **Tracup:
Clear details: as a team leader, you could see every work that assigned to any body, set up time nodes and deadlines for important things.
Comfortable Overviews: Tracup uses the most appropriate views to demonstrate complete plans. Make sure every stage is on the right trucks.
Optimal Adjustments: adjust your plans any time and any where, Tracup would record every changes that been made, so your team members could recall at any time.
What Else Can Tracup do?
Customize Business: Highly flexible ways applied to adapt to all kinds of business and situations like missions, demands, Bugs, etc.
Authority Management: Flexibly define and allocate authorities for data accessibilities to adapt different corporations.
Multiple Views: According to different situations, Tracup provides views by time, personal habits, features for concentrating key works.
Comprehensive Filtration: filtrate in multi-dimensions and conditions, locate target data from massive data base.
We can do more:
Implant with Github: 5 GitHub Embeds Make You Using Tracup Effectively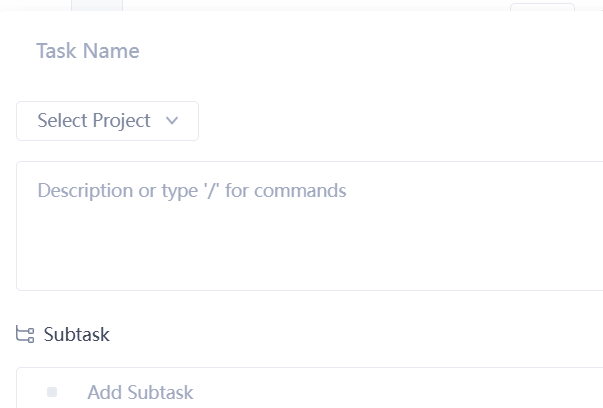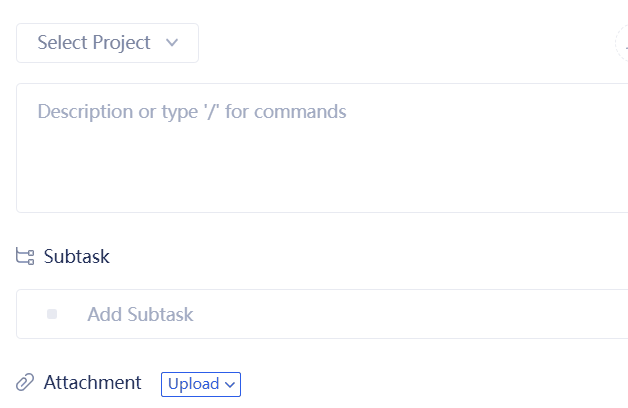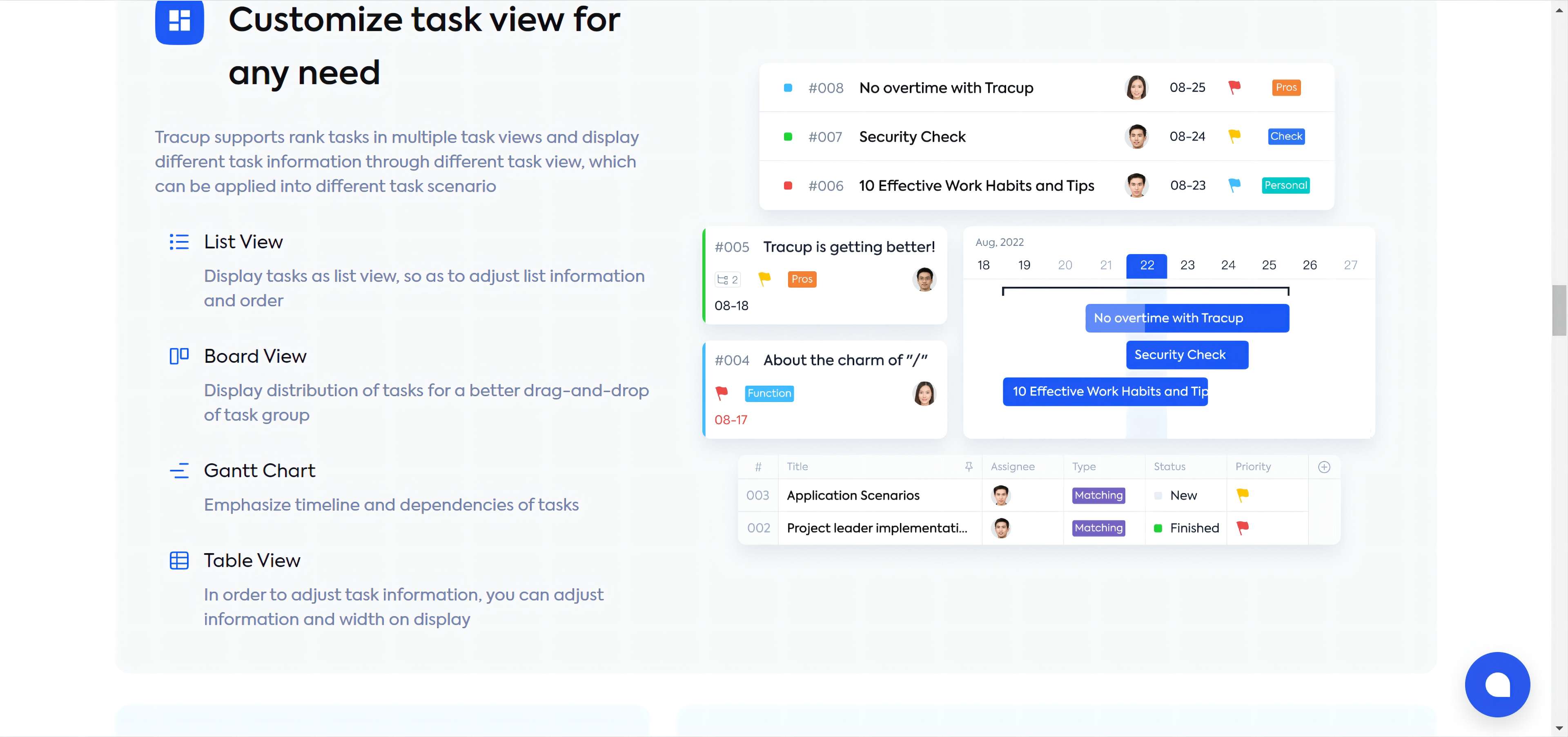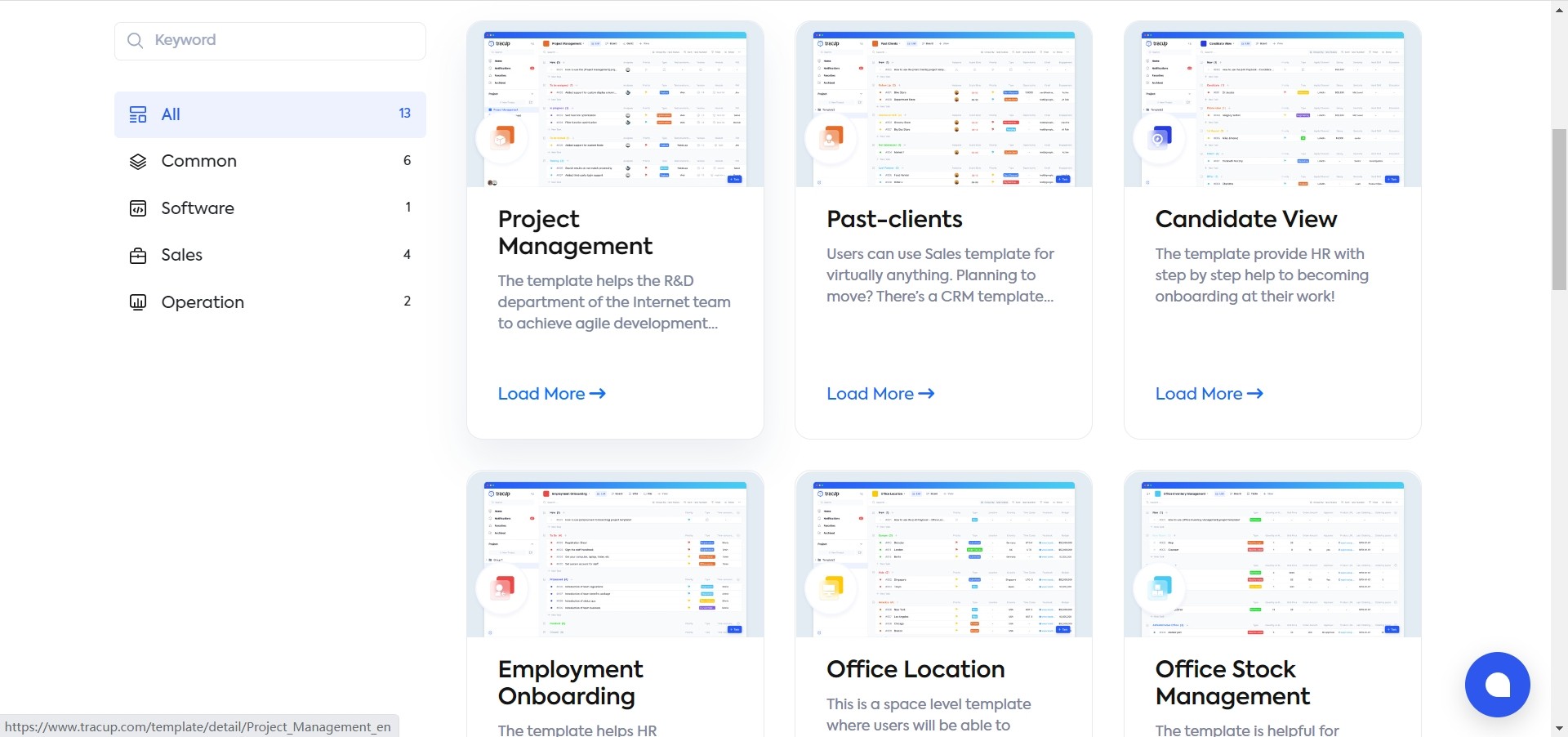 What's the difference between Tracup and other Project Management Software?
Problems of Other Software:
Either lack of features or too complicated.
Too many apps required. Calendar, Docs, data base, sheets, mind managers, notes.
Cannot meet everything in one view.
Cannot track other team members work, what they have done and what they are going to do next.
Always have minor errors in details, why is perfection so hard to achieve?
Tracup could replace those apps. No matter who you are or what you are doing, it is the best workbench for you. Here are something cool you could do with Tracup.
Add several views, customize authority and fields.
Add video, docs ,even design drawings, use these resources without leaving Tracup.
Consider each stage of works, get to know everyone's process at any time.
What Are Some Special Tools of Tracup?
Tray: Minimize tasks in the tray, so you could open it once return.
Documents: Complete editing features with slash command and implantation. Besides that, share your documents with anyone you want.
Slash Command: Enter "/" to visit couple shortcuts and edit them. Reduce time wastes.
Real-time Collaboration: Get notification once a comment uploads and what jobs have done by your colleagues.
To do List: If you like the way GTD use, you would be obsessed with this.
Targets: Track OKR along with your tasks.
Multi-Views: Switch between multiple views that Tracup serves, and visual tasks as your want.
Subtask: Create subtasks right under task, assign to related members easily.
Overviews: Manage resources and track task process of members. Analyze which member is on fire, and who needs more practices.
Integration: Massive integration resources, 99% are free for users.
What Do We Provide?
1.Design
Aesthetic design is always the first step of attracting customers, but we focus more on user experiences. Tracup believes user experiences is the root of retention rate.
Tracup refines our products and designs based on customer experience. In order to help customer increase their efficiency and productivity, we try our best to save your time!
2.Customer Service
"The customer is always right." We care our customers more than anything else. And we keep working to prove that.
Our feedback response are in process all the time to make sure your problems will be solved as soon as possible. Please contact us viawww.tracup.com, we will respond immediately.
3. Customization
The working zone, project, and tasks part of Tracup include lots of customization features. Feel free to set up tasks, status, fields, types, and etc. Also, allocate different authorities to your members as you wish.
4.Feature
Our R&D team add new features almost every week.
We will never stop innovation. We are making the best project management software for customers.
5.Made for Every Body
We believe that traditional team works use more than one app/software to drive the process. Continual switching from one app to another is the core problem of low efficiency and communication barriers between different departments.
Tracup provides sufficient features and customized options for all groups. From marketing to construction, to operation, team members can share information in real time for communication, feedback, and advancement.
Meanwhile, customers can use Tracup in their daily life arrangements.
All the above is a little corner of an iceberg. If you are interested of Tracup, Get more information by clicking Tracup.