Get an up-close look at Kanban, a system for agile project management, and the advantages of using such a methodology. Learn how Kanban can help organizations handle projects efficiently and effectively.
Kanban is an agile methodology that focuses more on team communication, continuous improvement, and transparency. It involves using boards for effortless workflow management.
In a Kanban board, you create standardized task queues like "To-Do," "In Progress," and "Done" that reflect your workflow needs.
Agile teams love Kanban boards because you don't need any sort of Kanban certification to use them, and project managers love this tool because it requires very little employee training!
![Alt text](/article_pictures/Kanban_Agile_Define_Project_Management_and_Templates_for_Startups_Best_and_Free/kanban_project_manage
ment.jpeg)
What is Kanban and Kanban project management
The Kanban board has gone a long way to become what it is today. Kanban began as a visual scheduling method as part of the Toyota manufacturing system. A few decades later, in 2007, David Anderson expanded on the Kanban method's concept and invented the Kanban board. Indeed, it was Darren Davis (Anderson's coworker) who recommended that the procedure be depicted on a whiteboard. This is how the Kanban board came to be known as one of the most helpful agile project management tools for knowledge work. Kanban boards are now so widely used by Agile teams that they are commonly referred to as agile task boards.
Kanban is currently a prominent lean workflow management strategy for establishing, managing, and optimizing knowledge work services. It enables you to see your job, increase productivity, and continually improve. Kanban boards represent work, allowing you to maximize job delivery across many teams and handle even the most complicated projects in a single environment.
The Kanban board is a workflow visualization tool that may help you bring clarity to your work process while also increasing productivity by restricting work in progress.
You will rapidly discover troublesome work phases with this additional degree of transparency, and by enhancing those, your team will soon operate more efficiently.
Benefits of Kanban project management?
Visualization of work progress
Kanban is one of the easiest, and probably smartest ways to visualize workflows, tasks, and projects.
Kanban lists the simplest steps to completing a task and the steps (or states) required to complete the task. On the left, you'll see the tasks that need to be completed and move them to the right state. Pay attention to the "In Progress" column so that you can always keep abreast of how your work is progressing. However, adding too much content to this column can overburden your team.
At a glance, you can measure and estimate what is being done and what still needs to be done. These status sections give your team a visual representation of your workflow, and you can set the task states you need, not just these three.
You can also color-code your cards to let developers know what type of work needs to be done and what kind of work needs to be prioritized. For example, red is a high priority, yellow is a normal priority, and blue is a low priority. The combination of card colors, along with the appropriate task status, can help you know what work is being done and the status of that work.
Optimize workflow
Once you've visualized your work, it's time to optimize it. The goal of Kanban is to limit the amount of work in progress (WIP).
You don't want to fill the cup too full. The task you want your team to be able to handle and complete in a certain amount of time is the right amount. Each task should be able to move appropriately within your workflow without overwhelming your resources. You don't want bottlenecks.
You want all the best. To help you solve this problem, you can set a limit on the number of tasks that are "in progress". This WIP restriction will let your team members know not to start new tasks until those ongoing tasks are completed. If the Kanban board is full of tasks, they can join and help with the work of another project.
In general, When you use Kanban project management, you will be able to start with small tasks on a project and build sustainable, long-term improvements into the project's flow, step by step, resulting in higher levels of project productivity, less stress, higher quality, and other benefits.
Enhanced Visibility
Increased productivity
Greater flexibility
Increased team focus
Reduced waste
Better collaboration
Increased predictability
Alignment with company values
5 key points of Kanban project management
Begin with a simple structure for your Kanban project management, gradually improve your Kanban board, and then follow these steps to transform it into a task workflow management system.
1. Create a Kanban board to represent your workflow.
Use the Kanban board to represent each stage of your workflow. You should be able to understand how work is being processed by looking at the Kanban board. Begin with a basic Kanban structure and divide it into several main sections to represent the various work stages.
2. Use the Kanban board to identify workflow bottlenecks.
Kanban is an excellent tool for visualizing potential issues in your process. The logic is straightforward: if you see a column of tasks arriving faster than they are leaving, work will begin to pile up, and the issue will be visible to the entire team. This could be the result of a temporary issue or a bottleneck in your process.
When you notice a problematic column or bottleneck, take immediate action to address it and prevent it from happening again. The simplest solution is to limit the amount of work done early in the process. This way, the people who "own" the stage will have more time to alleviate the bottleneck. Another option is to reallocate the work of the team to meet the new requirements. Kanban is intended to provide maximum flexibility, allowing you to remain in control of all critical decisions.
3. Use Kanban to limit work in progress and focus your efforts
Kanban is a great way to stop your team from multitasking by placing limits on WIP based on your capabilities. You can place limits on the total number of simultaneous tasks on the Kanban board, or place individual limits on each stage of the workflow.
If you want to increase the speed at which you deliver value to your customers, you will want to keep each team focused on completing work rather than starting new work.
As a result, they will stop starting new projects and instead concentrate on completing existing ones. Knowing that everyone can see what everyone else is doing is a great motivator to keep them striving for better results.
4. Use Kanban to save time on meetings that aren't necessary.
One significant advantage of implementing Kanban is that it can save you a significant amount of time spent on meetings, progress reports, and other unnecessary distractions.
Use Kanban as a dedicated information repository. It will spread information about who is doing what at any given time. The Kanban board will keep you and the rest of the team updated on the status of the task. This eliminates the need for frequent meetings to receive progress updates.
Furthermore, Kanban will make you forget about those time-consuming progress reports that are out of date by the time they are presented to stakeholders.
5. Collect and improve key workflow metrics for project tasks.
Modern digital signage can automatically collect information about your tasks' cycle time, lead time, and other key performance indicators. This will assist you in making data-driven decisions about any changes to your processes and will save you a significant amount of time that would otherwise be spent manually collecting metrics.
In Tracup, for example, you can use multiple Kanban charts and measure your workflow data to continuously optimize task and project delivery.
Furthermore, knowing how to use Kanban will help you prioritize tasks more effectively. Because everything is visualized in one place, the entire team is always on the same page.
What is kanban project management software
Kanban project management software is a powerful tool for organizations and individuals to help manage projects more effectively and efficiently. Kanban is a type of project and task management system that visualizes workflow by showing the progress of tasks and activities. Kanban is based on the Lean manufacturing philosophy and was initially developed in the 1940s to streamline production in industrial manufacturing.
Kanban project management software utilizes visual boards and cards to help plan and monitor project progress. By breaking down tasks and activities into small, manageable portions, progress can be clearly illustrated and tracked. Kanban boards contain a series of columns that represent the stages of work (e.g., to-do, doing, and done). Each task or activity is represented by a card that is added to the appropriate column on the board.
Kanban project management software can provide many benefits. For example, it can help to increase collaboration, productivity, and visibility. It can also help teams to become more organized and efficient. Additionally, it can help to make it easier to adjust plans and account for changes in scope or priorities.
By utilizing a Kanban system, individuals and teams can work more effectively and efficiently. Project managers and stakeholders can quickly check the progress of tasks and activities, as well as make necessary adjustments. And best of all, Kanban project management software can be accessed remotely, making it even more convenient for those who work away from the office.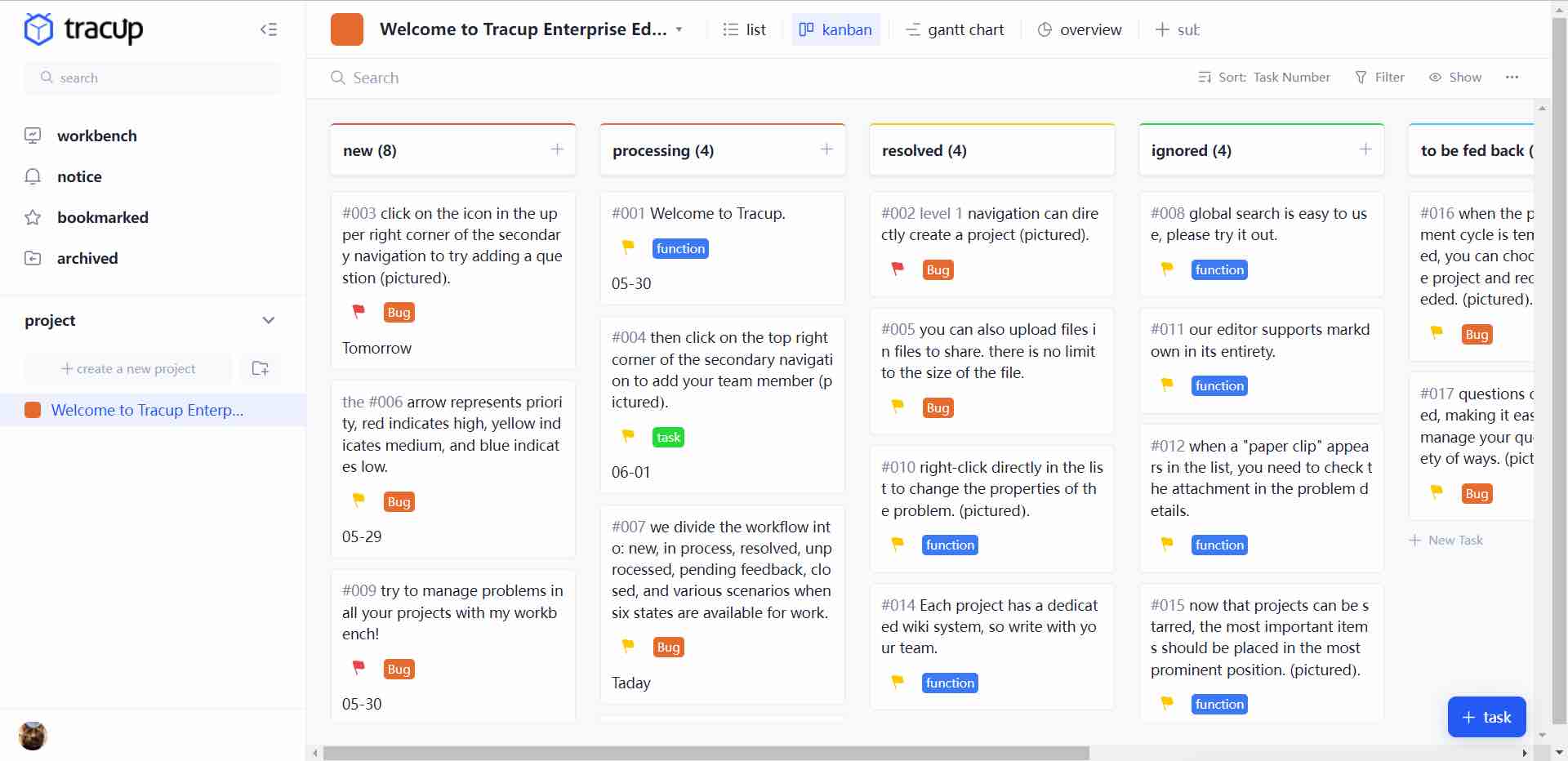 How Tracup Kanban can help teams to work more efficiently
Kanban Project Management Software is a powerful way to monitor, manage, and optimize workflow. One of the most popular and reliable tools on the market is Tracup. It is an efficient, fast-paced tool that significantly improves the effectiveness of the project management process. In this blog post, we will explore some of the key benefits of the Kanban project management software of Tracup, including how it works, its impact on efficiency, its capacity to track progress, and its integration with other tools.
1. How Does Kanban Work?
Kanban is a project management method in which information is stored on cards or a board. The Kanban board is divided into columns, and each column shows tasks at different stages of the process. This allows for efficient organization and workflow management.
The cards or tasks represent work items on the board. As the progress of the tasks, they are moved from one column to the next, eventually reaching completion. Kanban's visual approach allows users to quickly identify any potential issues or roadblocks in the workflow and take immediate action.
2. Impact of Kanban on Efficiency
Kanban is an effective project management tool with proven workload efficiency. It offers several advantages to project teams, including shorter time-to-market, improved customer satisfaction, and overall cost savings.
Tracup's Kanban project management software enables users to identify bottlenecks and roadblocks in the workflow and work on strategies that can reduce the amount of time spent on specific tasks. This can result in improved collaboration, better communication, and increased visibility into workloads.
3. Tracking Progress with Kanban
Tracup's Kanban project management software provides efficient ways to track progress across various tasks and projects. The software provides users with real-time updates and reports, which help in monitoring and evaluating the performance of the project.
Kanban significantly promotes accountability, as the project timeline automatically gets updated as tasks move along. This helps teams work on the important tasks that need to be completed to reach their objectives.
Tracup's Kanban project management software is easily integrated with other tools and applications, allowing users to maintain a steady stream of communication, share project files, and collaborate with other project stakeholders. This compatibility makes it a convenient and versatile project management tool that can be used in any organization.
The integration of Tracup's Kanban project management software with additional systems and applications brings immense value to any project team. This increases workflow efficiency, streamlines processes, and boosts collaboration among all stakeholders.
In summary, Kanban project management provides an efficient way to streamline the workflow process, enhance collaboration, and allow for better tracking of progress. Tracup's Kanban project management software brings all these features together to create an optimal workflow and better organize project teams. With its integration capabilities and dashboard visualizations, Tracup provides a powerful solution for effective project management.
Free templates can become a productivity center for startups
Coming to the Tracup Template Center, users can choose to view the various pre-made templates Tracup offers users or set up a ready-to-use template that suits their needs.
Users can access the project template center from their workspace and the settings menu behind their avatar. Custom fields extend the number of columns available on board, list and calendar views, files, and wikis.
With Tracup, users can make and save a large number of templates for future reuse, saving even more time. It all starts with the Tracup Template Center.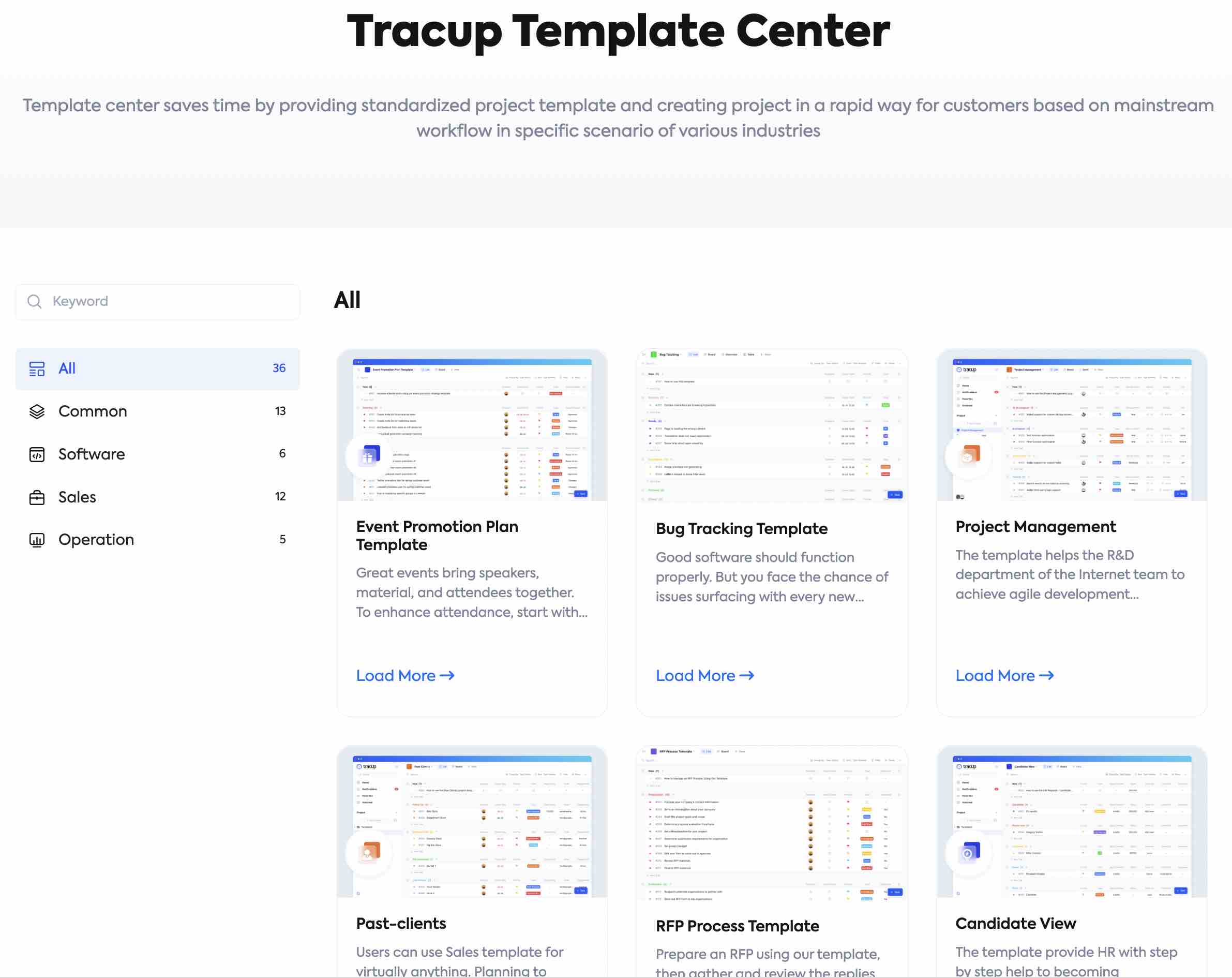 Tracup Template Center saves time by providing standardized project templates and creating projects in a rapid way for customers based on mainstream workflow in the specific scenario of various industries. The following are some very typical templates, why not try them now?
A personal development plan is a strategy for making your ambitions a reality. Use these examples and templates to help you design your own …
An RFP template is a sort of bidding request in which a business publicly advertises that it wants to accomplish a certain project.
Don't recreate the wheel with each new launch strategy. With this template, you can keep objectives and responsibilities clear, manage …
Use this template to link work to goals and milestones so that everyone in the company knows what your priorities are and how they are …
With this creative request form, you can keep your creative production process going smoothly from initial input through final outputs.
Work Requests Template. Utilize this project to standardize work requests, gather the data you want, and efficiently carry out tasks.
Make the most of your next workplace event. To promote, arrange, and assess your event, use an event marketing strategy template.
In the Communication Templates application, open or create a communication template. Click the Recipient tab. Click Show Table to expand the Role table …
There are countless free templates more, just tap Tracup Template Center now!
Final tips
The best Kanban project management software for startups should include free utilities in addition to the key features you desire.
Similar multi-purpose solutions with features ranging from automated invoicing and error monitoring to specifically customized charts and views such as Kanban boards, Gantt charts, and more are widely available on the market.
Some of them, such as Tracup, provide generous free plans for an unlimited number of users, which is critical. Tracup, has integrated the most popular productivity tools like GitHub, Figma, Zoom, Slack, etc. The platform is simple to use, even for beginners, thanks to its numerous recognizable templates. It also provides automatic workflow options to accommodate a user's work preferences.
Free lifetime plan for unlimited users forever
Offers unique features designed for developers (e.g, bug tracking, development status)
Create and manage product roadmaps
Agile reporting
A large number of features
Customizable
Comprehensive tools for teams
Flexible layout
Intuitive to learn
When looking for Kanban project management software, you must know what you are looking for. What factors are most important in guiding your decision? Is the price important, or is it the ease of use and aesthetically pleasing interface? Perhaps you require the ability to customize features and tools.
Can't wait for a second, hit Tracup right away!