Effective management is the soul of business. And managers all know that the customer is always right, there's no denying that customers, at the very least, are super important for the success of business.
The Advantages of CRM Template
Tracup will going to be giving users some tips on how to use Tracup as a CRM solution. So we'll be talking about features on how to or successfully close deals into a customer pipeline so just a couple of housekeeping notes.
First jump into the sales team. Tracup always likes to start out with an explanation of its hierarchy, which is users sure most of users are familiar with this.
It's the organizational structure that helps users put every single project and task in its proper place so as a sales team.
What Is Exactly A CRM Template
Tracup would recommend creating one space to manage all of their sales team operations.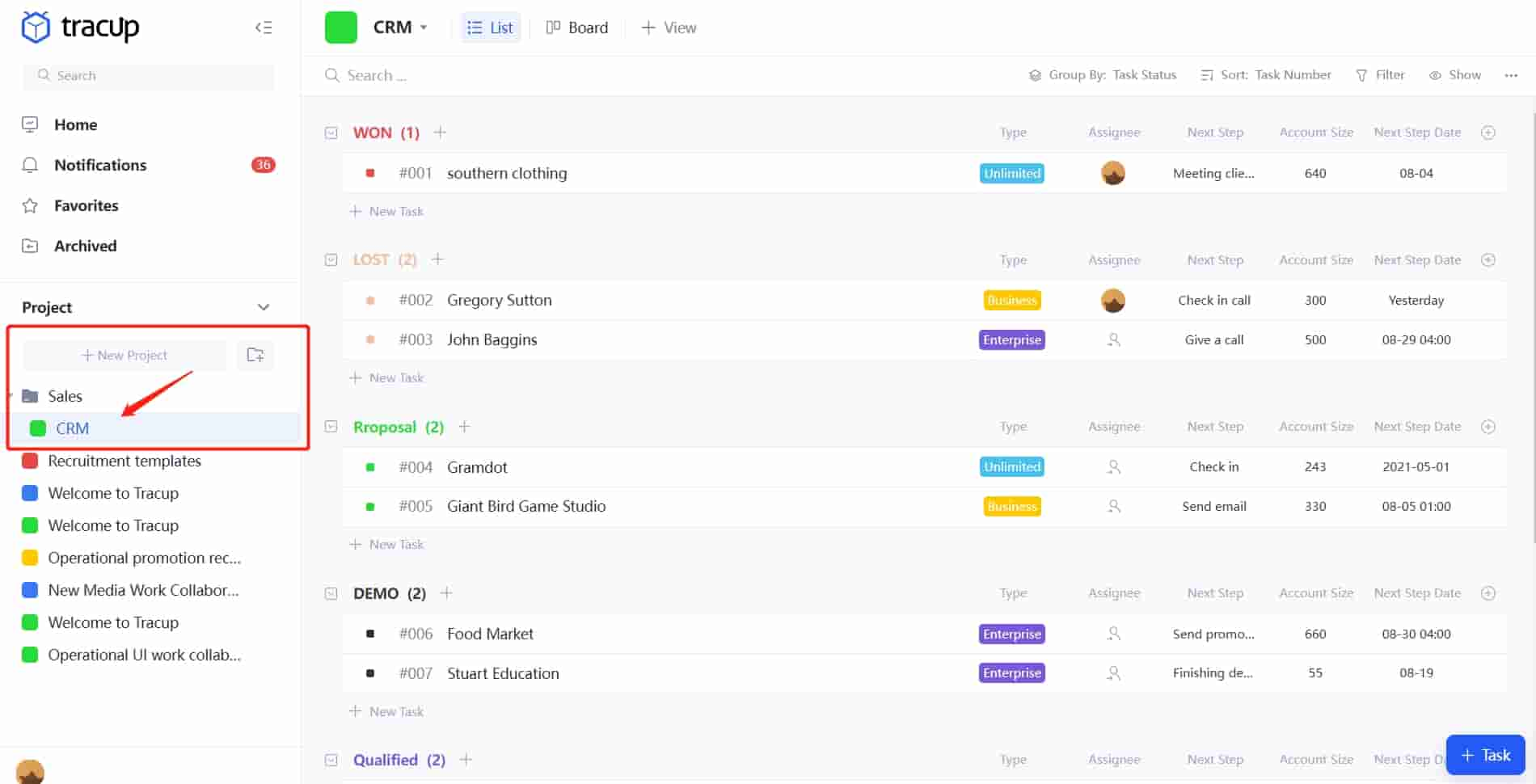 In the demo Tracup workspace here, users have created different spaces for some of the different departments at their company, and they are keeping everything related it's inside of this one space.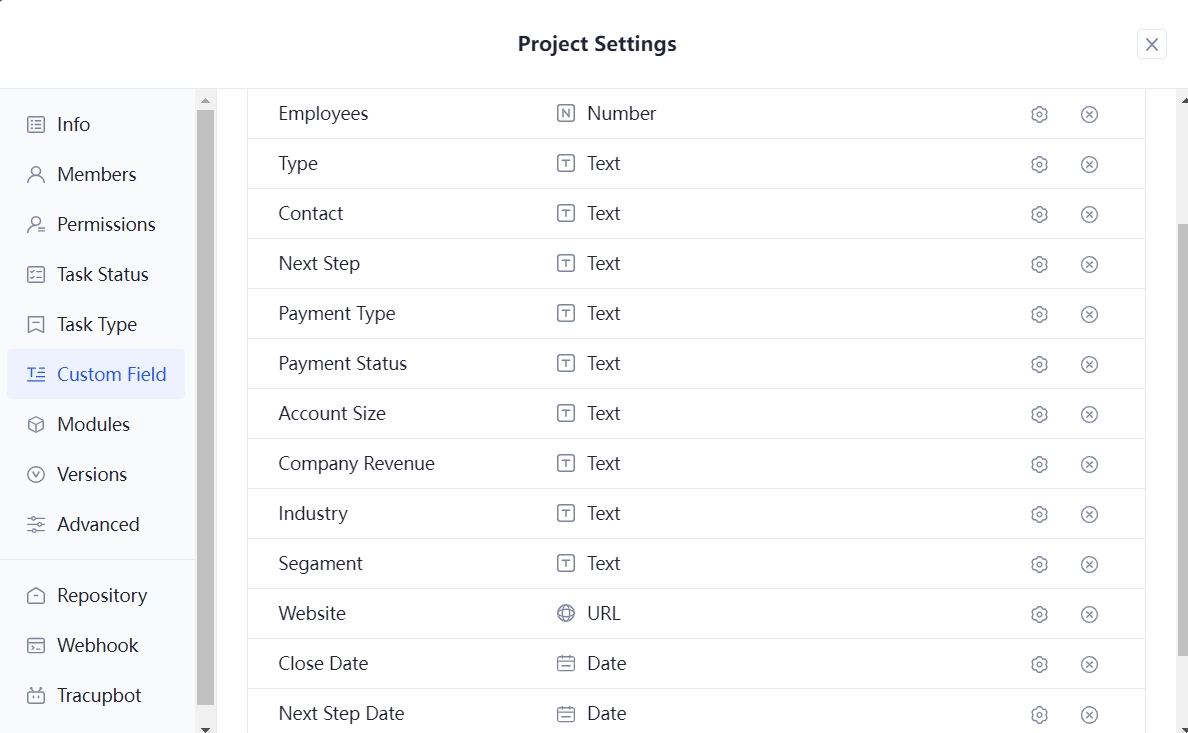 We also have some really cool folder templates which fair available to users.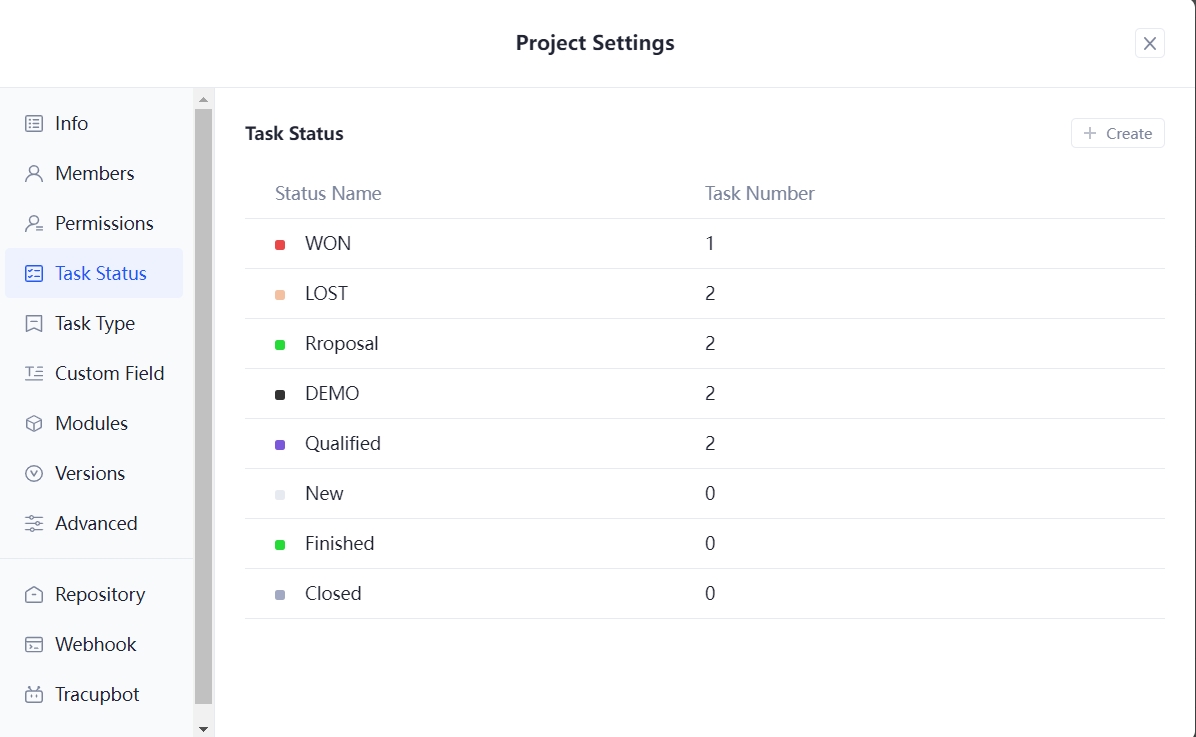 And users can check these out and see how Tracup specifically recommend setting up some account management practices, and CRM workflows in sales context.
How to Use CRM Template to Manage your Clients
So how to post advance custom field in Tracup CRM template?
In CRM template. Users just again have that one list for accounts and opportunities, but hang on their organization they may want to create several lists.
To break up their CRM folder into smaller pieces, users have a task for each of their different accounts that they're working with, and they have a nice status load that these tasks are moving through to qualify them to mark them as an unqualified prospect.
Template Default
| Task Status: | ✅[Open[WON]], ❎[Closed[LOST]], 💌[Proposal], 😀[Qualified], 🤗[DEMO] |
| --- | --- |
| Task Type: | [Unlimited], [Business], [Enterprise] |
| Custom Field: | Account Size(text), Email(text), Company Revenue(text), Industry(text), Next Step(text), Payment Status(text), Payment Type(text), Segment(text), Website(URL), Close Date(Date), Next Step Date(date) |
| Task View: | List, Board. File, Wiki |
| Custom Field can be shown: | Create Time, Expire Date, Assignee, Type, Account Size, Next Step, Next Step Date |
All the way through potentially closing the deal and winning the deal or the sale does not go through, so they can edit these task status any time, but the template includes some nice things to give some perspective. When users get started inside of their tasks here, there are tons of different ways that they can communicate about an individual deal.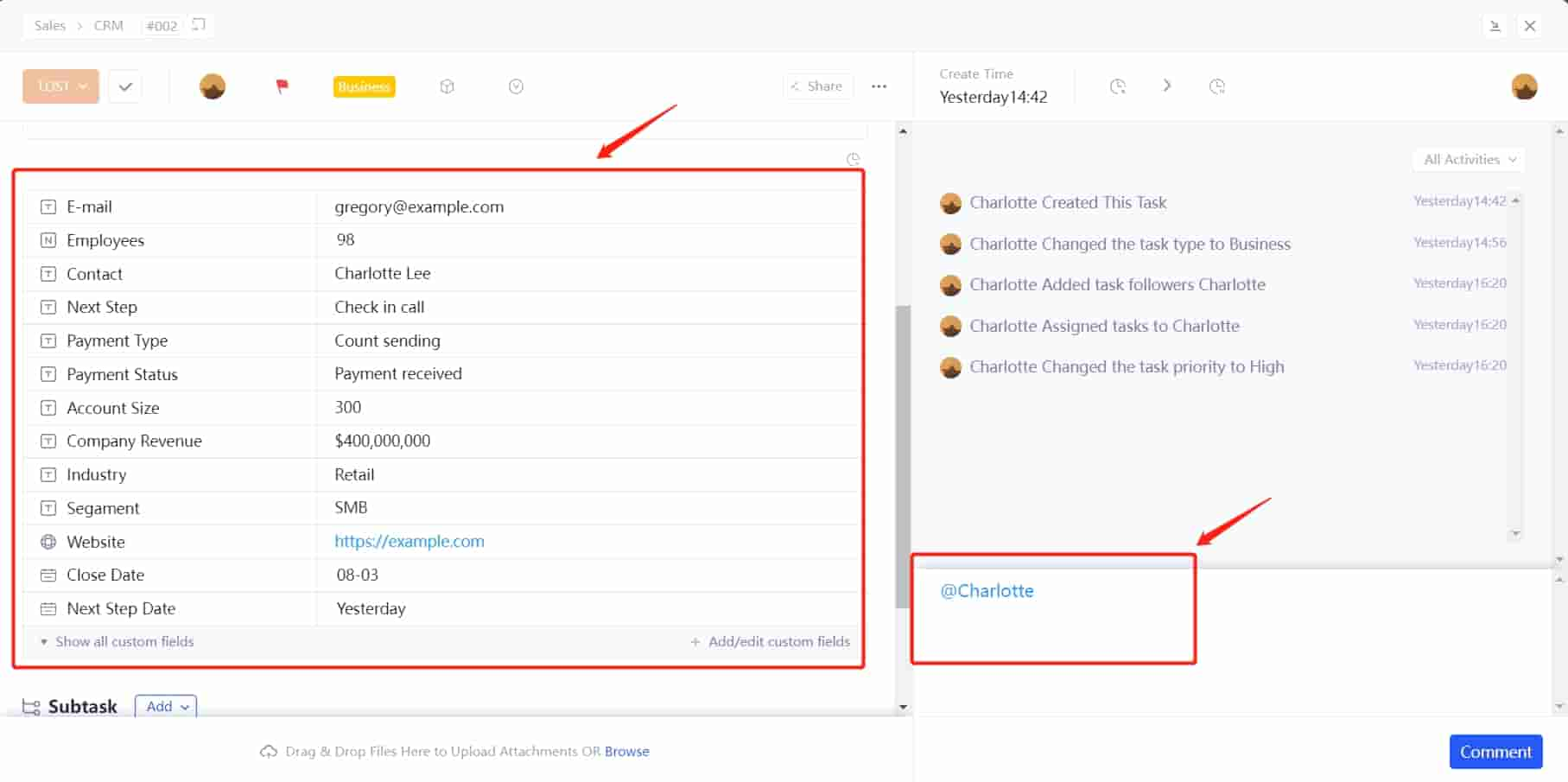 The nice thing about this is, users can chat with all of their teammates in just one task about a deal that they're working on.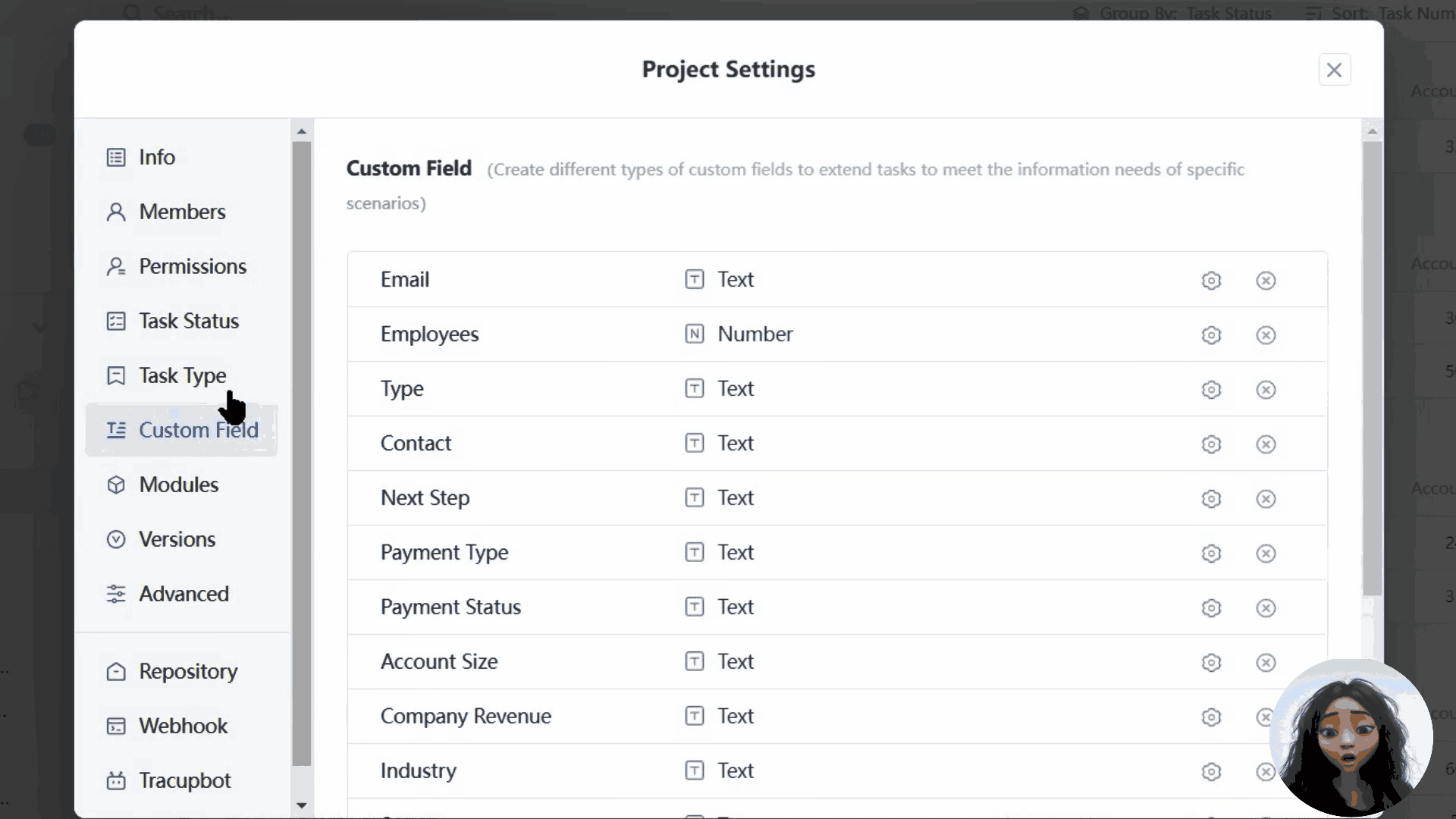 In-app mentions people to trigger a notification that they need to advise users about something going on in the deal, and this really limits the amount of context switching that they have to do.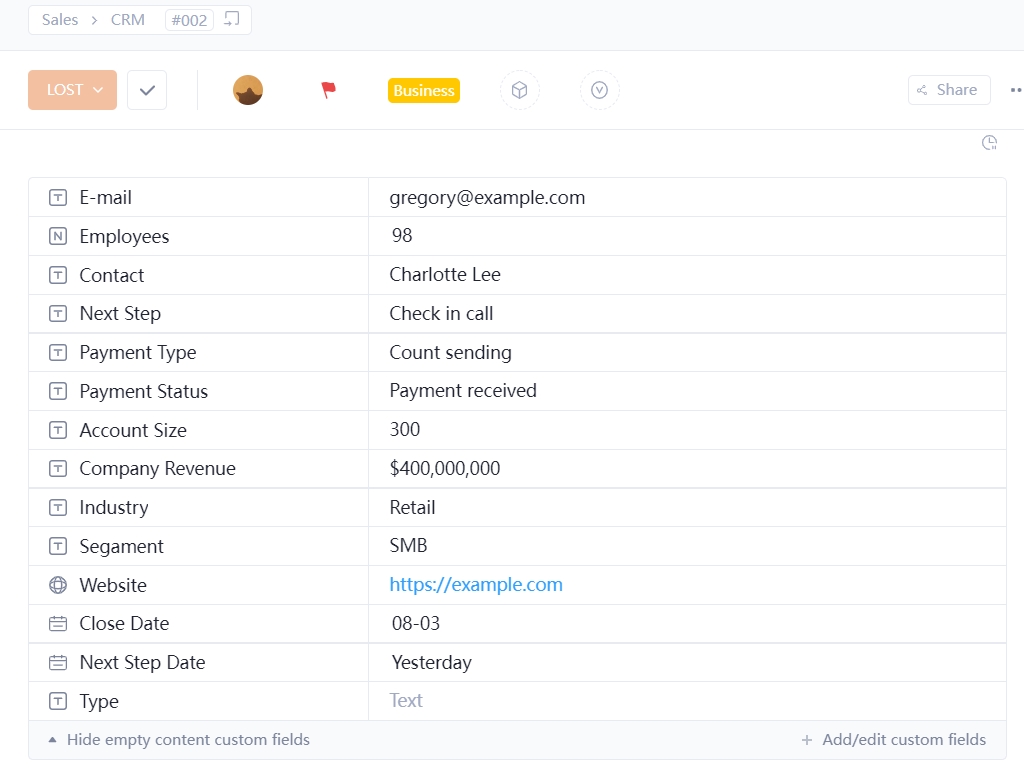 Users don't need to switch between, users know Tracup and whatever ticketing system users are using to find all of them need about a client, all of that can be done in here through their task common thread, keeping track of important information in these custom fields, and even throwing in it and to discuss their progress as they move through the different status here.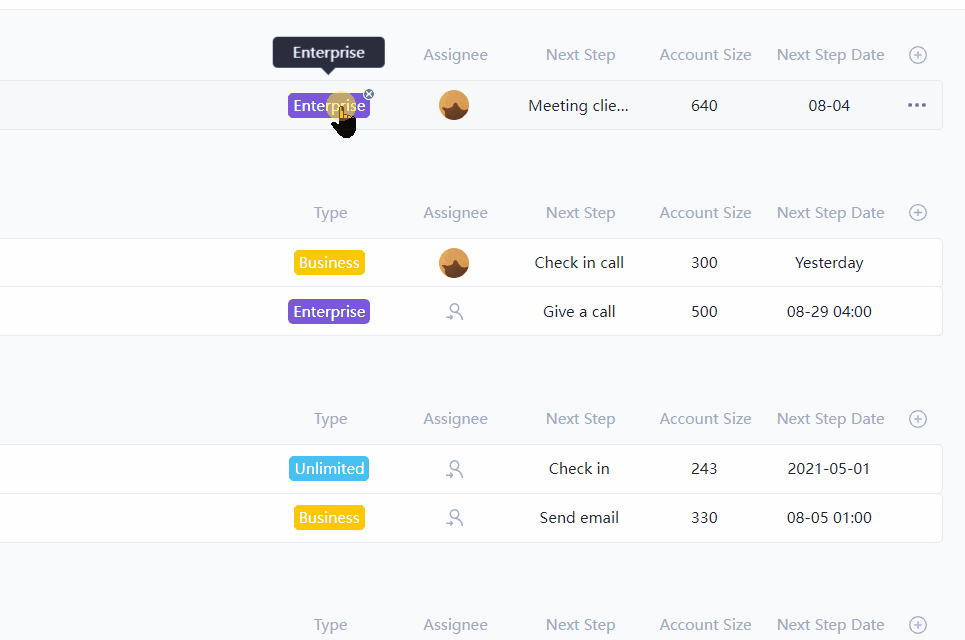 Of course, any relevant sales documentation that users might pick up from the client along the way can be added as attachments at the bottom left of the tasks, and if they are on one of paid plans, they can also integrate with one of cloud storage platforms.

So users will be able to create and attach files and folders from that cloud storage platforms in their click up tasks here.
In Tracup CRM template have some different custom fields set up here.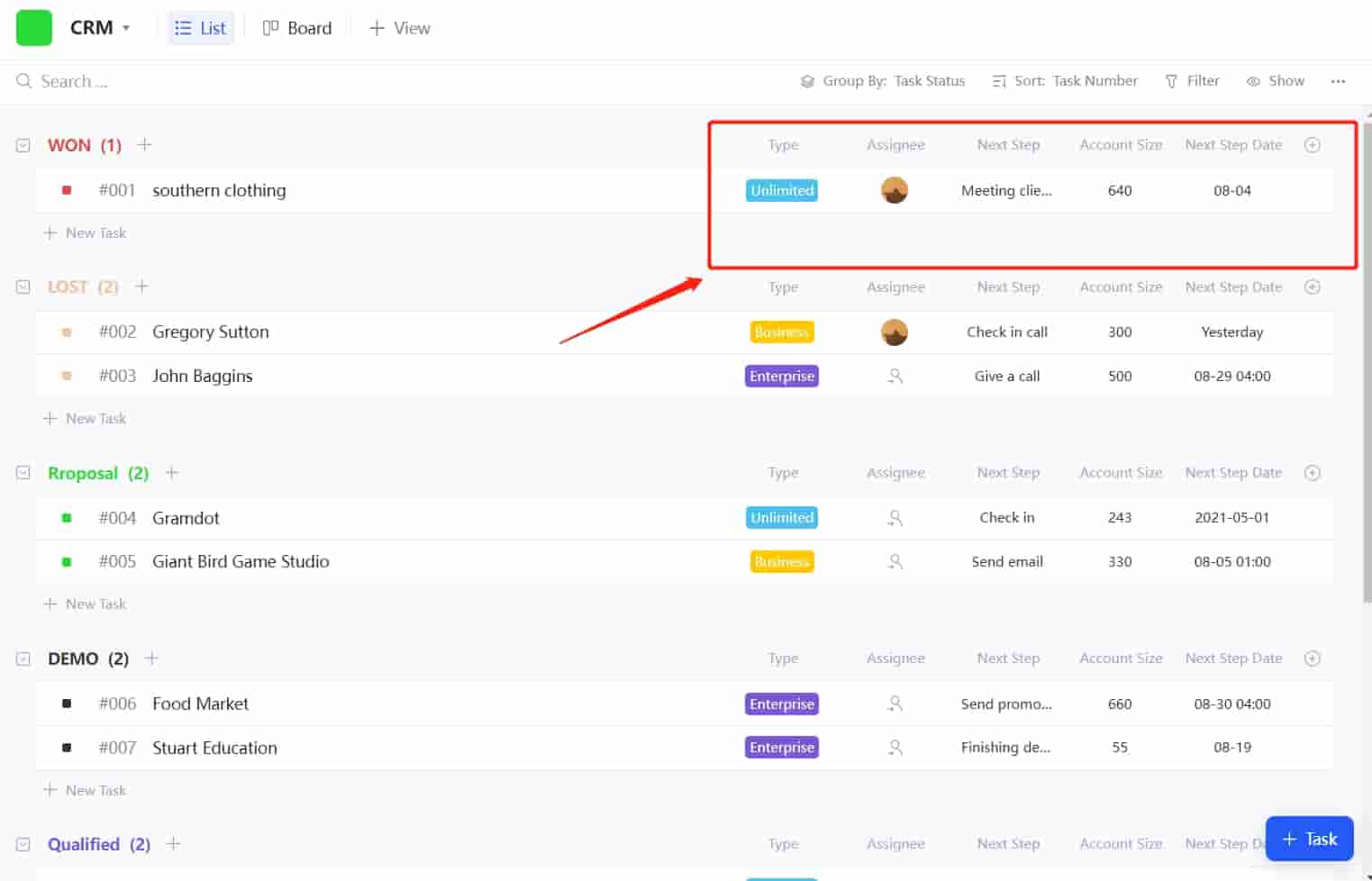 Tracup have a couple numeric fields to keep track of things like account size and next step date, and as users can see here, this is exemplify their calculated columns feature which is a great way to calculate numeric fields in list view to find their sum average or range.
Really to attend the webinar, really appreciates that they're making time for this, especially considering all of the busy remote transitions that many teams have been making, during the pandemic we're all experiencing but just as a reminder.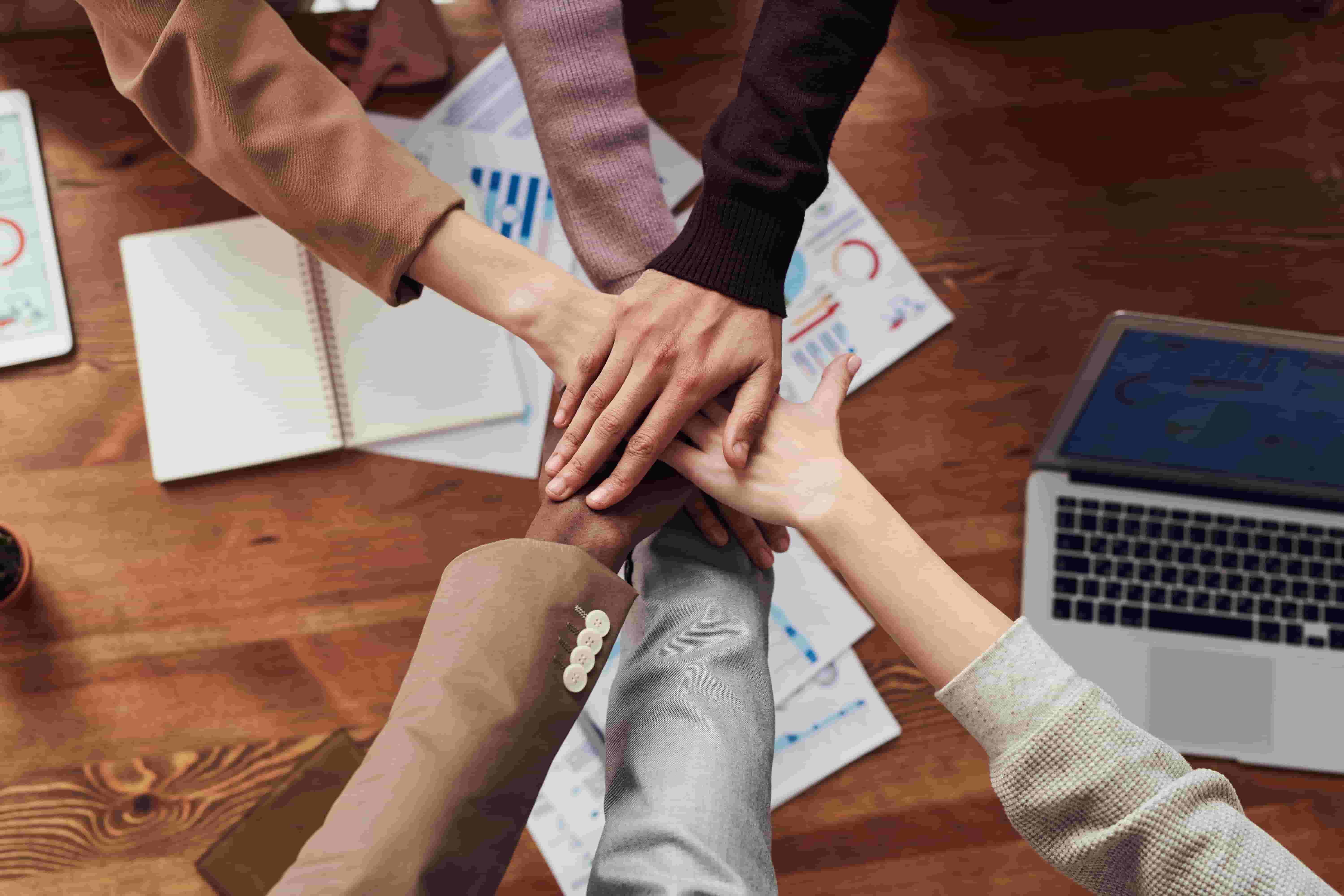 Tracup is going to continue to have use case based webinars. So be on the lookout for those in the future.
Kindly Tips for Users
Take Notice of Above Four Things
1. Two same custom fields are not allowed in the same work space, and are shared in the same work space
2. Maximum 30 custom fields in one work space
3. Default to show 4 custom fields on list view
4. When choosing a new project template, user has already created the same customer field and they cannot share the same name in Tracup. Tracup project template will set these two same fields by default. If users have set some special setup in this custom field, Tracup will generate the same name and add label (1) behind the title in default.