Are you looking for tips on how to work smarter with technical program management? Learn from our experts how to use better approaches and smarter methods to achieve success in technical program management.
Technical program management can help to ensure that businesses can get the most out of their work. By saving time, energy, and resources, technical program management can help businesses become more efficient and successful. With the right tools and knowledge, technical program management can help businesses work smarter, not harder.
Here are the content tables:

What Is Technical Program Management?
Benefits of Working Smarter with Technical Program Management
How to Work Smarter with Technical Program Management
Use the right tools to get more done with less effort
Leverage the Power of Collaboration and Enhance Team Productivity
To be an AI company To Work Smarter Not Harder

Let's start!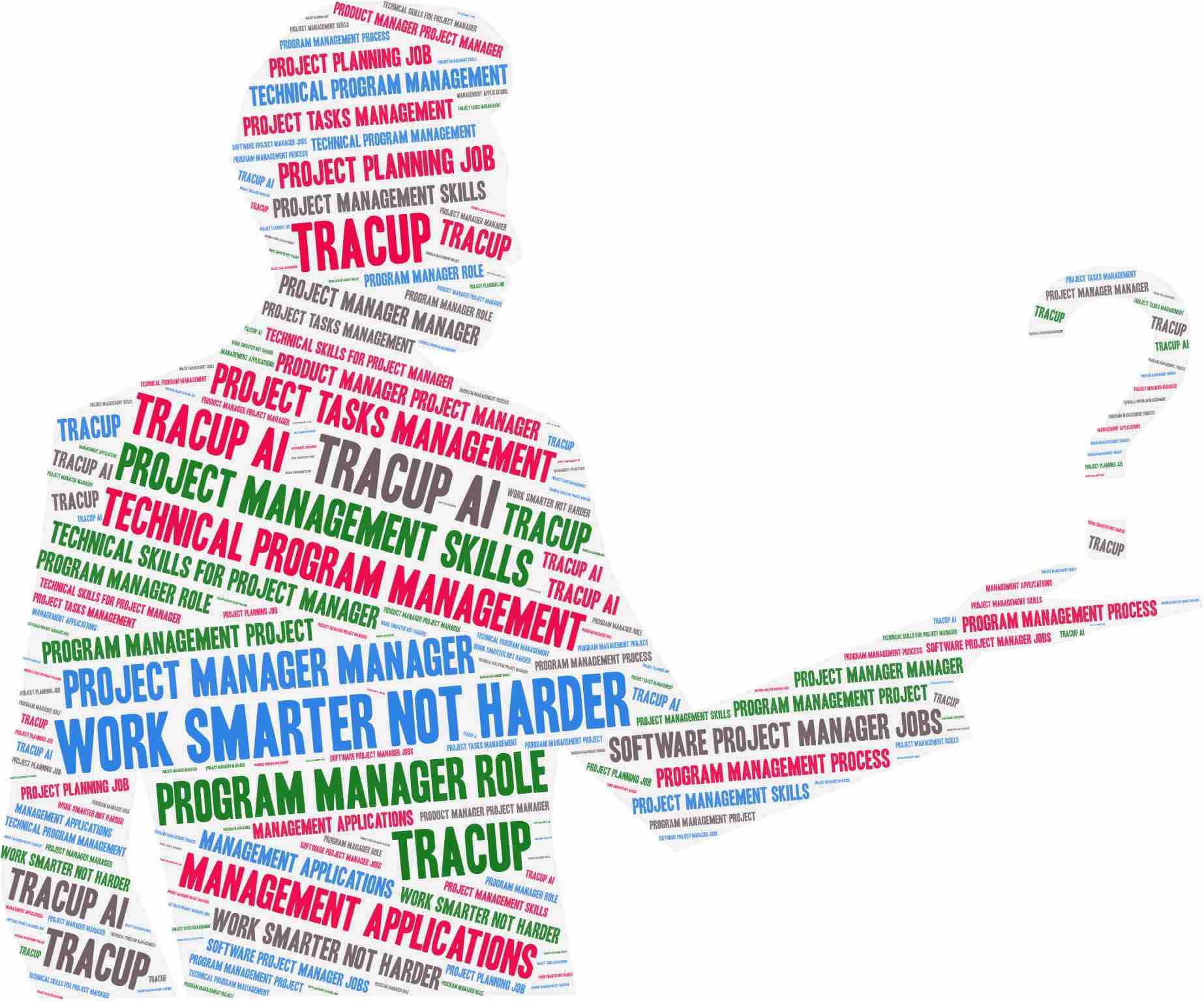 1. What Is Technical Program Management?
Technical program management is an important role within the technology industry, and it has become more prominent as businesses become increasingly reliant on technology for their operations. Technical program managers are responsible for overseeing the planning, design, development, and implementation of technical programs and projects. It is their job to ensure that the project objectives are met on time and on budget.
The scope of technical program management includes such tasks as defining the scope of the project, setting project milestones, identifying and planning resources, monitoring progress, and providing feedback throughout the project. Technical program managers also take ownership of the technical implementation and will coordinate with stakeholders, development teams, and other internal teams as needed.
Some of the skills necessary for a successful technical program manager include being organized, detail-oriented, effective at prioritizing tasks, and able to communicate effectively with stakeholders, development teams, and other internal teams. They must also be able to effectively analyze data and trends, have a clear understanding of available technologies, and be able to identify potential risks and develop mitigation strategies.
The primary goal of technical program management is to ensure the project objectives are met while minimizing risk and cost. These objectives could involve developing a software system, creating a new product, or launching a website.
Technical program managers are critical members of any technology team and are responsible for ensuring that the technical requirements are successfully implemented within the organization. This role is essential for any organization that relies on technology to achieve its goals and for those that need to quickly respond to ever-changing customer needs. Therefore, it is important to ensure that the technical program managers possess the necessary skills and experience to succeed.
2. Benefits of Working Smarter with Technical Program Management
Technical Program Management controls and supervises complex projects by breaking them down into smaller, manageable parts. This increases efficiency and helps organizations complete projects in less time and with fewer resources. By utilizing a technical program management system, organizations can reduce costs and improve productivity while ensuring successful project completion.
1) Increase Efficiency and Create Efficiency Programs
Technical Program Management helps organizations create and implement efficient processes. This includes setting up and following procedures to improve project management as well as task and resource management. By defining tasks and objectives, organizations can track progress and quickly identify and address areas of potential inefficiency. Efficiency is further increased by developing programs to automate the tedious task and streamline processes.
2) Reduce Costs and Improve Productivity
By utilizing a Technical Program Management system, organizations can reduce costs and increase productivity. This is achieved through effective management of resources and efficient use of personnel. By reducing manual processes and tracking the utilization of personnel and equipment, organizations can ensure that resources are used more efficiently and effectively. This can help reduce overall costs and maximize available resources.
3) Enable Collaborative Problem-Solving
Through the use of Technical Program Management, organizations can quickly identify and diagnose problems that may arise during project completion or day-to-day operations. This allows for the timely resolution of issues and minimizes the impact of any potential delays or problems. Technical Program Management also enables teams to collaborate and share ideas, resulting in improved problem-solving and more intelligent decision-making.
By utilizing a Technical Program Management system, organizations can improve efficiency and reduce costs while ensuring the successful completion of projects. Technical Program Management can enable organizations to achieve greater efficiency and productivity, helping them to remain competitive in a dynamic business environment.
3. How to Work Smarter with Technical Program Management
Working smarter with technical program management requires planning, organization, and effective prioritization. The goal of all program managers is to create value for their organization, and for that to happen, it is essential to use best practices and the most effective tools. In this chapter, we will discuss three methods that can help you achieve maximum productivity in technical program management: utilizing automation and automation tools, utilizing remote working, and taking advantage of process optimization techniques.
One key way to work smarter with technical program management is to utilize automation and automation tools. Automation systems and tools can reduce manual work, automate repetitive tasks, and help manage risk and uncertainty. Automation and automation tools can help to streamline processes and reduce time and effort on key tasks, such as project planning, budgeting, and resource management.
Some popular automation tools used in technical program management include project management software and enterprise resource planning (ERP) systems. These tools allow program managers to consolidate projects, manage tasks and resources, set project milestones, and get an overview of allocating resources. Automation and automation tools, such as ERPs, also provide data analysis and risk management features that help program managers make data-driven decisions.
2) Utilize Remote Working
Remote working is another way to work smarter with technical program management. With the rise of telecommunicating tools, program managers can now manage projects from any location with an internet connection. This increases the productivity of program managers as they can now easily collaborate with colleagues who are spread across different locations.
With remote working, communication among team members is crucial for a successful program. It is important to establish guidelines and use the right telecommunicating tools that best fit the team members and their objectives. Examples of telecommunicating tools include video and audio conferencing, task management platforms, and instant messaging apps. These tools enable frequent and effective communication, and they help to break down language and geographic boundaries.
3) Take Advantage of Process Optimization Techniques
Process optimization techniques can also be used to help program managers work smarter. Process optimization techniques are methods that help program managers identify gaps and inefficiencies in processes, and make improvements to those processes to maximize efficiency. Some popular process optimization techniques include automation, cost reduction analysis, data mining and analysis, and process mapping.
Process optimization techniques help program managers ensure that their processes are efficient and effective. This helps to save time and money and improves the overall quality of projects. Additionally, process optimization techniques also provide program managers with insights into their operations and provide them with more control over their project management workflow.
By utilizing automation and automation tools, utilizing remote working, and taking advantage of process optimization techniques, program managers can work smarter and improve their technical program management. These methods help program managers streamline processes, reduce manual work, and ultimately create value for their organization.
Task flow management is a complex art, and because of its complexity, there are always so many problems to overcome.
For example, work is assigned verbally, incompletely understood, easily missed, unsupported by evidence, and without accountability. Work is broken down to multiple people, each doing their own work, with no way to track progress and synchronize results. What to do?
Thus, the "how to do it" problem can be solved by trying to use tools.
1)Manage Drag and Drop to-do list and task flow
Project management software has been around for decades but there's still no one-size-fits-all solution.
You may have heard about drag-and-drop project management tools but they don't offer everything you need. Drag and drop task flow management is an effective way to manage projects. It allows you to create tasks, assign them to team members, and track progress.
For example, if you assign work verbally, your colleagues will not understand it thoroughly and you can easily miss it, maybe you can create tasks with the tool.
Suppose you suddenly have an idea and want to assign it to a colleague, you can of course leave a WhatsApp voice message or text. However, both of you may have too many messages, which will have two risks. First, you may forget; second, he may forget. Most likely neither of you will actively think about it. So what to do?
In Tracup, create a "task" and set the task, the person performing it, and the deadline (what, who, when). When your colleague receives a "New Task Alert", he or she can drag it from the "Pending" channel to the "In Progress" channel.
All icons, data files, documents, objects, properties such as colors, hyperlinks, text, code blocks, and any text, website, files, images, audio and video, business cards, or mobile application files, drag everything of task and to-do list into Tracup in 3 ways.
Drag and drop one to create a task
Drag and drop multiple to merge into one task
Drag and drop multiple to create separate tasks for each one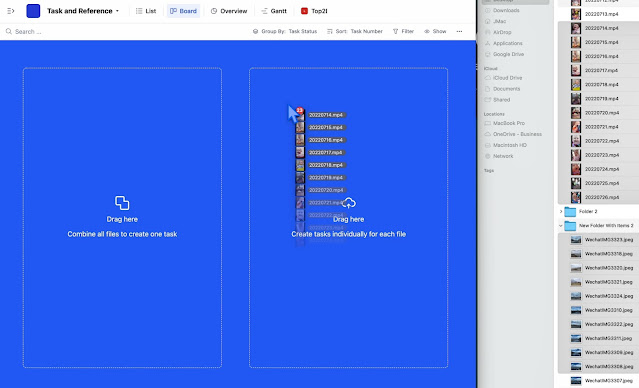 Imagine a jigsaw puzzle made up of the hundreds of things you face every day, no matter how big or small. Each piece of the puzzle is a task on your to-do list, and writing down these to-do lists gets them out of your mind so you can focus on thinking, acting, and following the list item by item.
All tasks can only be completed or canceled, but never forgotten.
For more Drag and Drop task flow information refer to https://tracup.com/blog/How-To-Manage-Task-Flow-Efficiency-And-Track-To-Do-Lists-With-Tracup
2) More collaborative drag and drop project management
The key issue for most knowledge workers and developers is that they have so many things to do but less time. How to solve it? With the help of tools.
Good tools and methods can help us get things done better, save time and improve efficiency. Tracup, a familiar collaborative workspace, is perhaps a multifunctional Swiss army knife.
The three key capabilities that Tracup has, task tracking, project managing, and work collaboration, can be used by any team or solo startup without building or deploying, opening a browser, and using the fragmented time to check the progress of projects anytime and anywhere.

Tracup is not only suitable for technical teams, but also for product and operation teams. Each task can be easily set as type, status, priority, assignment, version, module, deadline time, etc. Multi-project management and workspace partitioning can be seen at a glance so that countless excel tables cannot withstand a Tracup work interface.

Tracup contains major functions such as task system, project management, data statistics, file sharing, plug-in system, and team collaboration. The overall layout and function settings are designed to meet the preferences and comfort and convenience of technical staff, truly enabling everyone to achieve elegant and efficient work.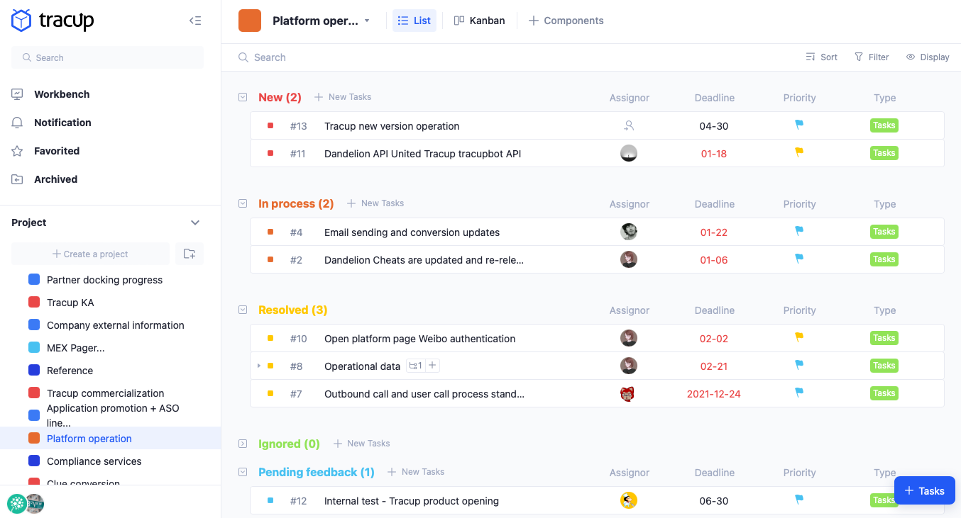 In the search for more geeky ways to work, Tracup is also doing its best to explore and develop features until they go live, easily scaled by referring directly to the API interface.
5. Leverage the Power of Collaboration and Enhance Team Productivity
As digitization continues to accelerate, at and after the COVID, enterprises, organizations, and governments, more and more work requires multi-threaded remote collaboration to get it done, and productivity tools are getting a fast-track opportunity to grow.
But most tools address a single aim or area, the products tend to be relatively simple and lightweight, allowing users to use them quickly. Team members use different tools every day for their work, including chat, meetings, communication, email, scheduling and document management, etc.
Tools are often independent of each other, which creates a new productivity problem where people must rely on these fragmented tools to perform each task and have to frequently switch between different products in the workflow, resulting in varying degrees of impact on the overall cost, efficiency, management, security, and attention, which can become very inefficient, and improving productivity through tools while bringing more work on tools to work.

Tracup is a productive workspace that integrates the flows of tasks, projects, work, and even your personal issues of study, life, and entertainment in a whole new way. The platform's core focus is to overcome the fragmentation and disconnects caused by existing solutions. Manage your tasks, calendars, reminders, and notifications in your personal and work life - all in one place. Choose the features you want to use and customize Tracup the way you want.

Tracup collaboration workspace meets the needs of mixed development environments and digital work in different scenarios such as centralized, remote, and isolated with an uncertainty of the current COVID, connecting tasks, projects, code, requirements, defects, and iteration management, evaluation management for people and workflow, providing multiple project templates such as agile, waterfall, generic task collaboration, etc.

The standard functional configuration of team collaboration includes a dashboard, task list, views, Gantt charts, statistics, reminders, etc. Any team can plan, organize and collaborate for a common goal to collaborate on the corresponding tasks in each session.

Managers can assign tasks to specific groups and team members, prioritize tasks, configure notifications, create customizable views and share them to better understand what is happening in the current project and the real progress of the whole project, and make timely provisioning and changes if needed. Produce more in less time by combining the tools you use every day into an intuitive and powerful workspace.
6. To be an AI company To Work Smarter Not Harder
The digital age is here and business owners need smarter solutions that can help to streamline their operations and make their employees more productive. An AI company is a perfect way to do this!
With AI companies leading the charge, businesses can work smarter not harder by leveraging automation, predictive analytics, and processes with machine learning.
1) AI is Changing Project Management and Knowledge Work Productivity
AI is revolutionizing knowledge work productivity and profoundly impacting the field of project management.
By leveraging the power of artificial intelligence and machine learning, Tracup AI enables individuals and organizations to automate and optimize mundane, time-consuming tasks, freeing up resources to focus on more strategic, value-added activities.
Tracup AI also enables organizations to gain a better understanding of their workflows and, allows them to identify areas of improvement and opportunities to increase efficiency. The benefits of this technology are far-reaching, and it is sure to the way project managers work.
2) Tracup AI Key Features
Tracup AI leverages the power of AI to create content faster and better.
Tracup AI provides services based on the API interface of OPEN AI, and all functions, advantages, and limitations may also change accordingly, uses the latest AI technology to analyze existing content, optimize it for certain audiences, and make suggestions for improvement. It can also generate draft content quickly, for any type of writing.
In addition, Tracup AI helps optimize content even better, and creates any type of content you want:
Optimize existing content, after you have written something, Tracup AI can further optimize it to produce better marketing plans, marketing proposals, or meeting minutes!
Simply write a title for your blog post or white paper, and Tracup AI will take care of the rest.
Tracup AI will outline your meeting agenda if you provide a topic.
Create multiple options for social media posts and pick your favorite.
Go to market with a press release without having to become a PR expert.
Begin with the most basic requirements and see how the rest develops.
Customer service, sales, and marketing In exciting new ways, email can capture attention and cut through the noise. Consider scenarios you may not have considered previously.
Stay in your creative flow by outlining, creating instant structure, and staying in your creative flow.
BTW, Tracup AI is currently free but may be available for an additional fee in the future.
3) Tracup AI Advantages
The main advantage of using Tracup AI is that it saves time. Content writers, editors, and marketers can use Tracup AI to quickly create and edit content, without spending hours or days slaving over a project.
By using Tracup AI, content can be created faster and improved more effectively.
Tracup AI offers better-quality content. By utilizing AI technology, it can suggest changes to make content more relevant, comprehensive, and interesting to readers. Furthermore, Tracup AI can generate content that is tailored to an individual's needs—whether it's an SEO-optimized blog post or a specialized white paper.
The future of content creation is here. With Tracup AI, content creators can make content faster, better, and more personalized than ever before. Whether you're a content writer, editor, or marketer, Tracup AI has the power to revolutionize your creative process.
Tracup AI is revolutionizing the content creation process with its innovative Artificial Intelligence (AI) technology. Every day, content creators are presented with the challenge of creating high-quality content quickly and efficiently. Tracup AI is helping to solve this problem by leveraging the power of AI to make content creation faster and easier than ever before.
Tracup AI uses the latest AI technology to analyze existing content, optimize it for certain audiences, and make suggestions for improvement. It can also generate draft content quickly, for any type of writing. Furthermore, Tracup AI helps rewrite and edit content to make sure it meets the standards of search engine optimization (SEO). As a result, content creators can save time and create content that is of a higher quality than ever before.
Tracup AI is revolutionizing how content is created, and its possible applications range far and wide. From SEO-optimized blog posts to specialized white papers, Tracup AI is the perfect solution for content creators who want to create high-quality content quickly and efficiently.
Tracup AI is revolutionizing the way project managers and content productivity works. With an AI-driven system, businesses can quickly and easily keep track of all their tasks, no matter how complex. AI technology also helps teams stay productive by helping them make better decisions, prioritize tasks, and streamline executions. Get the most out of project management and content productivity with Tracup AI.
Working smarter, not harder can significantly improve efficiency and effectiveness in any workplace, but especially in technical program management. Applying focus and prioritization to each task, managing resources with efficiency, and taking full advantage of available tools can help you achieve your goals more quickly and with less effort. Hit Tracup to Work Smarter Not Harder now!