Working from home is back on the business agenda in the context of the epidemic. Colleagues say "see you tomorrow" at the end of the day, but it could be "see you next month." It should be noted that changes in working methods are always accompanied by new challenges. How do you handle the situation where employees leave documents in the office? How do you deal with ineffective collaboration when working remotely?
What exactly do we know about remote project manager jobs? The cornerstone of project management is that skilled project managers foresee new issues while resolving old ones.
There are several individuals in the room. Going back and forth on budgets, decision tradeoffs, and job allocations is a whole different experience when working with a remote team. It's simply a matter of when, not if you'll practice remote project management since that flexible work possibilities are on the rise, crisis or no crisis. Meanwhile, it has grown into a separate discipline in which the project manager utilizes his or her influence to ensure that project deadlines are fulfilled and no member of the team is out of shape.
What else is remote project management?
Remote project management is the technique of leading projects and managing distributed teams away from the actual office location.
It differs from typical project management in that status checks on project plan implementation are undertaken digitally. Remote project management might entail having all or partial project members work "remotely", and remote digital project managers have online meetings with their teams as well as daily stand-up meetings to review task progress and risk reduction.
Sounds easy enough, but what may go wrong with a remote setup? Only roughly 999 missions!
What makes remote project manager jobs Cluttered
1. Productivity Decreased
The disadvantage of working remotely is that there is an expectation that you will be available and productive throughout the day. In actuality, the distractions you face will change, leading your attention level to shift. Despite their passion for the job, even the most seasoned experts suffer from this. When you work at the office, you have a defined amount of hours. What you do, how long you do it, and even when the team takes a break all to have a framework.
All of that changes with remote work, so unless you do something about it, productivity will stagnate. You may find yourself delaying, devoting more time to low-priority activities, or attending more meetings, reducing the amount of work you can do.
2. Multiple time zones
When teams are distant and dispersed, coordination becomes more challenging than ever. Time zones differ by office location, and while you are online, the people you need to execute a given activity may be unavailable, and vice versa.
3. Information Barriers
If the team is unaware of dependencies, the project might quickly fall out of scope, impeding its development. Administrative (or root) rigidity appears to be the only solution, especially when team size and composition alter dependent on project needs.
How can remote project management be effective?
While the Remote Project Management Toolkit package has several major distinctions, does it work? Are there any potential benefits to working on projects remotely, or is this something we have to do?
As a result of the epidemic, millions of teams have experienced working at home. Therefore, project managers have to learn how to adapt to this new mode of remote working. To do this, most of them are using remote working tools and Tracup is one of the best tools to help both team leaders and participants to work remotely!
How does Tracup assist users in working remotely?
Tracup Project Management is a cloud-based software platform that allows employees to run and track project work, manage work documents, and contact team members remotely.
Does it sound the same as what users do in a regular office environment?
Of course! Manage Everything For You On One Platform
Manage your tasks, documents, and files in Tracup. It is a time saver and convenience provider, the easiest and fastest way to manage your project, as the name suggests. The Tracup remote project management tool is essentially a shared digital workspace for the company. Think of it as a virtual office! It can help any type of company or team to work remotely, whether it is a start-up, an SME, or a large multinational company, Tracup can help teams to work remotely without any problems. Besides, remote project management tools like Tracup make it very easy for managers, team principals, and other leaders to manage projects and their remote labor force.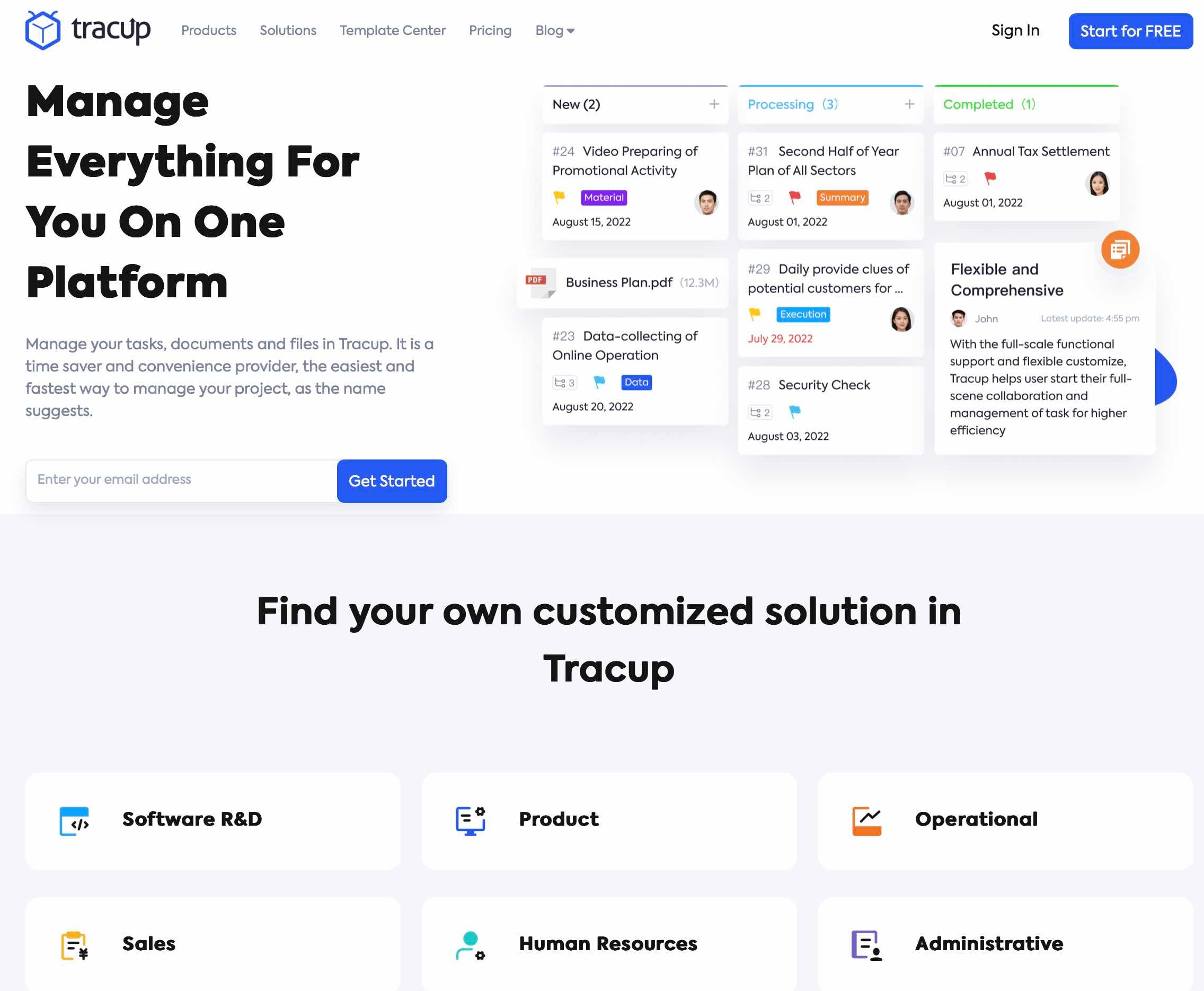 Why should everyone use Tracup?
1. Centralized, shareable data
As time goes on, remote teams become more independent. Each department could set its own goals, tools, and projects. Which means that each department can become a " mini-company." Tracup's 'File' allows users to edit and delete project-related documents or share them with other members.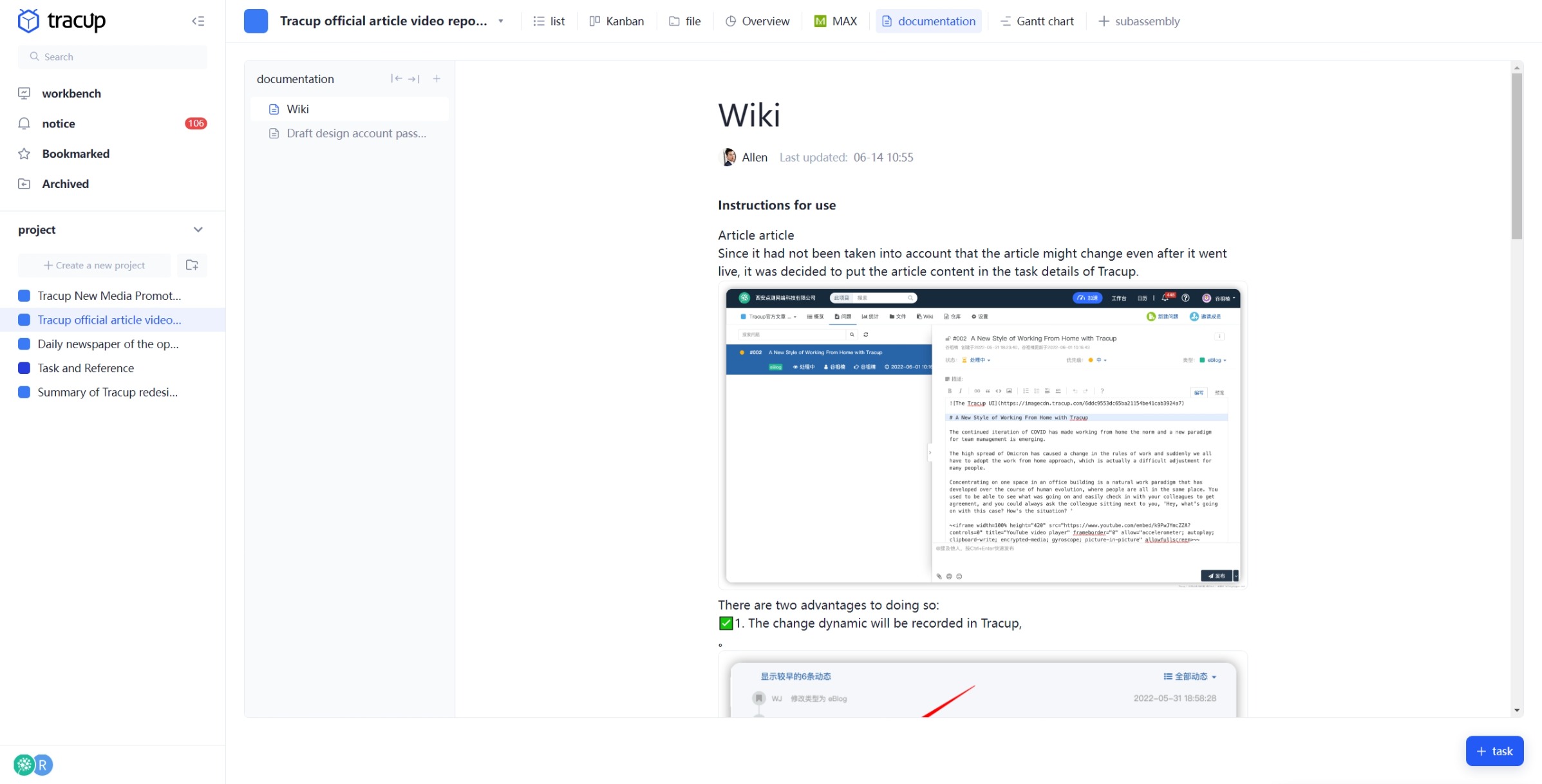 2. Better communication
One of the biggest problems with remote working is the lack of proper communication. While it is easy to talk quickly in the office, when employees are using computers, they may have to use email. Employees will need to constantly send emails back and forth to share feedback, comments, and documents. They need to write progress reports repeatedly every day and waste a lot of time on these tedious things. Thus, won't it be better if there is a single platform for all team communication?
3.Reduce the stress of remote work
Moving suddenly from an office to a remote working environment is not easy. Most employees find it stressful to completely change their approach to their work. Meanwhile, finding the tools users need can be stressful due to nowadays's fast-paced remote working environment. So how can Tracup help to reduce the stress of remote workers? Luckily, project management tools like Tracup include all the tools required by remote workers to get the job done. Furthermore, Tracup enables managers to check what employees are doing and reschedule or reassign tasks at any time to avoid the project schedule being affected.
What are the main functions of Tracup?
1. Low learning cost and easy to use
Remote teams can be very diverse. A remote project management tool like Tracup can unify the entire company, which means that it can be flexible enough to satisfy the demands of all remote users. Besides, reducing the difficulty of understanding content by interacting with charts, reports, and dashboards with the click of a button. Making sure everything is as simple as it can be from the start!
2. Functions for progress tracking
When managers are working in the office, it's easy to check what team members are doing. However, when teams work remotely, managers may not know what is happening in time if there is no uniform tool to track everyone's work. With Tracup, there's no need to worry about remote teams losing control! Based on a variety of features, the strategy can be adjusted in time. Including but not limited to project timelines, completed tasks, and the status of each task.
3. Data storage
Remote project management tools like Tracup can store and share data such as company files and folders. Centralizing information reduces the need to share files via email and if the office computer breaks down, information will not be lost because of that.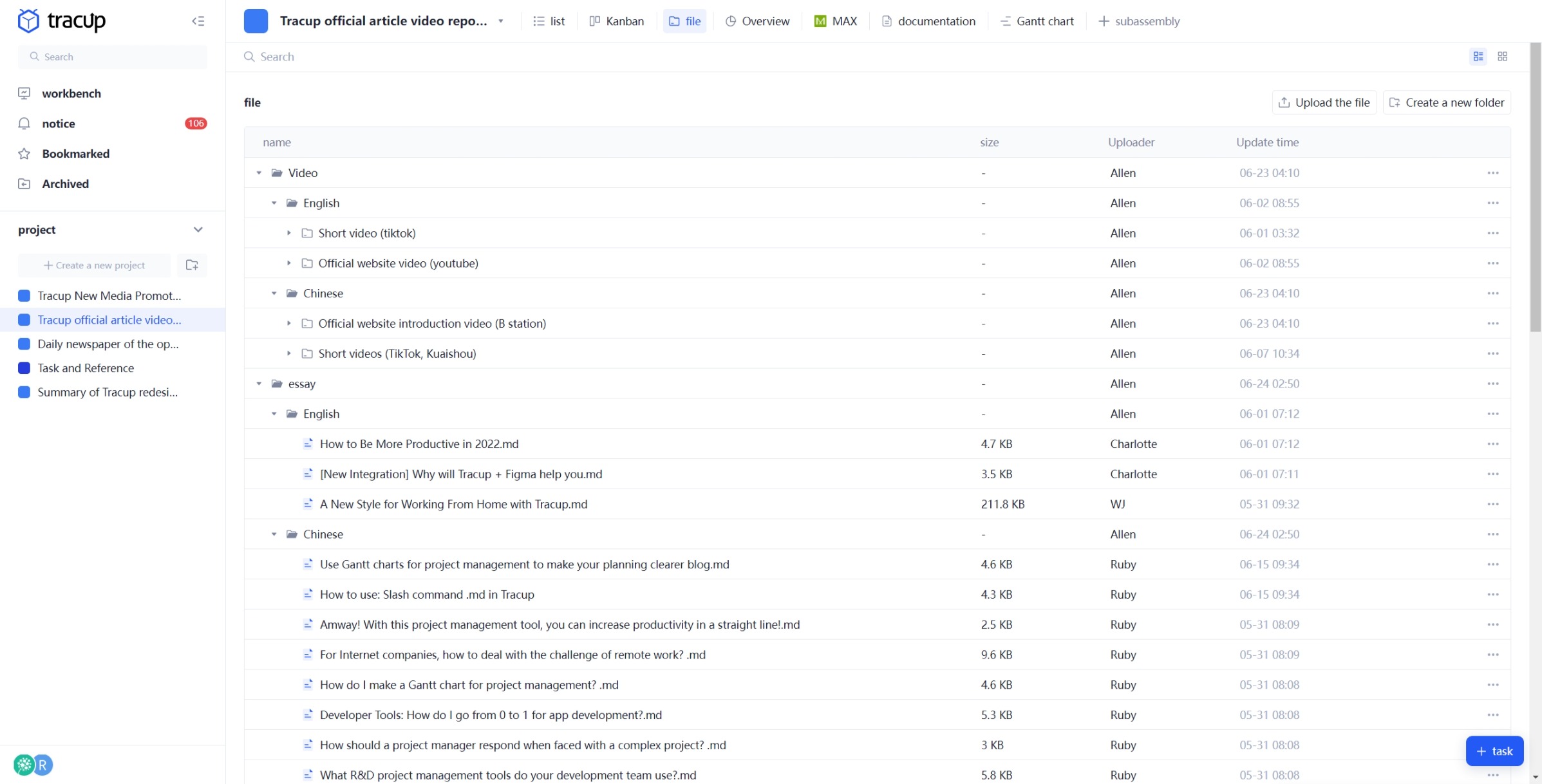 4. Powerful integration capabilities
Teams may use a large number of different tools for various reasons which will increase unnecessary costs. While the remote project management tool cannot completely replace all tools, it will connect all of them into one platform. In simple terms, just like all the apps can be accessed from the mobile home page, all the integration tools can be accessed from Tracup.
Snapshot Tracup
Normally, it may take some time for team members to get used to remote working tools. So why not use Tracup, which can actively adapt to the user?
In Tracup, multiple task views are available to suit the unique way of teamwork.
List View
Arrange your tasks and subtasks into a clean to-do list. This is perfect for those who want to get things done!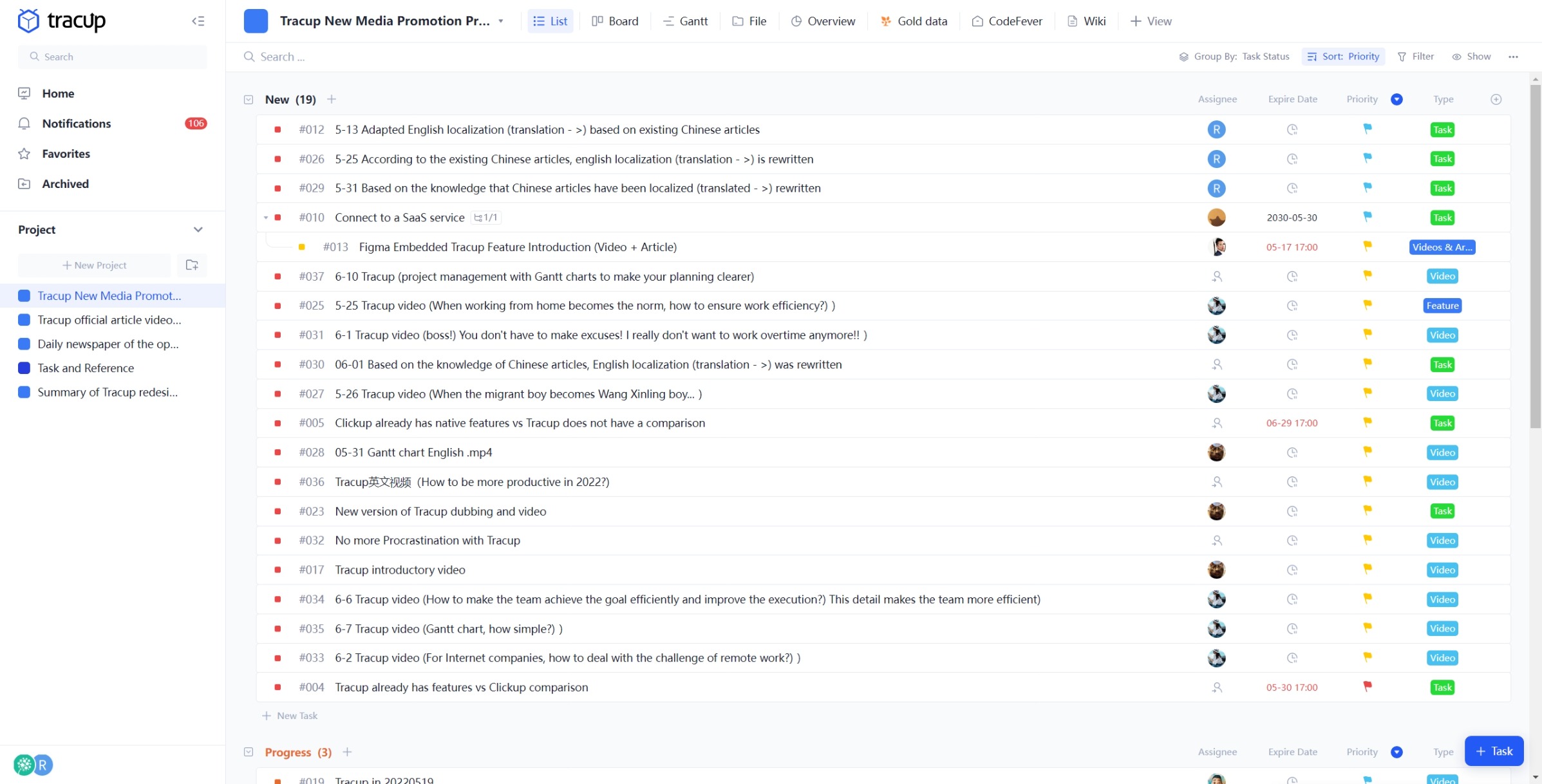 Kanban view
Arrange tasks as tabs on a virtual board, an excellent choice for software development teams!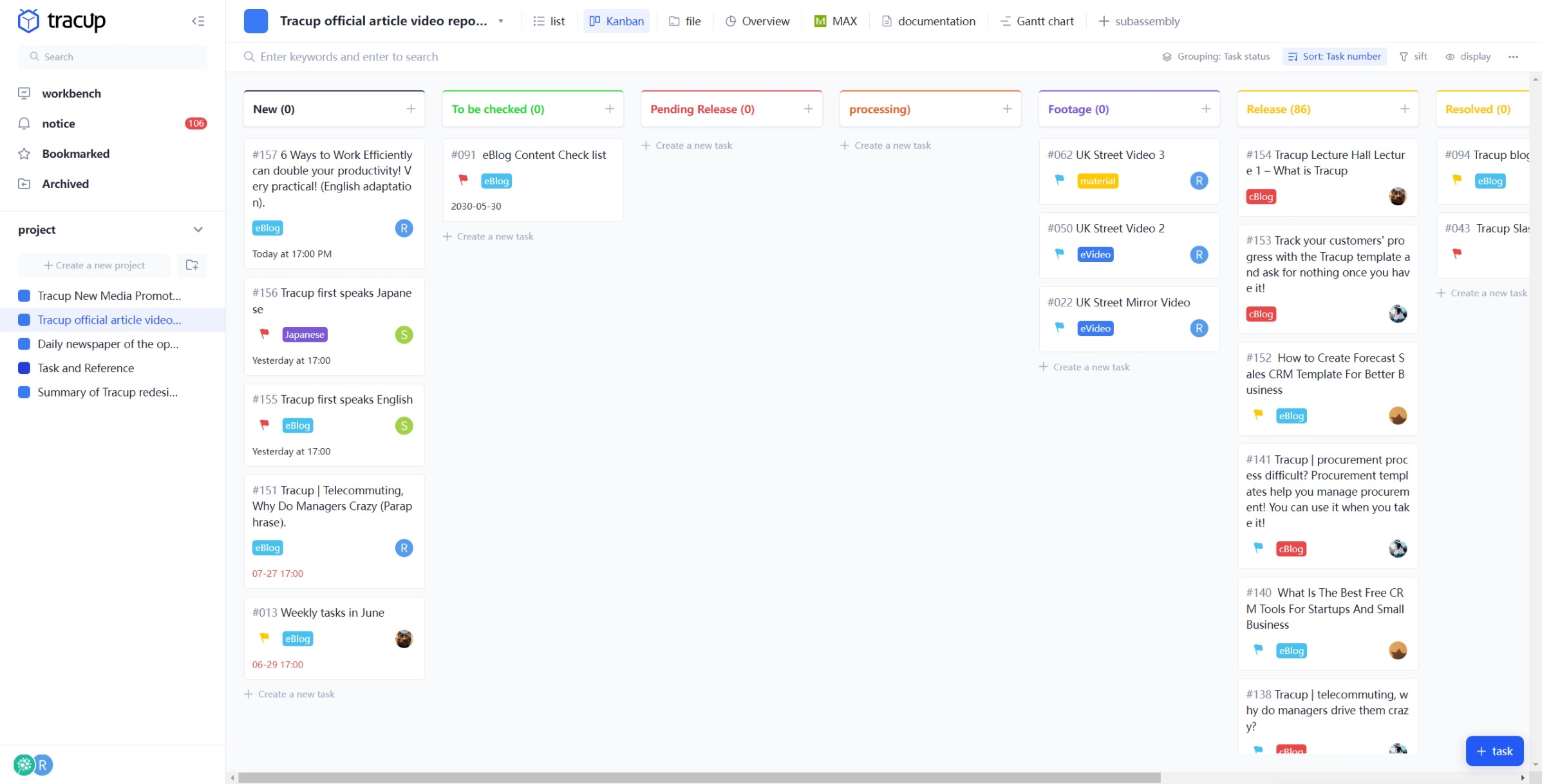 Calendar view
Organize tasks in a calendar format to manage hectic schedules.
Gantt view
View the project schedule.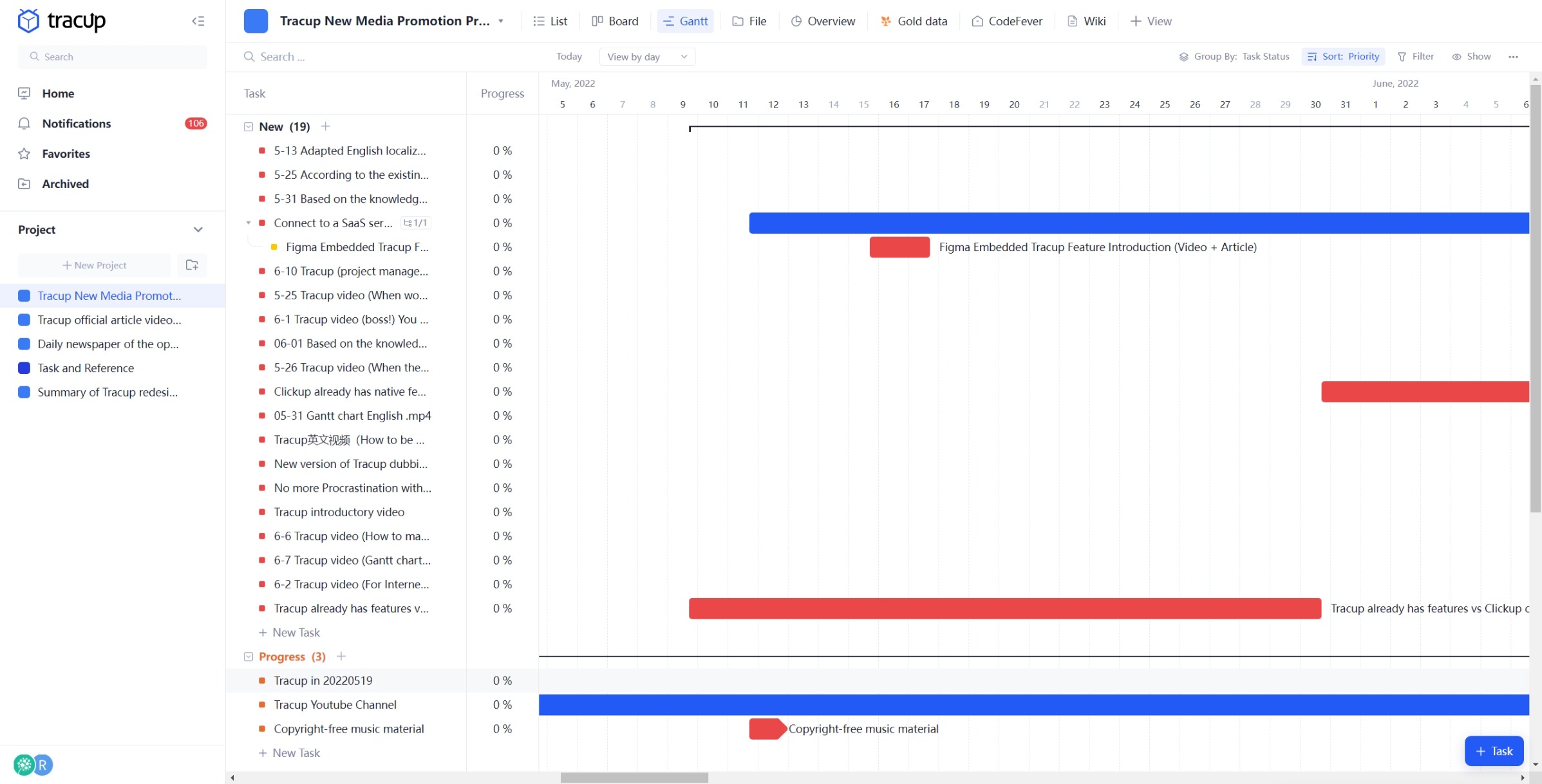 Free templates can be productivity hubs for project management manager
Templates reduce time by providing standardized project templates and quickly developing projects for customers based on the mainstream procedure in many industries' specialized scenarios.
Using Tracup as an example, when you visit the project template center, users can examine pre-made templates in various categories or configure ready-to-use templates suitable for users.
Users can access the project template center from their workspace as well as the settings menu located behind their avatar. There are pre-made templates accessible for common tasks such as sales management, OKR administration, and CRM project management. Custom fields increase the number of columns that can be displayed in list views, boards, files, and wikis.
The following are some very typical templates for remote project manager jobs:
We hope you found this article to be helpful. If you're a project management manager searching for a means to get more done, look into Tracup, the tool we just mentioned. It is free, but it offers many useful features such as project planning, time monitoring, and even resource management!