Business continuity and disaster recovery impact study identify the effects of disruptions to firm operations and procedures.
According to Wikipedia, business continuity is "an organization's ability to continue the delivery of products or services at pre-defined acceptable levels following a disruptive incident," and business continuity planning (or business continuity and resiliency planning) is the process of developing systems of prevention and recovery to deal with potential threats to a company.
In addition to prevention, the goal is to enable ongoing operations prior to and during disaster recovery execution. Business continuity and disaster recovery is the intended outcome of both business continuity planning and disaster recovery execution. Several business continuity standards have been published by various standards bodies to aid in the documentation of ongoing planning tasks.
If time is limited, you don't have to read it, just click Business Continuity and Disaster Recovery Plan Template to get the best remote work business continuity plan template for free right away.
Why business continuity and disaster recovery planning is important but difficult to prepare?
Any incident that could disrupt operations, such as a supply chain disruption or the loss or damage of critical infrastructure (large machinery or computing/network resources), should be considered in the plan. BCP is thus a subset of risk management. The process is known as continuity of operations planning by government agencies in the United States (COOP).
A Business Continuity and disaster recovery plan outlines various crisis scenarios as well as the steps that the company will take in each situation to resume normal operations. BCPs are written ahead of time and may include precautions to be taken. A business continuity plan (BCP) is a collection of contingencies designed to minimize potential harm to businesses during unfavorable situations. It is frequently created with the participation of key personnel as well as stakeholders.
Let's go back to the reality in front of us. Executives do not plan for business continuity in a proactive or structured manner. Today's business continuity and disaster recovery are the results of a series of reactive responses that have left us with unbalanced and inadequate capabilities. Past events have shaped attitudes and perceptions of business continuity and disaster recovery.
Business continuity and disaster recovery began to develop in various countries in various ways and for various reasons. For example, the global Covid-19 outbreak in 2020 caught managers off guard who had only considered the impact of hurricanes, earthquakes, floods, and fires on business continuity planning.
Plans for earthquake response in countries such as Japan and New Zealand. Flood plans are frequently used by businesses in flood-prone areas. Businesses are encouraged by fire codes to develop evacuation plans. However, these are incident management plans (and possibly some recovery plans), not true business continuity and disaster recovery plans, and they do not account for the potential impact of a sudden, ongoing event such as an outbreak.
To avoid the frequent mistakes of establishing a successful firm, you must devise a long-term strategy. Business continuity and disaster recovery plan template can assist you in anticipating and avoiding disruptions to your organization.
Unexpected threats might wipe away your assets, while hazardous actions can have devastating consequences. Consider the epidemic, which wreaked havoc on firms' expansion plans. Few could have predicted that around half of the enterprises would close temporarily in the first year.
Why not use a business continuity and disaster recovery plan template?
To reiterate, the primary aim of the business continuity plans template is to create a framework for dealing with any difficulties that may develop in various departments and sectors of the firm.
Without a strategy for dealing with hurdles, your company's growth may be stifled, if not completely halted. It just takes a few errors or foolish risks to throw your firm off track. Most small firms collapse within a year if they are unable to restore full operations after an unanticipated calamity.
A BCP should not be confused with a catastrophe recovery plan. A business continuity plan (BCP) does more than just define what to do in an emergency; it also gives options for restoring complete corporate performance.
A business continuity plan (BCP) is a road map for long-term success that takes into account typical faults and hazards in order to create a dependable strategy to deal with unforeseen occurrences or calamities.
The template will feature spaces for entering information about your present resources, recovery methods in the event of a severe setback, and a list of persons in charge of dealing with such difficulties.
The fundamental goal of business continuity management is to assess your company's present level of readiness for unanticipated risks. It allows senior management to detect any weaknesses in the firm and proactively identify solutions to challenges that may impede progress toward your goals.
You may insert data such as committee member contact information, catastrophe recovery action plans, and evacuation information into the Tracup business continuity plan template as an example.
The template covers all areas in terms of potential dangers you may face as your firm grows. With it, you can save all of your information in one place and input it in an easy-to-digest style to distribute to your staff.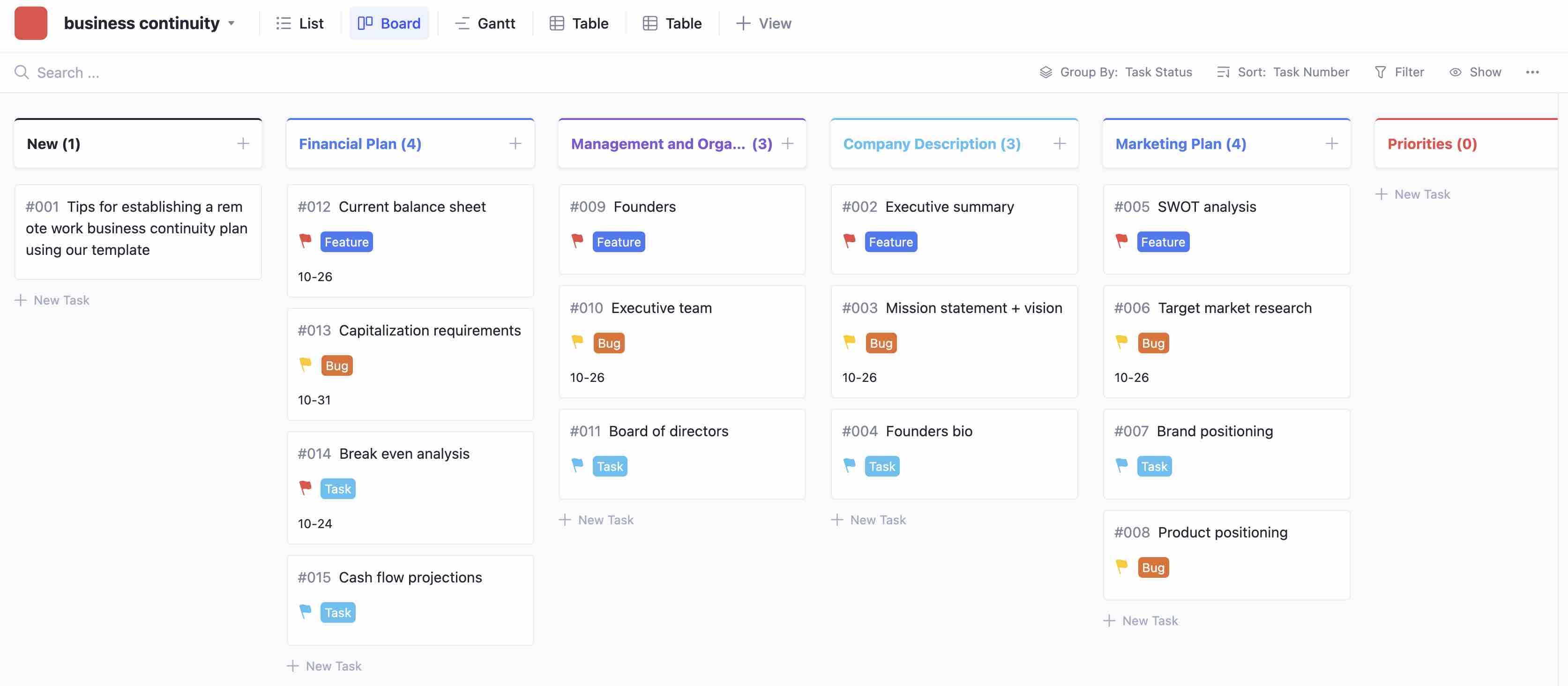 Tracup business continuity and disaster recovery plan template snapshot
That is not all. Your staff may simply share and contribute on tables and forms using the Tracup business continuity and disaster recovery plan template, allowing you to get feedback on alternate locations of work and contact information. Furthermore, managers may access this information from any location, allowing them to view critical facts at a glance for improved planning.
Analytics are crucial in establishing which departments and areas of your organization are key to its success. Tracup allows you to access data from actual workflows to assist the BCP committee in developing contingency plans and allocating resources more efficiently.
Because safeguarding the security of your sensitive data is an important part of business continuity planning, you'll appreciate that Tracup safeguards your data with permission-based access. Unless you provide access to additional employees, only individuals on the BCP committee will have access to the plans.
Tips for establishing a remote work business continuity and disaster recovery plan using our template
Clarify policies. Keep your team on track, connected, and on the same page during unexpected moments. As your company adapts to the new situation, keep them up to date on any shifting objectives or new projects.
Keep vital information in one spot. By documenting them in tasks and discussions, you can create a one-stop shop for all of the documentation, rules, and FAQs your team needs to thrive throughout the business shift.
Update your resources. Maintain connection and team culture even when working remotely. Use status updates to keep your team updated on your progress.
Keep in touch while working remotely. During the company transition, support and engage with your staff. Establish and utilize this template to create an accessible source of truth and clarity for everyone.
About Tracup
Tracup is brimming with agile project management tools that boost team efficiency, including task management, file sharing, project reporting, and workflow tracking. Lag time brought on by slow communication is eliminated by having access to task discussions, status, progress, and reasoning in one place. Additionally, it offers automatic workflow alternatives to satisfy a user's preferred working methods. Several Kanban board views, including list, card, sheet, Gantt chart, and calendar view, are used to organize data.
Assisting businesses in real-time project planning, administration, tracking, and automation, Tracup is an online workflow execution platform that has incorporated the most well-liked productivity applications, including Github, Figma, Zoom, Slack, etc. The platform's various recognizable templates make it easy to use, especially for beginners. The amount of time it takes to train staff on a new software system is decreased when a product may be used straight away.
Unlimited users can use the free lifetime plan forever.
For teams of any size, a fixed low-cost BUSINESS plan is available for USD899 per year per team (less than $75 per month and no longer increasing with users).
Features specially designed for developers (e.g, bug tracking, development status)
Establish and maintain product roadmaps
Responsive Reporting
Wide range of features
Customizable
Teams' comprehensive tools
Flexible design intuitive learning
Free templates can be productivity hubs for remote business and business continuity and disaster recovery planning
Using Tracup as an example, when you visit the project template center, users can examine pre-made templates in various categories or configure ready-to-use templates suitable for users.
Users can access the project template center from their workspace as well as the settings menu located behind their avatar. There are pre-made templates accessible for common tasks such as sales management, OKR administration, and CRM project management. Custom fields increase the number of columns that can be displayed in list views, boards, files, and wikis.
Templates reduce time by providing standardized project templates and quickly developing projects for customers based on the mainstream procedure in many industries' specialized scenarios.
The following are some very typical templates for remote business and business continuity and disaster recovery planning:
Business continuity and disaster recovery plans are important because they help companies prepare for disasters by ensuring their employees have access to critical information and resources, it outlines what you would do if your company were to suffer from a natural or manmade disaster, and also includes a list of resources that could be used during such an event.
Hit Business Continuity and Disaster Recovery Plan Template to get the best remote work business continuity plan template for free right away.