Learn essential event project management tips, and get insights on best practices and helpful strategies to ensure your events are organized and successful!
Event project management is a complex process that requires a great deal of attention, resources, and communication. The process typically begins with setting project objectives and establishing the scope of the event, determining the budget, and choosing the venue. Once these details are established, teams must coordinate the various tasks involved in planning and executing the event, including managing vendors, decorators, and other vendors and services.
Event project management is an overwhelming and intimidating task
When it comes to event project management, can be an overwhelming and intimidating task. There are so many details to keep track of and the success of the event hinges on the accuracy of the process. However, you don't have to tackle event project management alone. Tracup is here to help make the entire process easier for event planners, coordinators, and producers.
Tracup is an event project management software that takes the hassle and stress out of event planning. From project planning to task management to resource scheduling, Tracup helps to make sure that every step is taken care of. It allows you to delegate tasks accurately, get an accurate timeline for the event, and stay up to date with all the details in an efficient and organized manner.
Cohesive strategy and efficient use of resources
Beyond the budget and planning, event project management requires a cohesive strategy and efficient use of resources. Event coordinators must closely monitor and manage timelines, ensuring that tasks are completed on time and budgets are not exceeded. They must also pay close attention to potential risks and challenges, and develop contingency plans to address them.
Project teams also need to closely monitor and manage teams responsible for executing individual tasks. This includes assigning roles, setting deliverables, and regularly reviewing progress. Event coordinators must develop strategies to ensure that teams collaborate efficiently and the project stays on track.
Communication, evaluation, and assessment are key factors in event project management
Each team must know its responsibilities and be aware of potential risks and issues related to the project. Event coordinators should also ensure that updates, reports, and results are exchanged promptly.
Tracup helps to eliminate the risk of miscommunication and confusion. All communication can be stored in the same central system, providing a comprehensive event project management solution. The software also allows for easy collaboration and feedback as tasks are completed. Everyone on the team is kept on the same page, which helps to ensure the event is completed on time and to the highest quality standards.
Considerations also need to be made for resources, such as personnel and materials, as well as any technology or equipment needs. Event coordinators must ensure that all of these resources are acquired and utilized efficiently.
Event project management also requires careful evaluation and assessment. Event coordinators must assess the goals and objectives of the project, review implementation plans, and evaluate the results. This helps to identify areas of improvement and ensure the success of similar projects in the future.
Tracup is an essential tool for anyone involved in event project management. It helps to break down the entire project into tiny, manageable tasks. With this breakdown, each team member gets an assignment that they can work on in parallel. This makes sure that each step is completed promptly and that everything is completed by the necessary deadlines.
When it comes to event project management, it is critical to ensure the success of the event. Effective communication, resource management, and assessment can all help to ensure the success of the project. By focusing on these areas, it is possible to provide a successful and memorable event that meets the expectations of all involved.
Event Design Management Step-By-Step Guide
A project management template is an effective way to plan and organize all elements of an event.
A project management template allows you to create a timeline for each event, breaking down all the individual tasks that need to be accomplished.
It is important to define all key stakeholders and roles before starting to plan an event.
Budgeting is one of the most important aspects of event planning and should be done before the planning process starts.
A project management template allows event planners to document their progress and adjust plans as needed.
Quality assurance and testing of all the components of the event are essential to guarantee a successful event.
A project management template helps keep track of all the communication involved in an event.
Communication is key for successful event planning and clear timelines and action items should be communicated with all key stakeholders.
After the event is completed, a review and debriefing should be done to assess overall performance, successes, and areas for improvement.
Read more: https://www.tracup.com/blog/How-to-Plan-An-Event-Planning-with-Project-Management-Template
Rich templates rise successful event project management up
Tracup is a comprehensive project management platform designed specifically for event professionals. With its rich templates, Tracup makes it easy to plan, manage, and successfully launch any event.
The platform provides users with everything they need to create and monitor a successful event project; from detailed checklists, real-time tracking, and resource and budget management, to reporting and analytics. Tracup eliminates tedious manual processes, allowing event professionals to focus on delivering the most successful conference, meeting, or event possible. Now, event teams can spend time delivering a better and more satisfying experience for their event's attendees.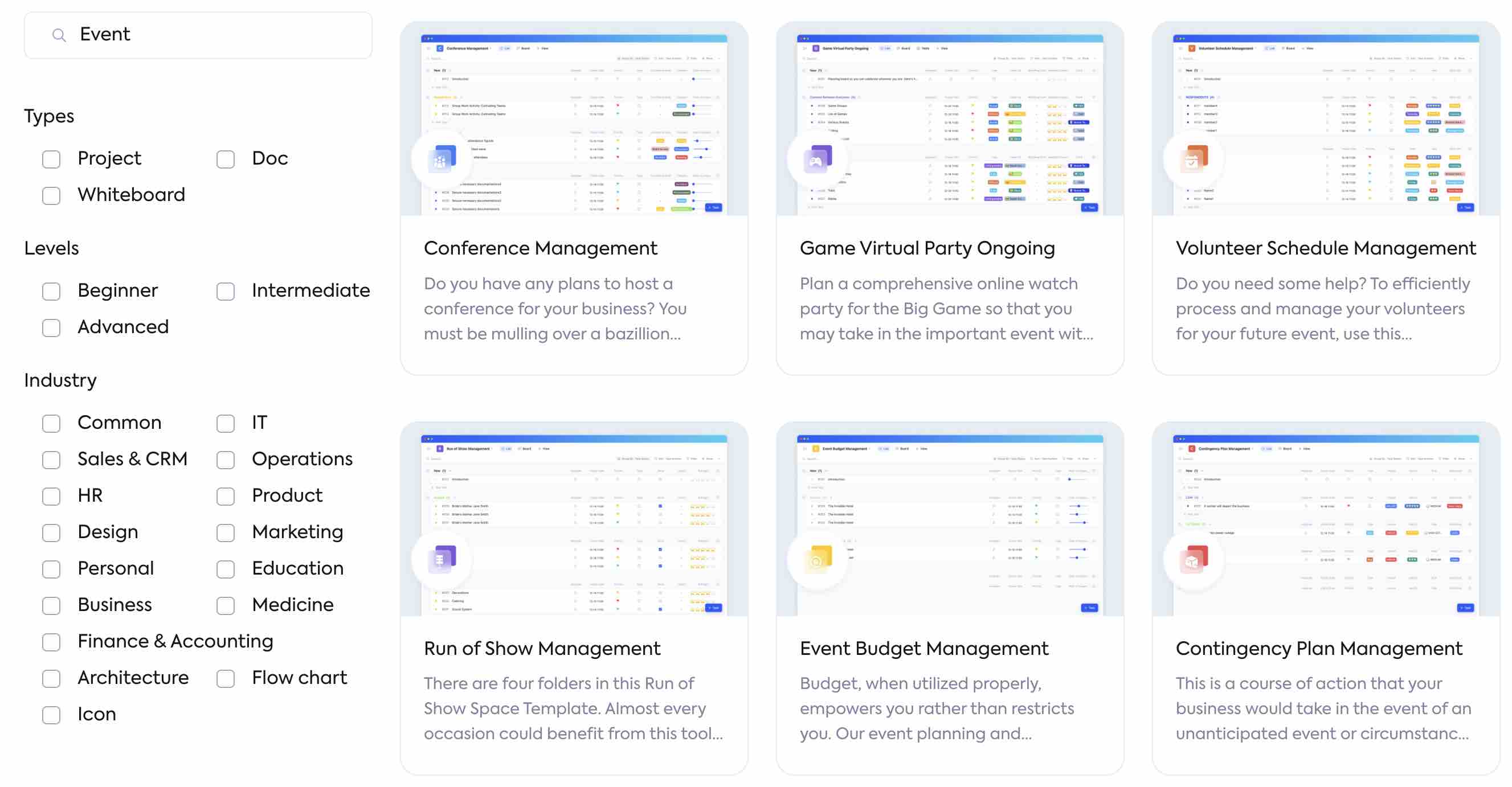 Event Project Plan Template - Causes The Emerging Trend
An event project plan template makes large-scale event planning simple and successful. Use it today to stay on track!
Event Planning Template - Step-by-Step Guide
This template is ideal for outlining your overall strategy. Create a high-level timeline for your next event so that everyone is aware of what has to happen …
Event Planning Project Management Template - Get Work More
The templates will assist your team in becoming more organized and efficient to begin preparing for your next event. It is intended to assist you …
Event Preparation Template
Event planning is a kind of operation method that relates a clear goal, through the planning and execution of activities to improve the operation …
Enhanced Event Schedule-Ultimate Event Checklist
Keep track of all the events for your student organization until these events are perfectly completed with our enhanced event schedule.
Event Marketing and Promotion Plan Template
That's why, no matter what kind of event you're planning, having a promotion strategy to get people in the door is essential for success.
Agile Sprints Events Management - Scrum Board
Tracup Agile Sprints Events Template is provided for multiple teams and corporations to establish an online and printable sprint planning …
Ultimately, Tracup is a reliable platform to help simplify event project management. It ensures that all necessary steps are taken and that the event is completed successfully. With its comprehensive solutions, Tracup can help to make the process of event project management easier and more seamless, hit Tracup at www.tracup.com right away.