Kanban is an agile methodology that focuses more on team communication, continuous improvement, and transparency. It involves using boards for effortless workflow management.
In a Kanban board, you create standardized task queues like "To-Do," "In Progress," and "Done" that reflect your workflow needs.
Agile teams love Kanban boards because you don't need any sort of Kanban certification to use them, and project managers love this tool because it requires very little employee training!
After you login Tracup, you will see this image which is shown below: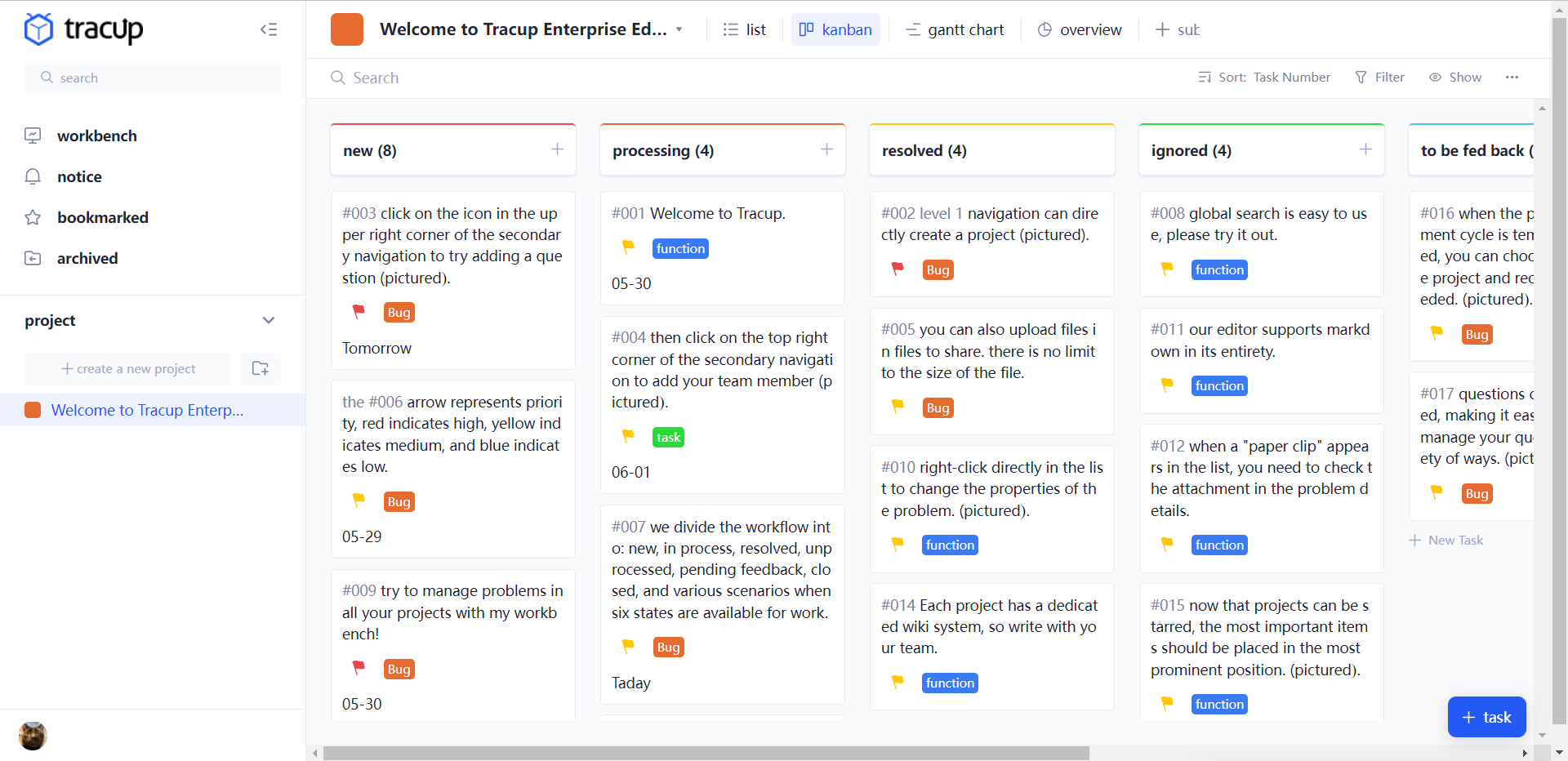 What are the advantages of Kanban?
Visualization of work progress

Kanban is one of the easiest, and probably smartest ways to visualize workflows, tasks, and projects. Kanban lists the simplest steps to complete a task, and the steps (or states) required to complete the task. On the left, you'll see the tasks that need to be completed and move them to the right state. Pay attention to the "In Progress" column so that you can always keep abreast of how your work is progressing. Adding too much content to this column can overburden your team. At a glance, you can measure and estimate what is being done and what still needs to be done. These status sections give your team a visual representation of your workflow, and you can set the task states you need, not just these three. You can also color-code your cards to let developers know what type of work needs to be done and what kind of work needs to be prioritized. For example, red is a high priority, yellow is a normal priority, and blue is a low priority. The combination of card colors, along with the appropriate task status, can help you know what work is being done and the status of that work.

Optimize workflow

Once you've visualized your work, it's time to optimize it. The goal of Kanban is to limit the amount of work in progress (WIP). You don't want to fill the cup too full. The task you want your team to be able to handle and complete in a certain amount of time is the right amount. Each task should be able to move appropriately within your workflow without overwhelming your resources. You don't want bottlenecks. You want all the best. To help you solve this problem, you can set a limit on the number of tasks that are "in progress". This WIP restriction will let your team members know not to start new tasks until those ongoing tasks are completed. If the Kanban board is full of tasks, they can join and help with the work of another project.
Last but not least, if you are interested in Kanban, login Tracup and use it.