Are you looking to unleash your hidden potential as an interior designer? Do you want to become one of the top names in the industry? With innovative project management software, you can now easily tap into your creative skills without getting overwhelmed by paperwork.
Whether you are a residential interior designer, or a commercial interior designer; project management software can lend a hand in effectively managing your projects and ensuring they come out just the way you envisioned.
The software helps project managers and interior designers to keep track of all project details in one convenient place, allowing them to focus all their attention on aesthetics. It also automates mundane tasks such as monitoring deadlines, managing vendors, and amending budgets as necessary. With easy-to-use tools and high-end features, you can unleash your creativity and find ultimate success as an interior designer.
Unlock your interior design potential with innovative project management software today.
What exactly is project management software for interior design?
Interior design project management software is a platform that assists you and your team in organizing everyday tasks related to your interior projects, from creative concept through implementation. It makes it easier for team members to communicate by establishing clear and explicit goals and expectations, arranging work transparently, and measuring its progress from beginning to end.
Project management software for interior design is a tool to help interior designers manage their projects more effectively and efficiently. It allows them to store and organize all of the data and documents related to their work such as product specs, drawings, contracts, and client information, as well as track tasks, deadlines, and invoices. With the right software, interior designers can access all of their information in one convenient place, making it easier to stay on top of their projects and keep their clients informed and happy.
Project management software for interior design can help streamline complex projects, helping designers plan, execute, monitor, and efficiently manage their projects. From tracking quantities of materials used, managing subcontractors and vendors, and budget tracking, the software helps designers plan and implement a successful design project. In addition to helping them stay on task, project management software can also help interior designers communicate with clients, sharing progress updates and project milestones.
By leveraging the right project management software for interior design, designers can better manage their projects, keep their clients informed, and kick their businesses into high gear. With their projects running smoother and the ability to better track their materials and resources, interior designers are likely more likely to succeed, complete projects on time, and please their clients.
Advantages of adopting Tracup's interior design project management software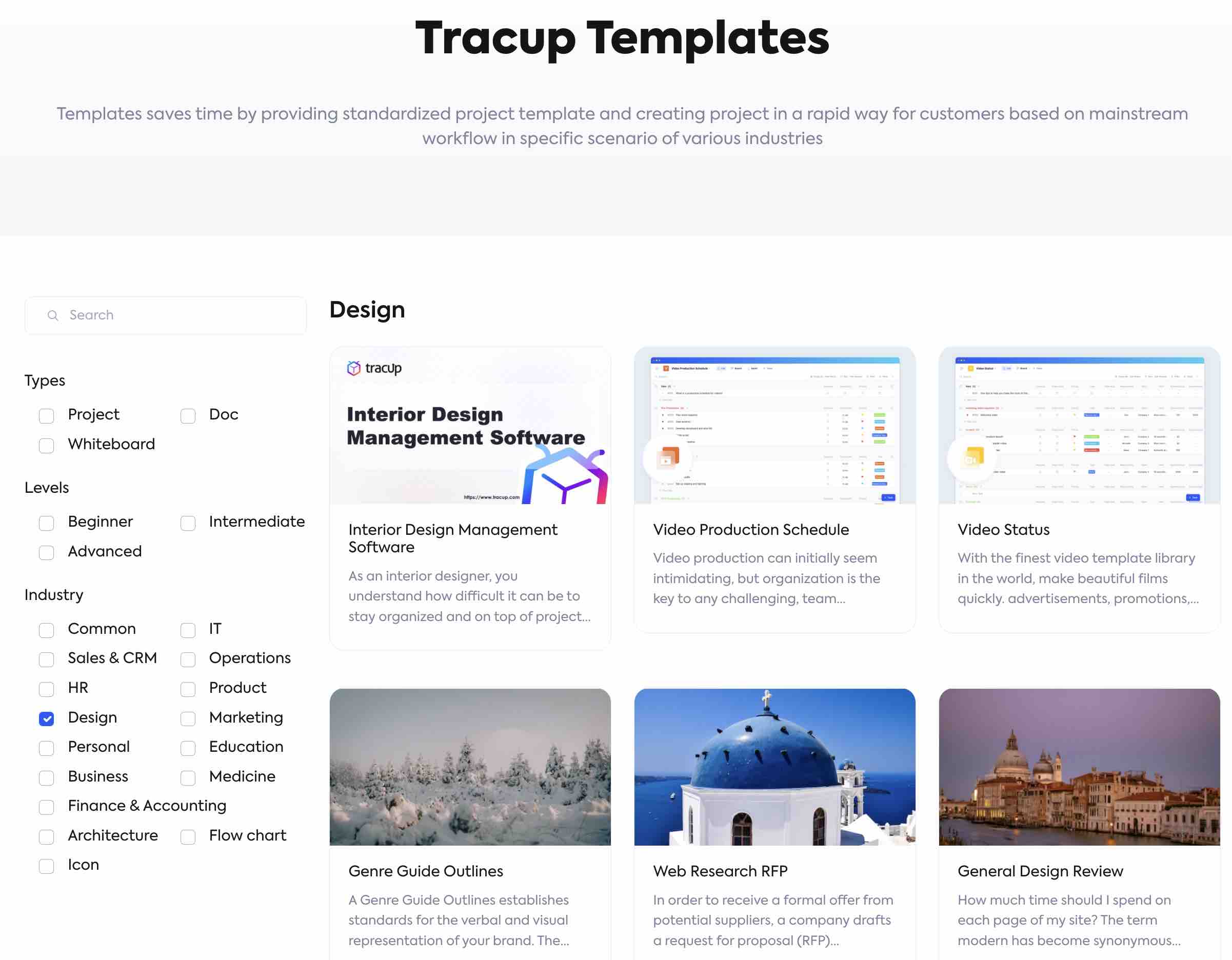 1. Keeping track of tasks, flows, and progress:
Tracup includes several tools to assist interior designers to manage their team's work and keep informed of current developments. See the status of tasks and flows, and be notified by getting alerts when changes occur.
Kurt had a problem. He was the CEO of a multi-million dollar tech company, and his day-to-day duties were becoming increasingly unmanageable. He had projects, tasks, and processes running, but he found himself unable to keep track of what was going on. Whenever he wanted to access a file, check on a project, or find out a task's progress, it was a hassle—it was hard work.
That's when Kurt found out about Tracup. Tracup is a project management platform that offers a range of tools and features to help businesses track tasks and make sure that everyone is on the same page. With Tracup, Kurt was able to make sure that tasks were completed on time, that he never forgot anything, and that he was always aware of progress.
Tracup's most powerful feature is its task flow tool. It allows Kurt to create tasks and organize them into flows. This means that he can assign tasks to the right people in the right market—with a single click, he can create projects and assign them to members of the team. The task flow tool also allows him to check on progress, get notifications when tasks are completed, or find out if any issues need to be addressed. Additionally, the tool is customizable, so Kurt can set up templates for frequently repeating scenarios.
Kurt can also use Tracup to set up boards—a visual representation of the task flows. These boards allow him to better visualize the progress of a task, which helps him maintain an overview of the operations. By setting up a board, he is also able to hand off tasks easier, assign tasks quickly and easily, and share tasks easily with other members of the team.
Kurt quickly realized that Tracup wasn't just a time saver but a real productivity booster. In addition to enabling him to track tasks and flows, it enabled him to set up a repeatable process that allows him to lead the team more effectively. Tracup has allowed Kurt to stay on top of all his projects and tasks, and he is no longer bogged down by the overwhelming responsibility of being a CEO.
2. Coordination of team actions
Adjust your plans so that you can easily exchange work and ideas, and access tasks and milestones as either assignee or reviewer to select task-related activities with everyone on your team.
Tracup is an online tool designed to help coordinate team actions. It enables teams to communicate and collaborate more effectively, create personalized workflows, and keep everyone updated on the status of projects.
The way Tracup works is by creating a platform that provides team members with different features that make it easier to manage their tasks and projects. One of the features of Tracup is the ability to quickly create action plans and assign tasks to team members. This system allows team members to easily keep track of what tasks they are responsible for, which helps to reduce confusion and keep everyone focused on the overall goal of the project.
With Tracup, teams can also measure the impact of their work and gain valuable insights. The tool allows teams to see the progress of projects in real time, as well as measure the effectiveness of their work and identify areas of improvement. This helps teams become more efficient and make sure their efforts are having the desired results.
Tracup can also help teams coordinate their actions more effectively. The tool includes features such as reminders, notifications, and instructions so that everyone is always kept in the loop. This ensures everyone is on the same page and can cooperate more effectively.
Overall, Tracup helps teams become more organized and efficient. It simplifies the process of creating action plans, assigning tasks, and keeping track of progress. By taking the guesswork out of team coordination, Tracup provides a valuable tool for teams of all sizes and across a variety of industries.
3. Enforcing timeliness
Inform your team of work priorities so that everyone performs properly, and offer complete context for a deadline. Without context, deadlines are worthless. Make careful to explain why the work is essential and code it in the appropriate significance column.
The importance of timeliness in any organization or business cannot be emphasized enough. Without timely completion of tasks, the productivity and efficiency of a business or organization can be greatly compromised. To ensure that the tasks are completed on time, many organizations rely on Tracup to enforce timeliness.
Tracup is a tool used by many organizations and businesses to monitor and enforce timeliness in all aspects of their operations. With Tracup, organizations can set and monitor deadlines for tasks and projects that are scheduled on a timeline. This helps ensure that all tasks and projects are completed on time and with a minimum delay.
Tracup also grants organizations access to a variety of data analysis and reporting capabilities. This data can be used to identify areas where timeliness is lacking and then makes it possible to take action to improve and enforce timeliness.
Tracup is also incredibly user-friendly and provides users with comprehensive reporting and analytics capabilities. This makes it easy to analyze both current and past performance, analyze trends in timeliness, and identify areas that need to be improved. Furthermore, it also helps managers and supervisors to stay on top of their employees' performance, giving them more insight into how they are performing and where improvements can be made.
Ultimately, Tracup makes it much easier for organizations and businesses to enforce timeliness and improve their overall efficiency, productivity, and results. With Tracup, organizations can set and monitor deadlines for tasks and projects, analyze and monitor performance, and ultimately create a more efficient and successful working environment.
4. Documentation collaboration
Stop information silos by organizing everything work-related within your board, sharing all types of files, assets, photographs, PDFs, contracts, or even bills, and more, and keeping notes about them in the task, so team members can always locate the information they need.
Documentation collaboration is the process of working together on documentation, such as articles, manuals, and other written content, to produce a final product. This process can involve multiple people from different organizations throughout each step of the process from initial idea development to the publication of the content. A key element to successful documentation collaboration is utilizing an effective tool that allows for efficient communication, easy organization and tracking, and sharing of work.
Tracup is an online platform for documentation collaboration that allows for efficient collaboration and management of documents. Tracup makes the process of creating and maintaining documentation faster and smoother through its suite of tools that make it easy to organize projects and team members, keep track of progress, and share documents quickly and securely between multiple collaborators.
Tracup features task management and collaboration tools such as real-time editing, commenting, and feedback, as well as notifications, deadlines, and reports. It also provides file storage and management such as version control and document history, revision control, flexible rights management, and multi-locale compatibility. Additionally, Tracup integrates with other third-party services, such as Google Docs and Microsoft Office, to add more features to the platform. Tracup also offers various customization options such as themes, fonts, and page layouts, so users can tailor their collaboration space to their needs.
In conclusion, Tracup is an effective online platform for documentation collaboration that makes it easy for teams to work together to produce high-quality content quickly and effectively. Its suite of tools and integration with other services makes it a great solution for any organization looking to improve its documentation process.
5. Rich templates productivity
Rich Templates at Tracup make it easy to design your projects with style. With the help of their robust templates, you can easily create engaging visuals that are sure to get your message across. From professional presentations to dynamic infographics and social media graphics, everything can be crafted with style and ease.
No matter what type of project you're working on, you'll find templates from basic to advanced in Tracup's library. With their versatile assortment of themes, you can easily customize your content to accurately reflect your brand. Add your text, layout, and links to create a visual that stands out from the crowd and catches the attention of your customers.
If you're feeling creative and want to tackle an exciting project from scratch, Tracup also offers a selection of blank templates to get you started. What's more, their editing options allow you to personalize your visuals with your images, photos, and other artistic elements.
Additionally, Tracup also contains a collection of high-quality stock images and icons, which can save you the time and effort of sourcing different visual materials. You can easily browse the library to find the perfect images to fit your theme and design.
Effective Interior Design Template
Create an interior design project management tool to organize your projects and keep everyone on the same page. Get organized by creating a …
Apparel Design Management Template
Keep track of your designs with a List view, or jump over to the Board view for an interactive visual representation of your apparel.
Review of Design - Manage Design
During the design production process, there is a step called a design review where you assess the design in light of predetermined criteria.
General Design Review
In the early 20th century, designers created designs that were considered modern. Nowadays, however, we see a shift towards more classic styles.
Design Outlines Board Template
Design outlines are a great way to get started on your next project. They allow you to plan out your ideas before starting to draw them. You don …
Design Project Plan Template
What is the key to more efficient design and creative projects? A fluid creative process. Use Template. Template Configuration.
Effective Design Sprint Table Template
Design Sprint is a five-day process for answering critical business questions through design, prototyping, and testing ideas with customers.
Thanks to Tracup's robust templates, you no longer need to be a graphic design expert to craft amazing visuals. You can simply use their templates to create stunning projects that capture the attention of your customers and build up your brand. Try it now and see just how quickly and easily you can design beautiful projects, hit Tracup at www.tracup.com right away.