Discover the ultimate way for boosting your work meetings and keeping productivity high with the help of Ultimate Templates. Make sure to check out this blog post to get the best tips!
Do you frequently struggle to remain organized and productive during meetings? Are you looking for meeting templates to help you make your meetings more efficient and productive? If so, Tracup has the ideal solution for you!
Meetings are notorious for being difficult. Meetings can be a drain on time, energy, and resources, whether due to long meetings, meetings without outcomes, or meetings that just don't seem to go anywhere. Creating and using meeting templates is one of the most effective ways to improve meetings.
Bettering meetings
Tracup meeting templates are an excellent way to improve meetings. You can access a library of pre-formatted, organized, and comprehensive meeting templates with Tracup meeting templates. These templates help ensure that all relevant meeting details, such as agenda items, objectives, discussion topics, and action items for each participant, are included and tracked.
Features of variety
Tracup meeting templates also have several features that make them especially useful for meeting organizations. For starters, they make it simple to store and access all meeting-related information. This includes digital copies of meeting minutes and any related documents, allowing you to easily review meeting notes or documents as needed.
Customizable
Tracup meeting templates are extremely adaptable. You can customize each template by adding fields and categories to meet the needs of your team, or you can create entirely new templates from scratch. This enables you to customize meeting templates to meet the specific needs of your team, making meetings more effective.
Collaboration and communication easily
Tracup meeting templates also facilitate collaboration and communication. Tracup templates enable team members to access, comment on and update meeting items from any location. This makes it simple to stay on the same page when it comes to common tasks and goals, and it also serves as a platform for collaboration when it comes to meeting management.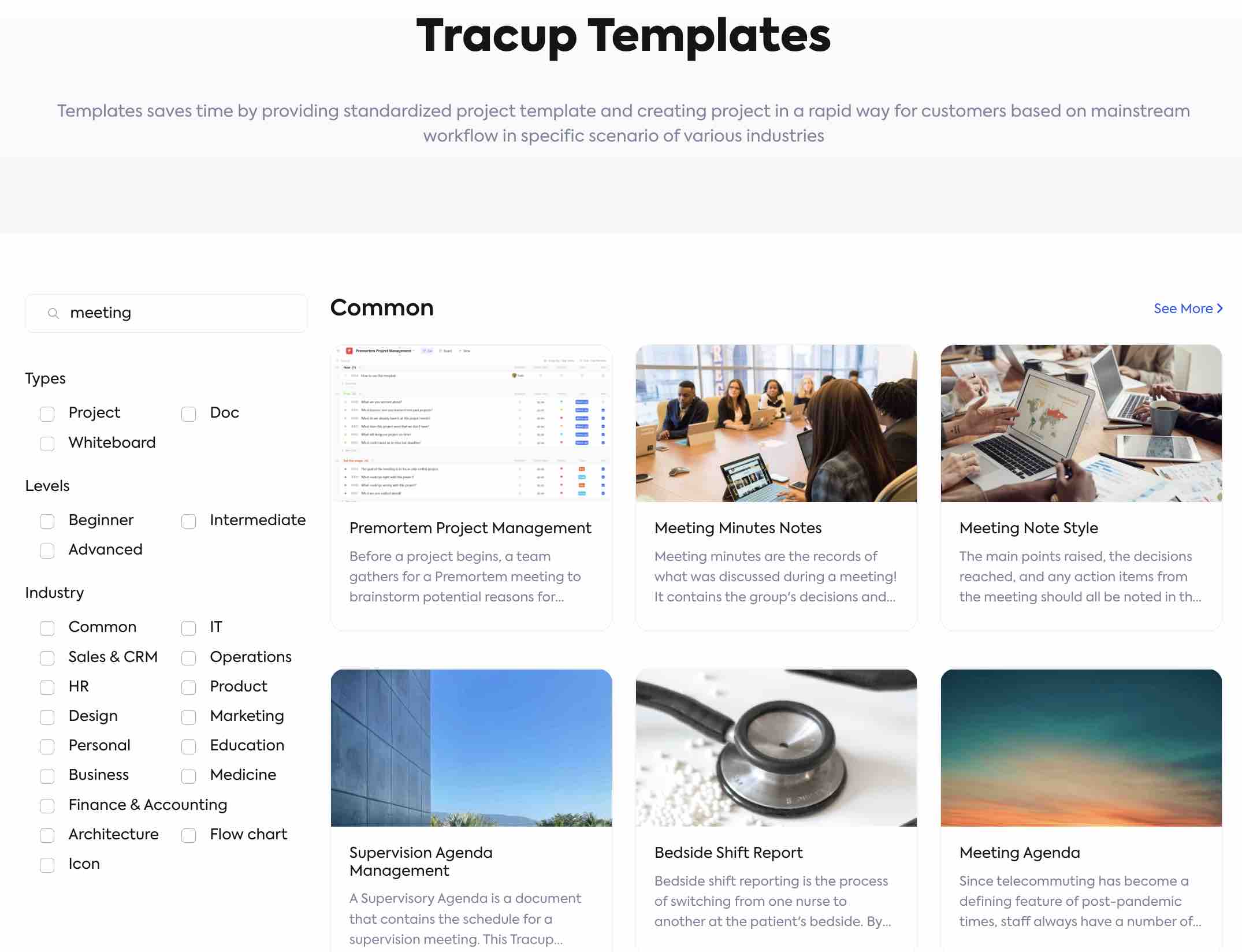 Meeting Agenda Template - Better Meetings
Using our meeting agenda template, you can plan and organize your meetings. Make a list of your potential conversation topics and talking points.
Meeting Note Style Template
Meeting Note Style Template illustrates a perfect example of a simple but effective meeting note-taking template including agenda topics, and the attendee's list …
Level 10 Meeting Agenda
Our level 10 meeting agenda template is specifically designed to assist your team in conducting planned, in-depth meeting discussions.
1 on 1 Meeting Template - Sync with your members
This template here is to help you hold a 1v1 meeting with your team members to discuss confusion and thoughts for your products.
Team Communication and Meeting Template
Team Communication and Meeting. A communication matrix template helps teams communicate better by making sure everyone knows what they're …
Agenda of Meeting - Effectively Save Effort and Time
A meeting's agenda is a list of the topics, talking points, assignments, and activities you intend to cover.
All Hands Meeting Template - Track With Both Individual and Team
Meetings open to the whole company are essential for maintaining communication and ensuring that everyone is aware of and on track with individual and …
Meeting Agenda Template - Record and Prepare
Free Meeting Agenda Template from Tracup aims at more productive and efficient meetings.
All Company Meeting Template
Using our template, you can organize and manage your all-hands meeting. Staff or "all hands" meetings are crucial for maintaining open …
Board Meeting Agenda Template - Clear Your Goals
This template is made for recording important speeches, agendas, and documents from a meeting. With our created areas, you can easily edit …
QBR Meeting Agenda Template
A quarterly business review (QBR) meeting is only effective if the proper individuals attend. Learn how to conduct a productive review with …
Ice Breaker Printer Template-Warm up a Meeting
Generally, we set this activity at the beginning of a meeting to have the best effect. However, it is not a stereotyped activity. You can throw …
Standup Meeting Template - Listen to Your Colleagues
This template is built as a recording tool for standup meetings. … department, job role, meeting topics, and essential talking.
One To One Meeting Checklist - How To Prepare for Meeting
Confirm the agenda of the meeting with your teammate. Run the meetings in ways of formal, informal, open heuristics, etc. that fit your purpose.
Now you can dramatically improve the effectiveness of your meetings and ensure that all pertinent information is organized, accessible, and up to date by using Tracup meeting templates. Better meetings lead to better results, and Tracup meeting templates are an excellent tool for accomplishing this, hit Tracup at www.tracup.com right away.