Misunderstanding is always one of the biggest challenges while working with other colleagues. The bigger the team size is, the more misunderstanding would appear. That's why our team focuses on breaking communication barriers for our valuable users in Tracup!
Hi guys, welcome back to Tracup blog.
Tracup has been working on improving our customers' work efficiency as our prime goal of developing. Our IT team has upgraded some features in Comment to create a have a better communication experience for users and to help break communication barriers between members.
You can choose either watch our instruction video below, or read our detailed blog. Either of them would cost the same amount of time, about 3 minutes.
So, let's begin your trip in Tracup!
Find the first button under comment that named: "Assign Comment."
Click it and choose a person that should response to your comment. Then you will find that his/her avatar will replace the original icon.
Then type in anything you want to say and hit "Comment" in blue.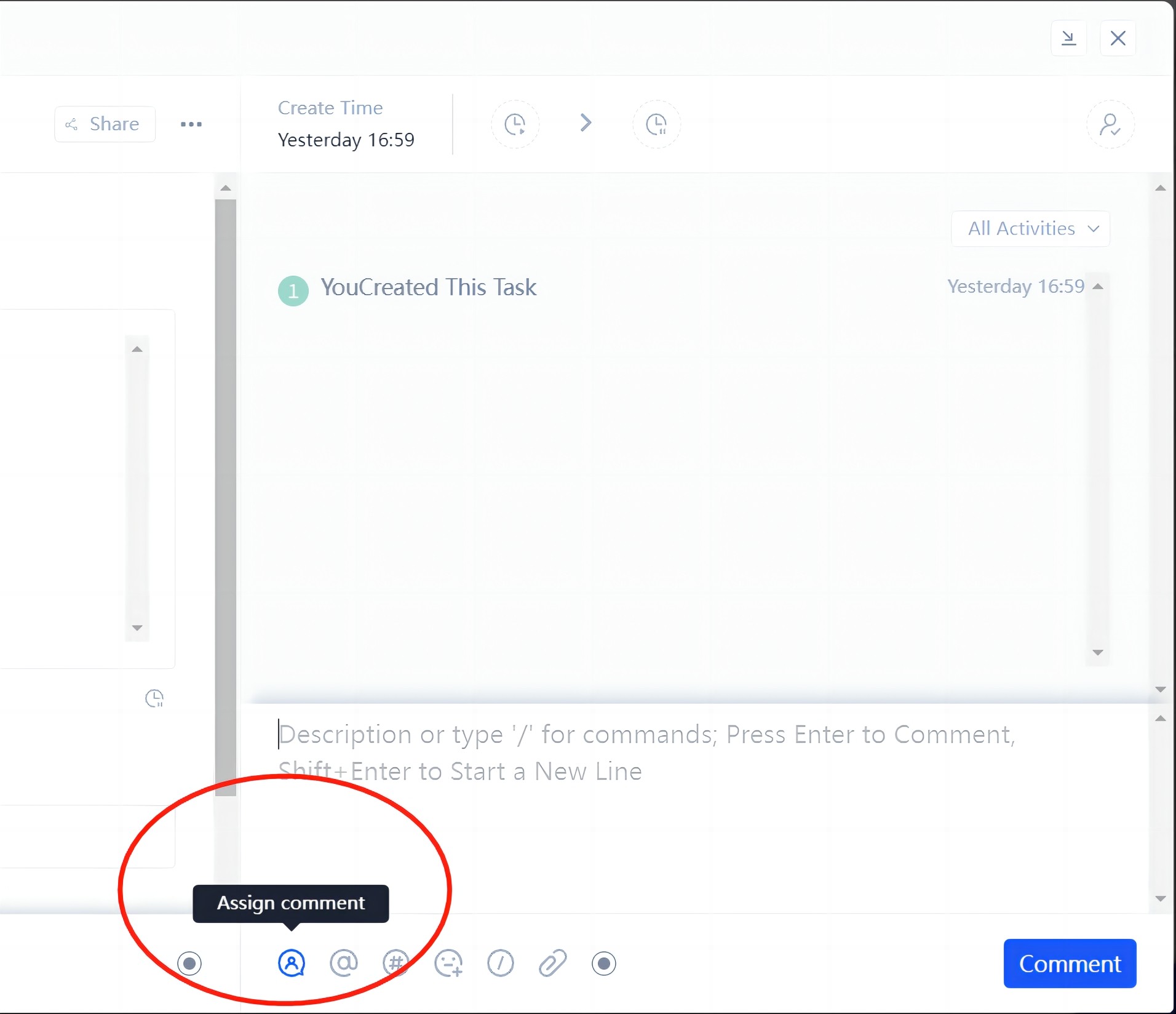 Then you will see a complete comment like this, it has a clear assignee and a "To Solve" checkbox on the right: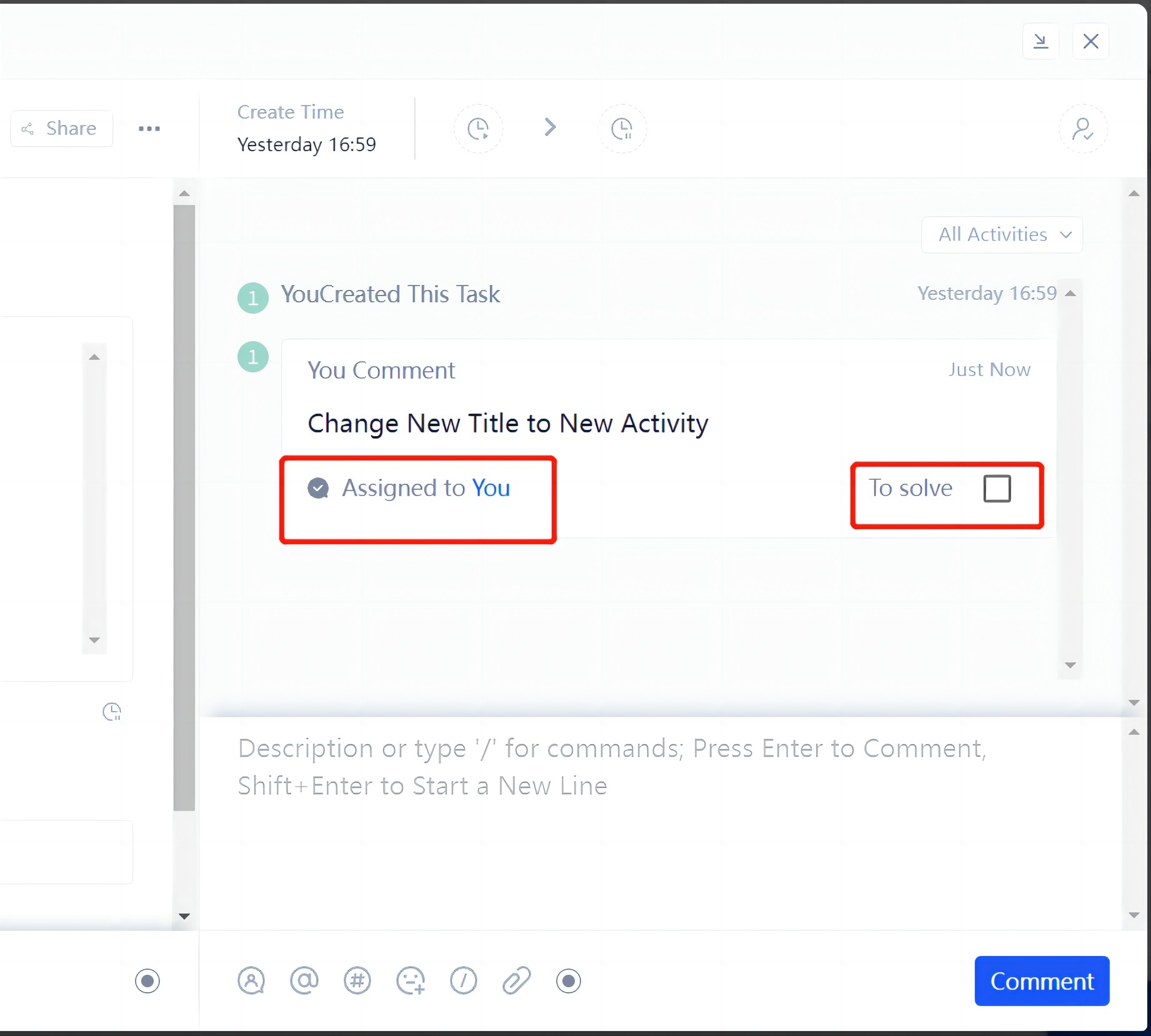 Once the assignee thinks that comment is finished, he/she can click the check box next to "To Solve" and make it transfer to "Resolved."
Mention Someone @
This is a easy understanding feature. Just @ the person using that button or you can type in "@" for a quicker command.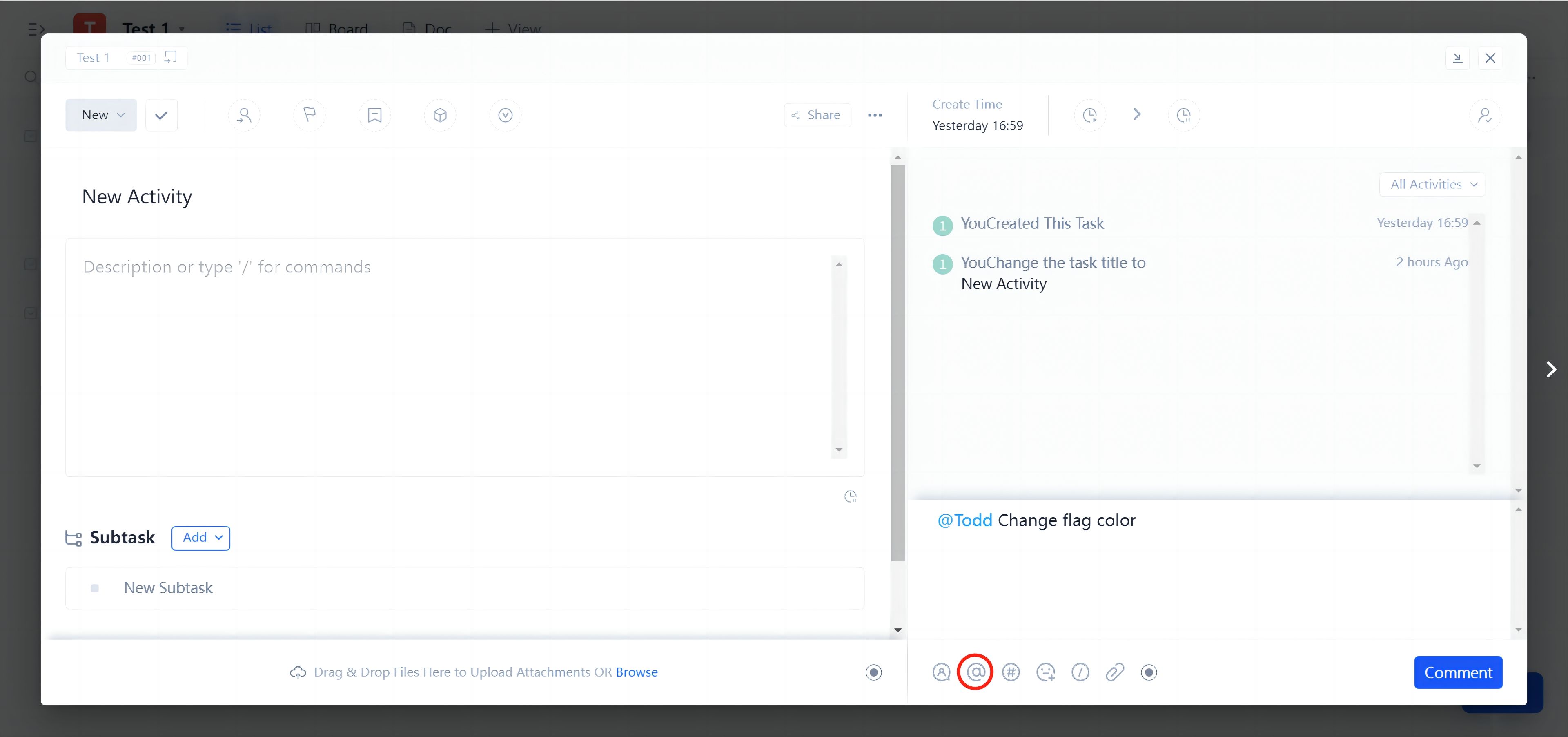 Mention a Task
If you think typing in a long tail task name is kind of boring, here comes the perfect solution!
Click the third button "Mention a Task" to open all tasks list in your work space. Find the one you need and choose it!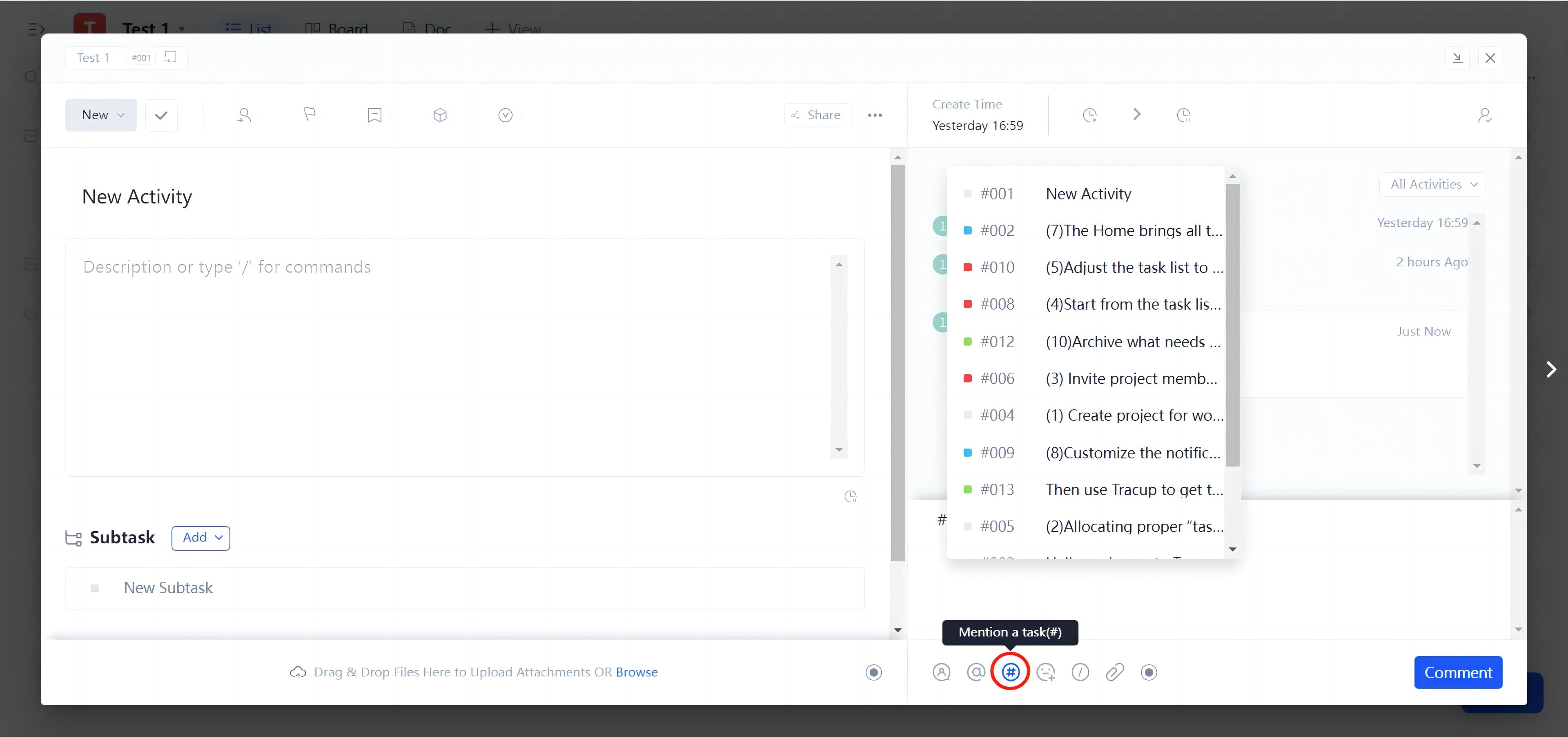 Add Emoji/Slash Commands/Upload File/Recording
You can also add emojis to represent an attitude. whether you are confirming a job, querying an action, or giving support to the comment.
Also you can insert slash commands, upload a file, or record the whole process by using the rest three options. We have talked these features in the previous blogs and videos.
The most exciting thing is that you can combine all features together for one comment.
Use all of our features to create a comprehensive direction for your colleagues.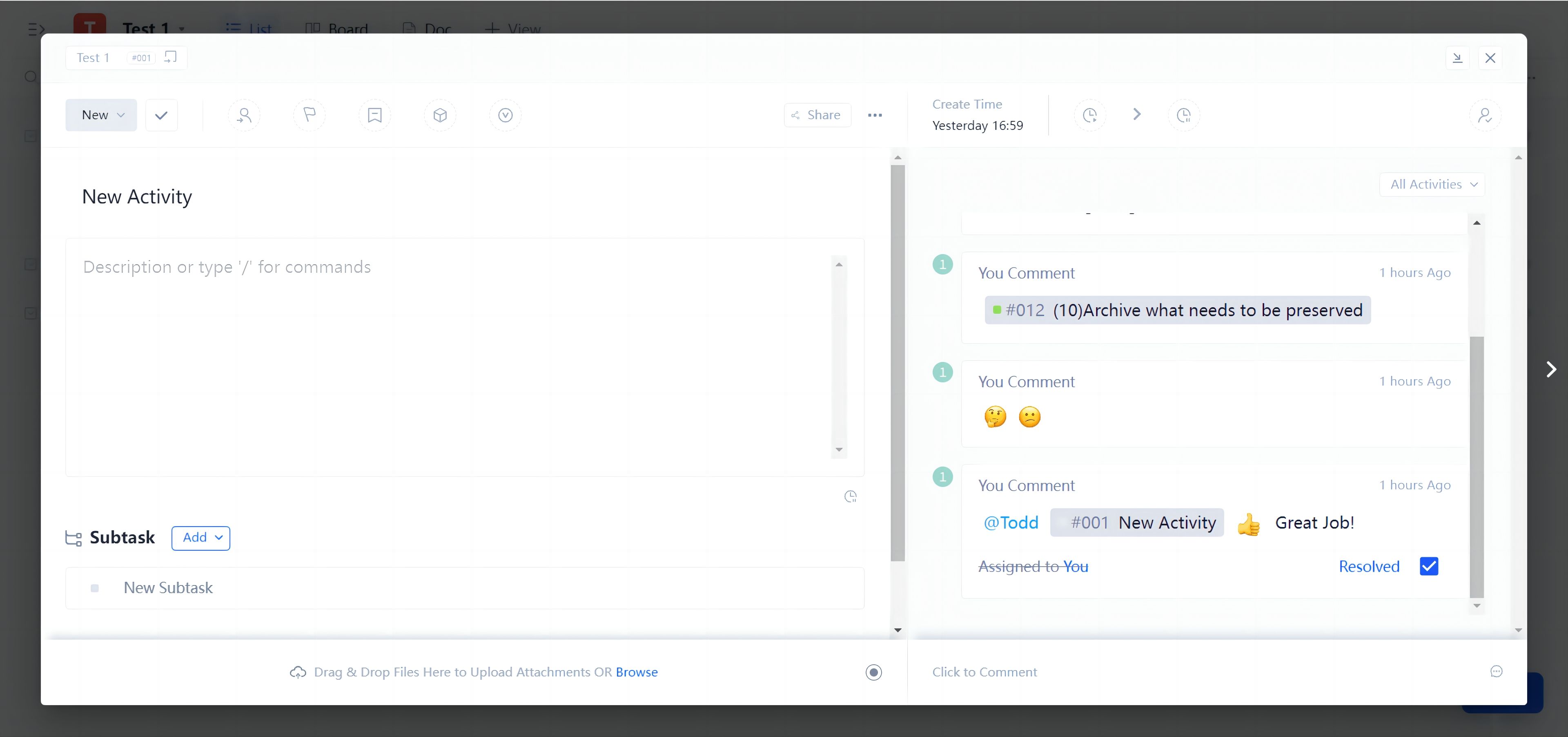 Tracup team will never stop working on new templates in order to serve our valuable customers. If you have a special need that is not shown in our template center, feel free to contact us via our website. We are more than welcome to listen to your opinions and build a specialized template for you and your team!
Feel interested in Tracup? Come and visit our website for more help!