Our Goals feature encourages teams to identify and break down tasks into smaller, achievable objectives, providing a sense of incremental success while encouraging continued hard work.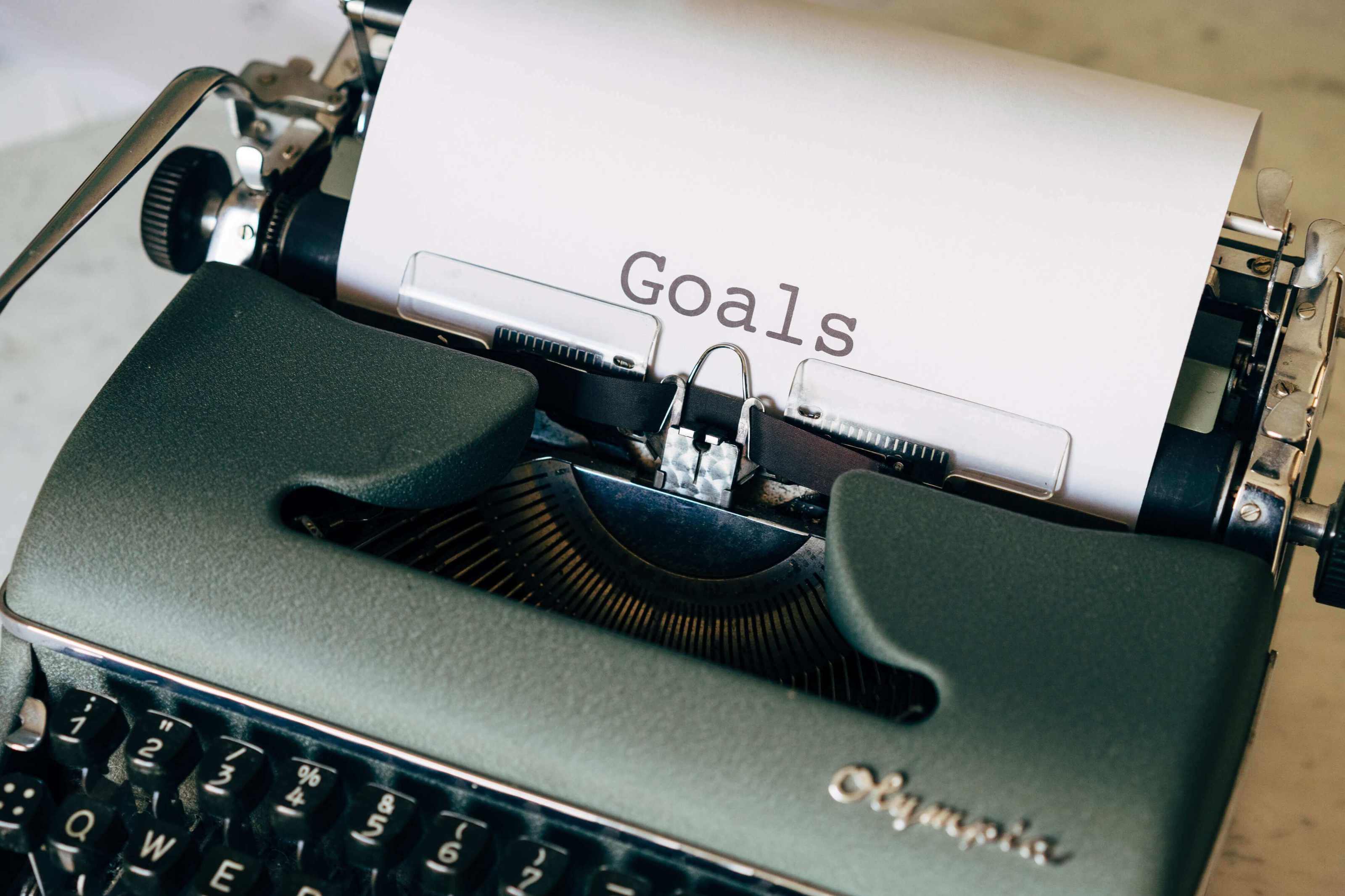 Here come Goals! The most exciting tool to track team progress and motivate team to a further success!
This article will discuss the feature and use in real situations about our new Goals, including:
1.What is Goals in Tracup?
2.How to Set up Your first Goal in Tracup?
3.Feature
Number
True/False
Currency
Task
4.Pick A Color for Your Goals
5.The End
What is Goals in Tracup?
Goals, also can be defined as milestones, is a measurement of task process and completion degree.
Project management milestones are an essential part of the overall project management process. A milestone is a predetermined point in a project signifying an achievement or a goal has been reached. It is a representation of a clear goal that provides a framework for spotting and responding to changes. Milestones are important because they are a way of measuring progress and give a greater sense of accomplishment and direction as the project progresses.
Milestones also help to define project phases, which allow for effective and accurate project planning, provide a timeline for evaluating success or failure, provide feedback to stakeholders, and form a basis for rewards and recognition. Milestones can be used to separate projects into manageable parts and to measure overall project performance. Ultimately, milestones help teams identify and resolve any problems before they become major issues, enabling them to stay on track and ultimately meeting their goals.
How to Set up Your First Goal in Tracup?
Once you come up a brief goal for a period of time, (could be a quarter, semi-year, or a year long) you can start to create this attracting journey and add your members into it.
First, find the button on the upper right, click "+ Goal" to open the panel.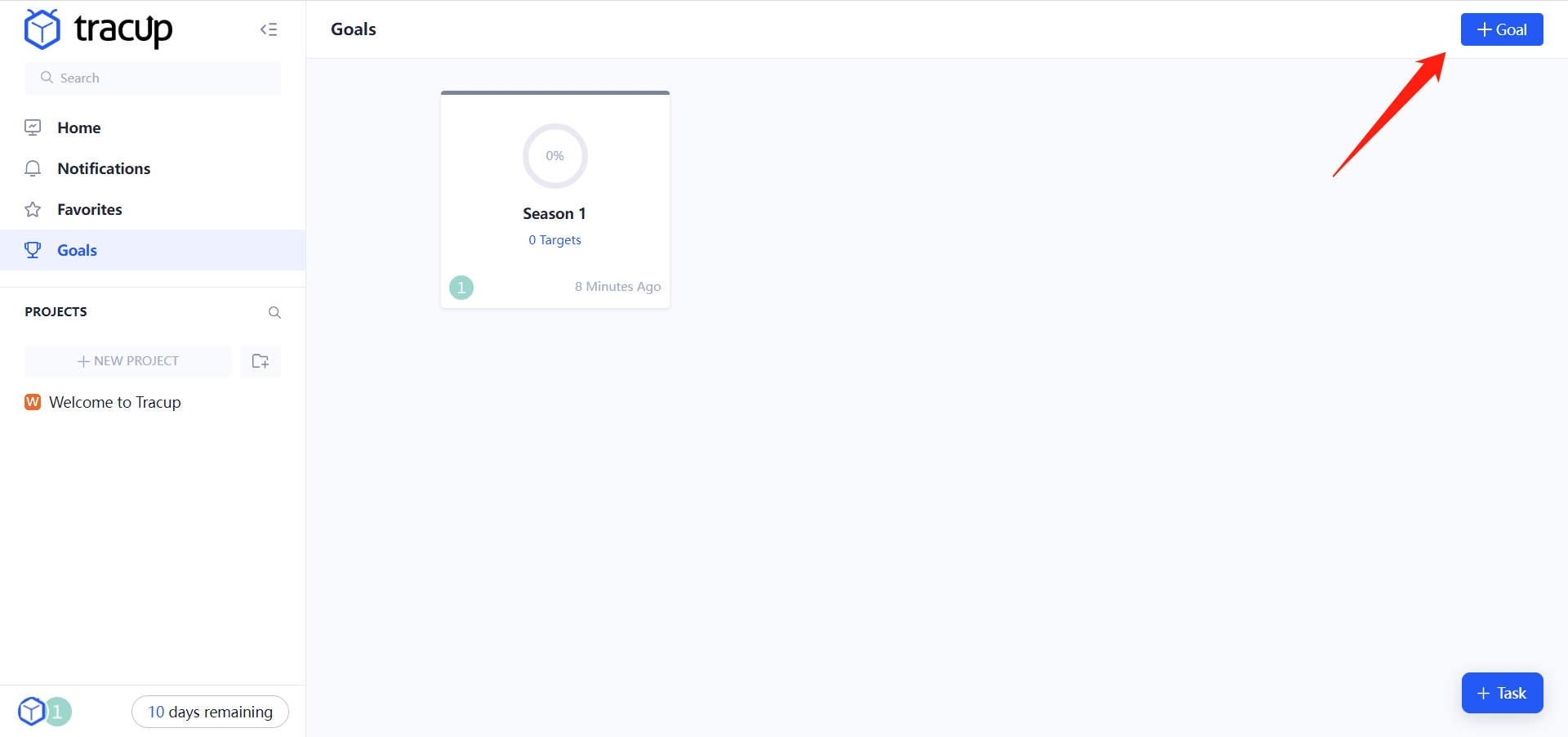 Then you need to decide the goal name, owner, participants, and a description for your new goal. See below: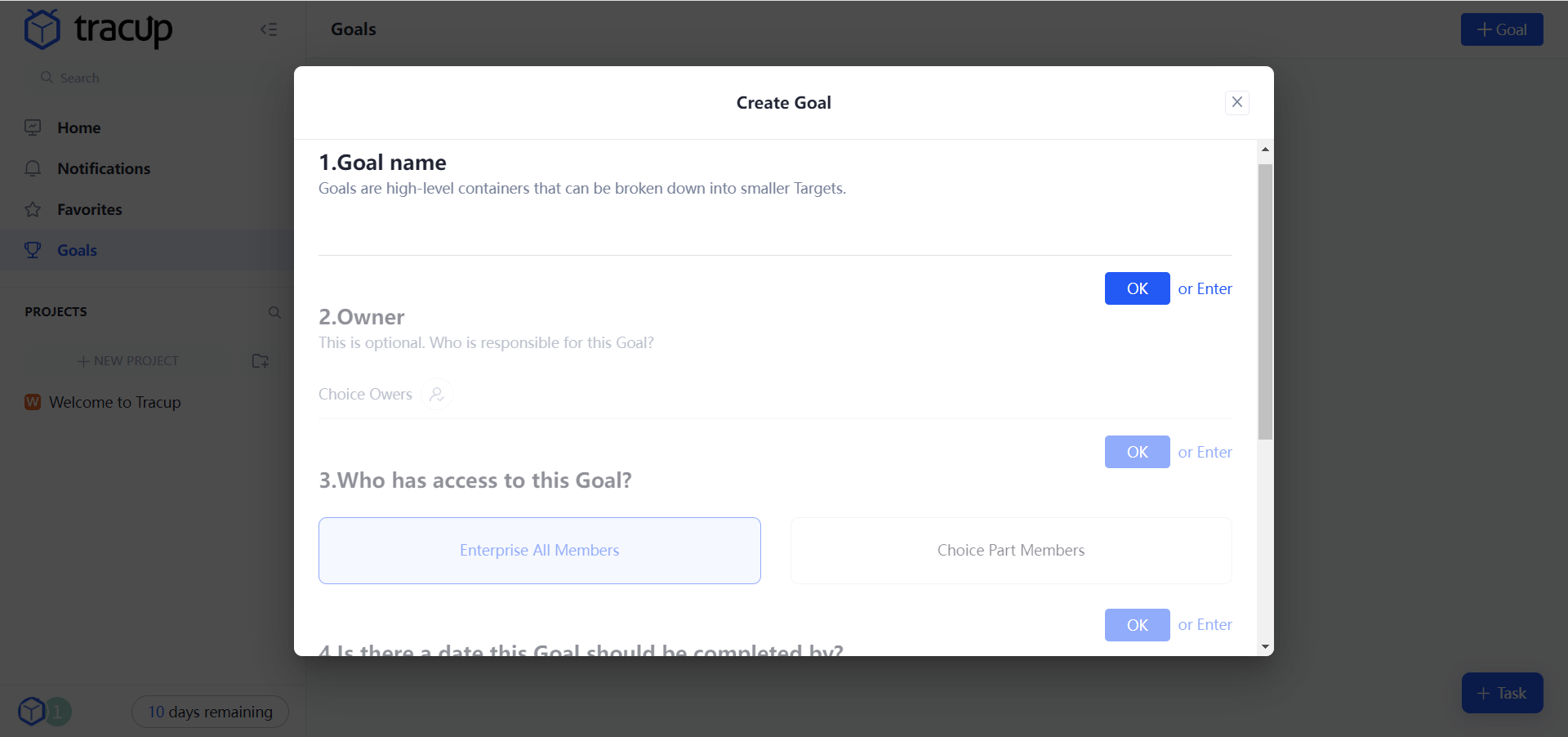 Next, you can start with the first minor milestone, which we call it Target here: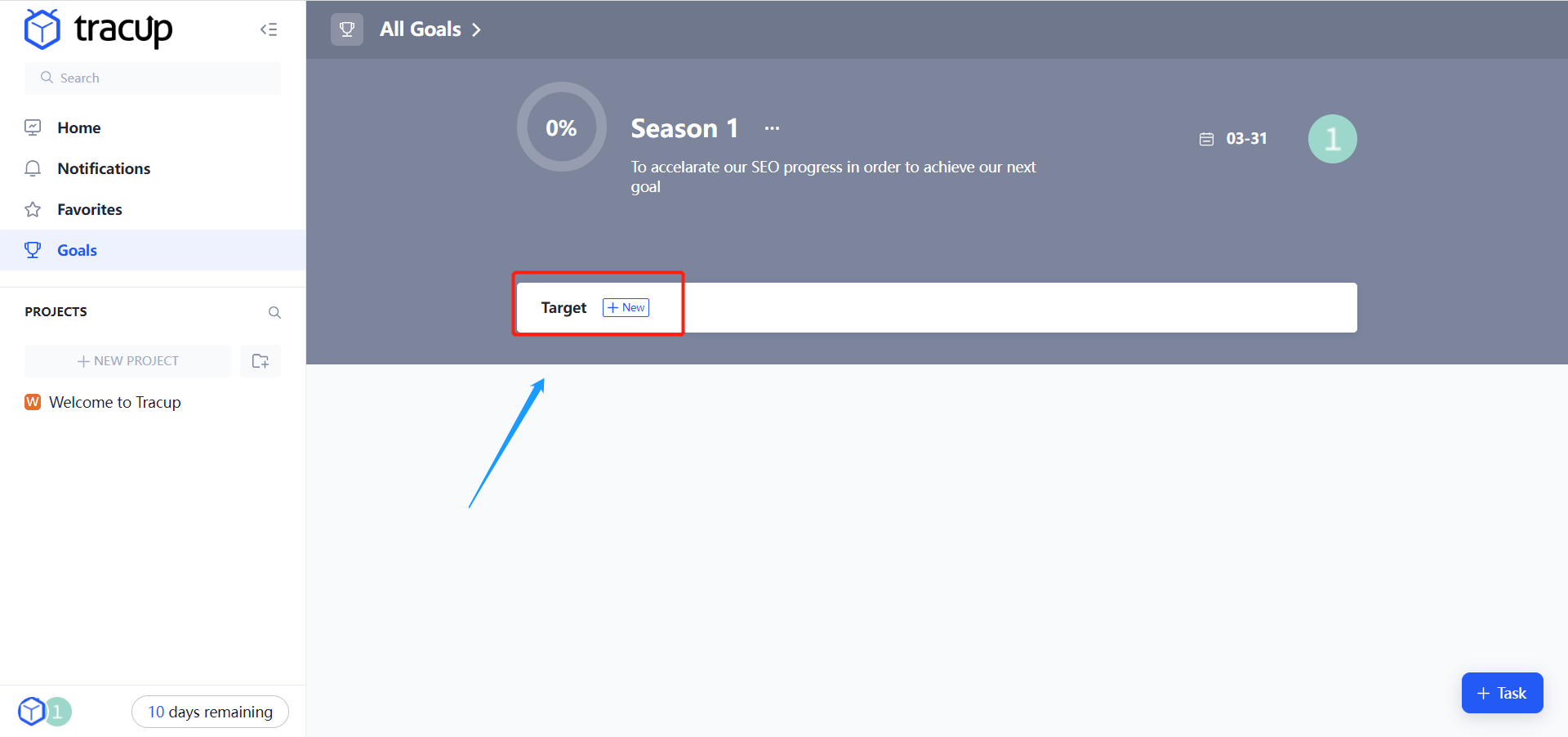 In the Target creation panel, you will be able to make as many as minor targets with target title, owner, and type of target.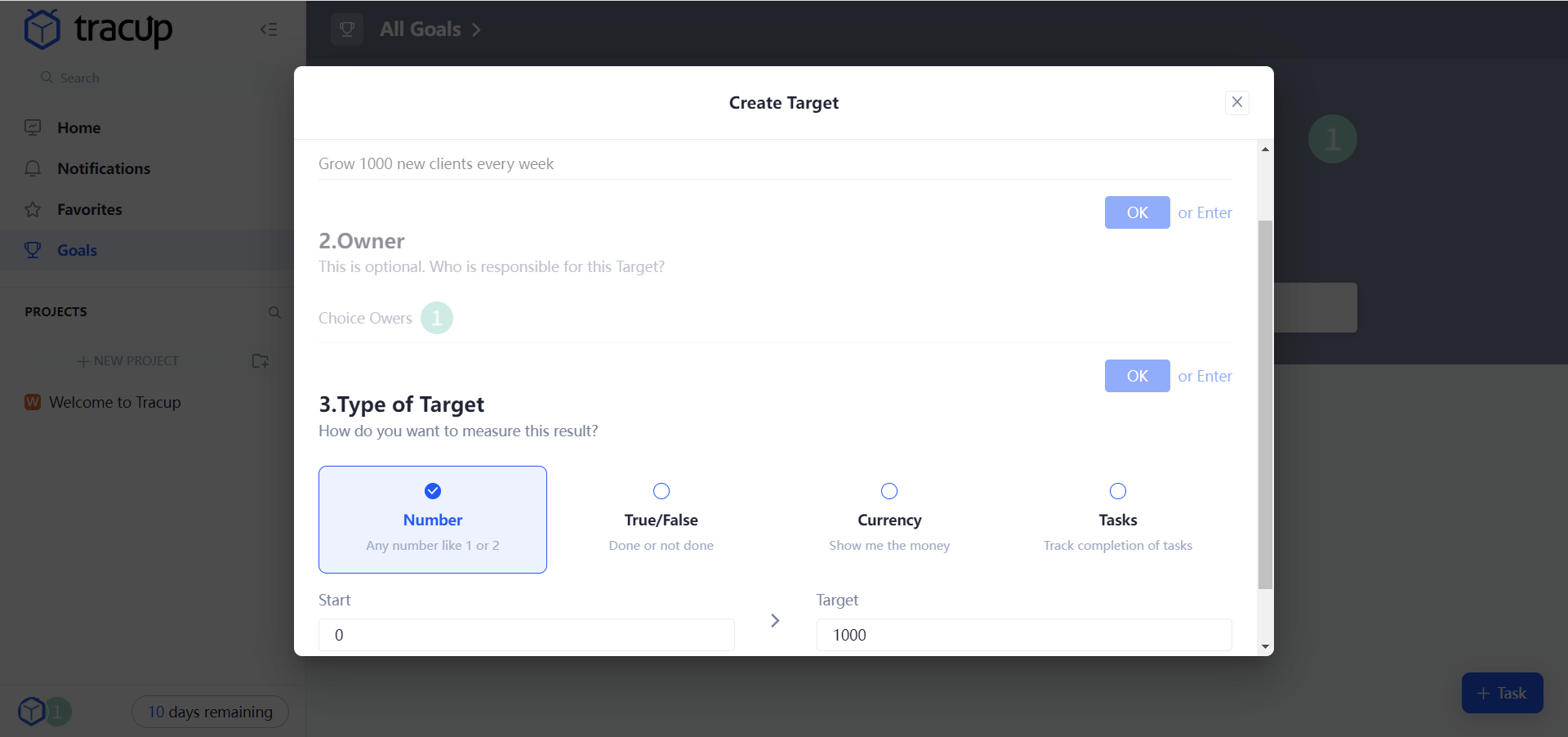 There are four types of targets in this panel, each of them will have a particular usage in measuring performance.
Number
This is the most straightforward expression of a task. See the numbers and calculate the progress, whether you need to work harder, or relax a bit!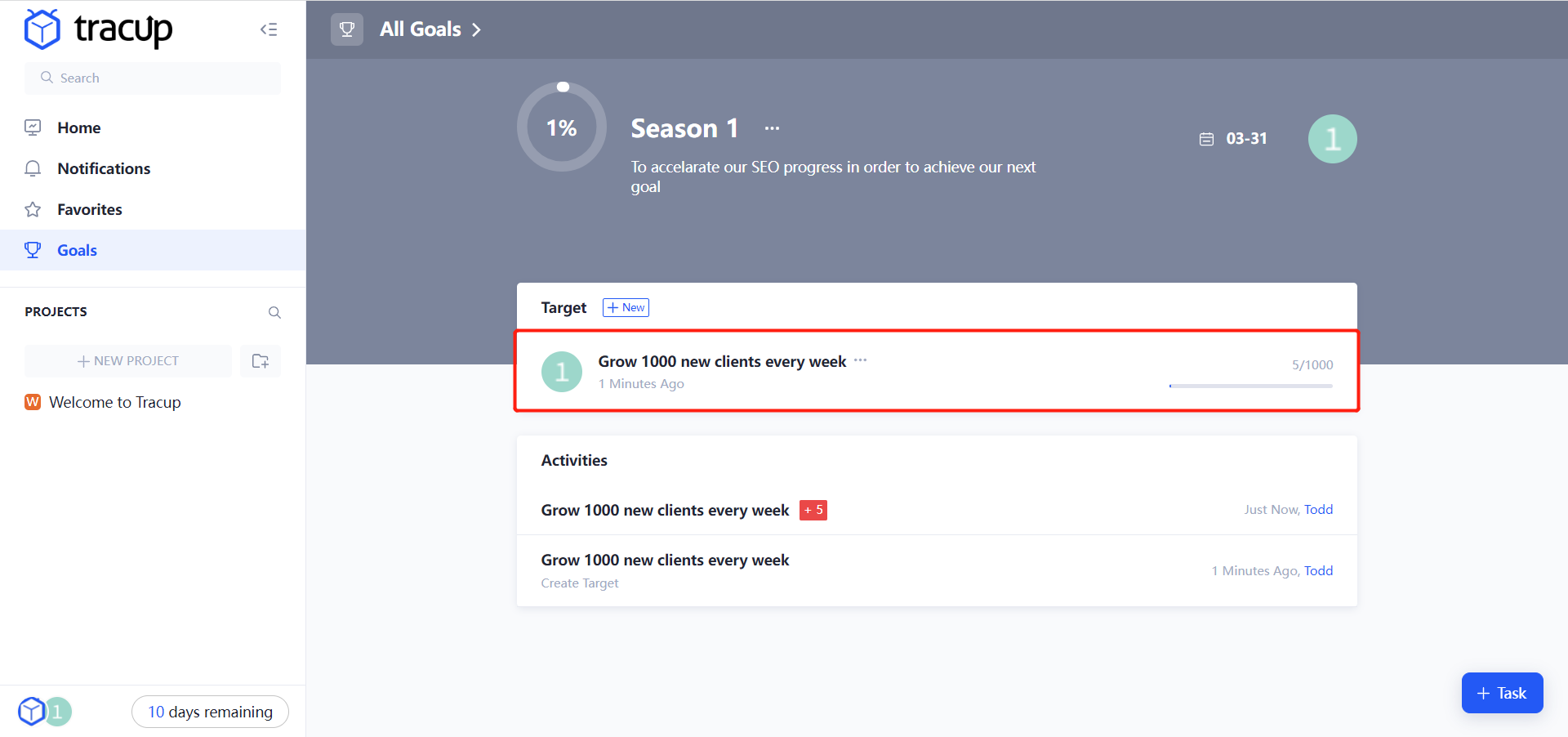 Set up some of your targets in the measurement of numbers, whether it is about your clients growth, customer reviews, budget tracking, fundraising, inventory counting, or any other categories.
Numbers are a crucial part of project management - they allow us to measure, analyze, and track the progress of our projects. Whether it's budgeting, scheduling, or tracking resources, numbers play an essential role in helping project managers understand where their projects stand and identify areas of improvement.
You can click anywhere of a specific target to open the process bar, see below: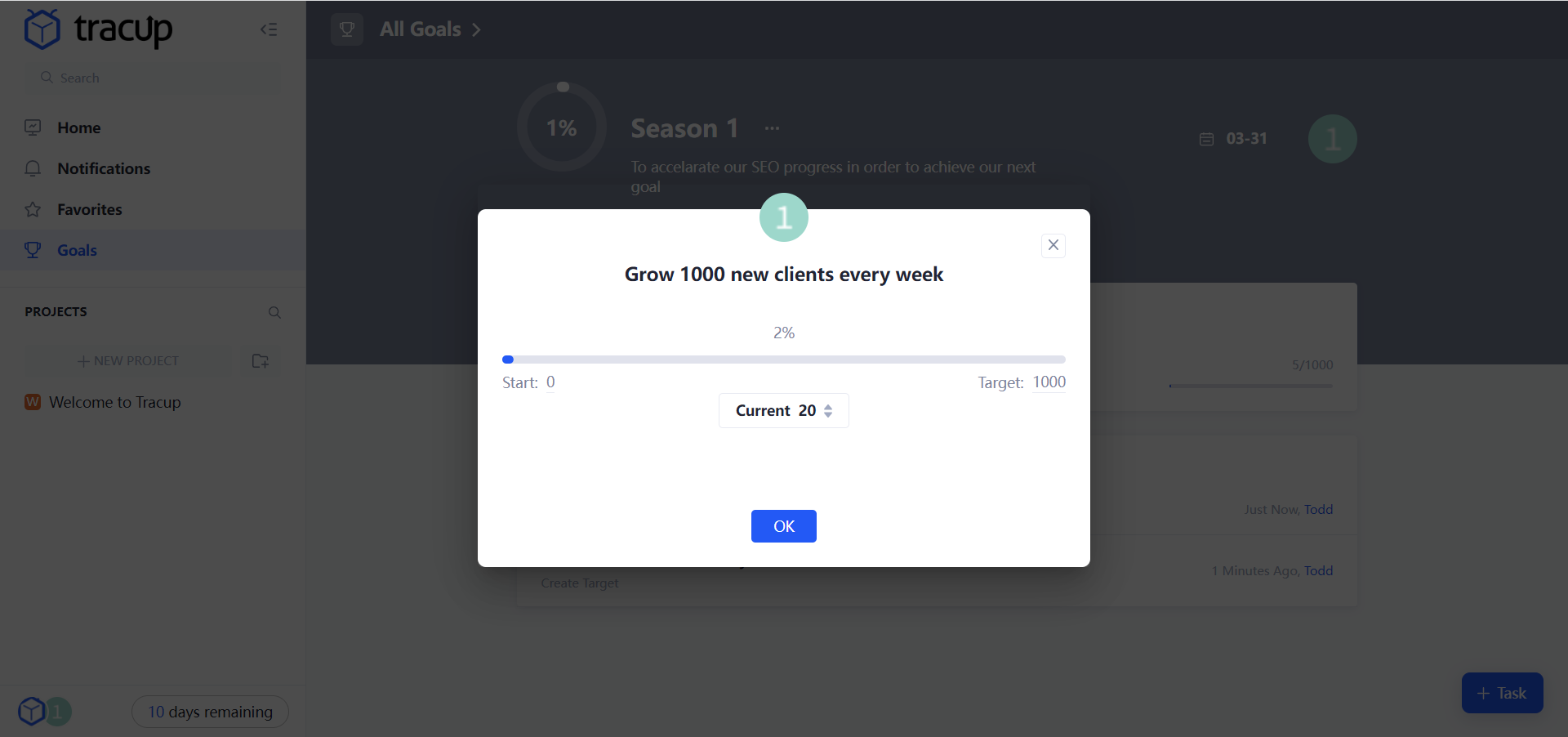 By adding the numbers or type a number next to Current, you will be able to change the progress of a target.
You will see all the changes in your goal board.
Total Progress: the upper left shows the total progress of your goal. With every percentage adds to your total progress, it is not only a excitation, but also an inspiration to your team!
Activities: on the lower left is the activities made after editing the target bar, whether you make some changes on targets, or delete/add a new target.
Time and Member: on the right hand side of each activity, there is info of time and members. In this way, you will understand when does somebody do their job to help with goals.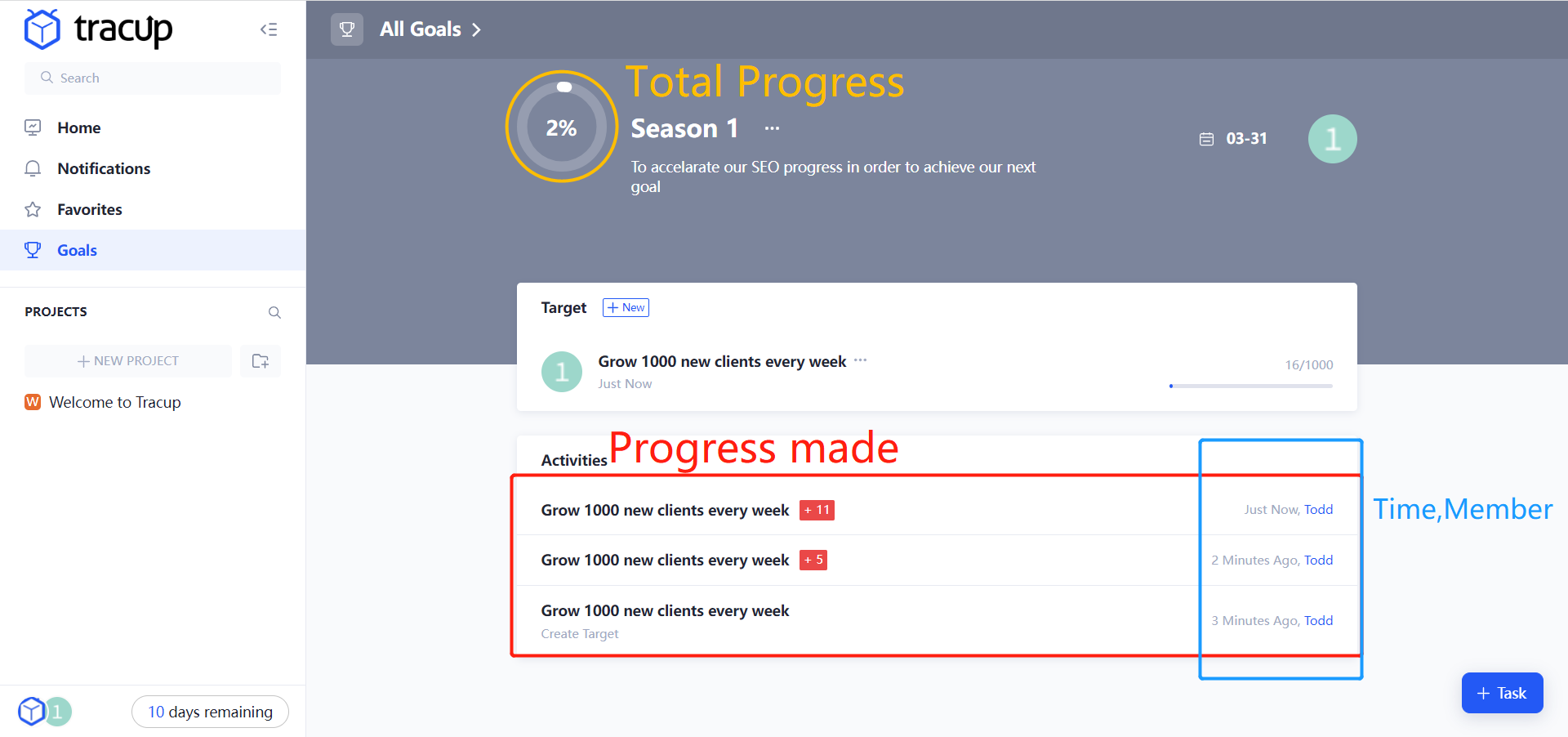 True/False
True or false is actually not that important, but seeing the status of a target, whether it is in progress or completed, is important!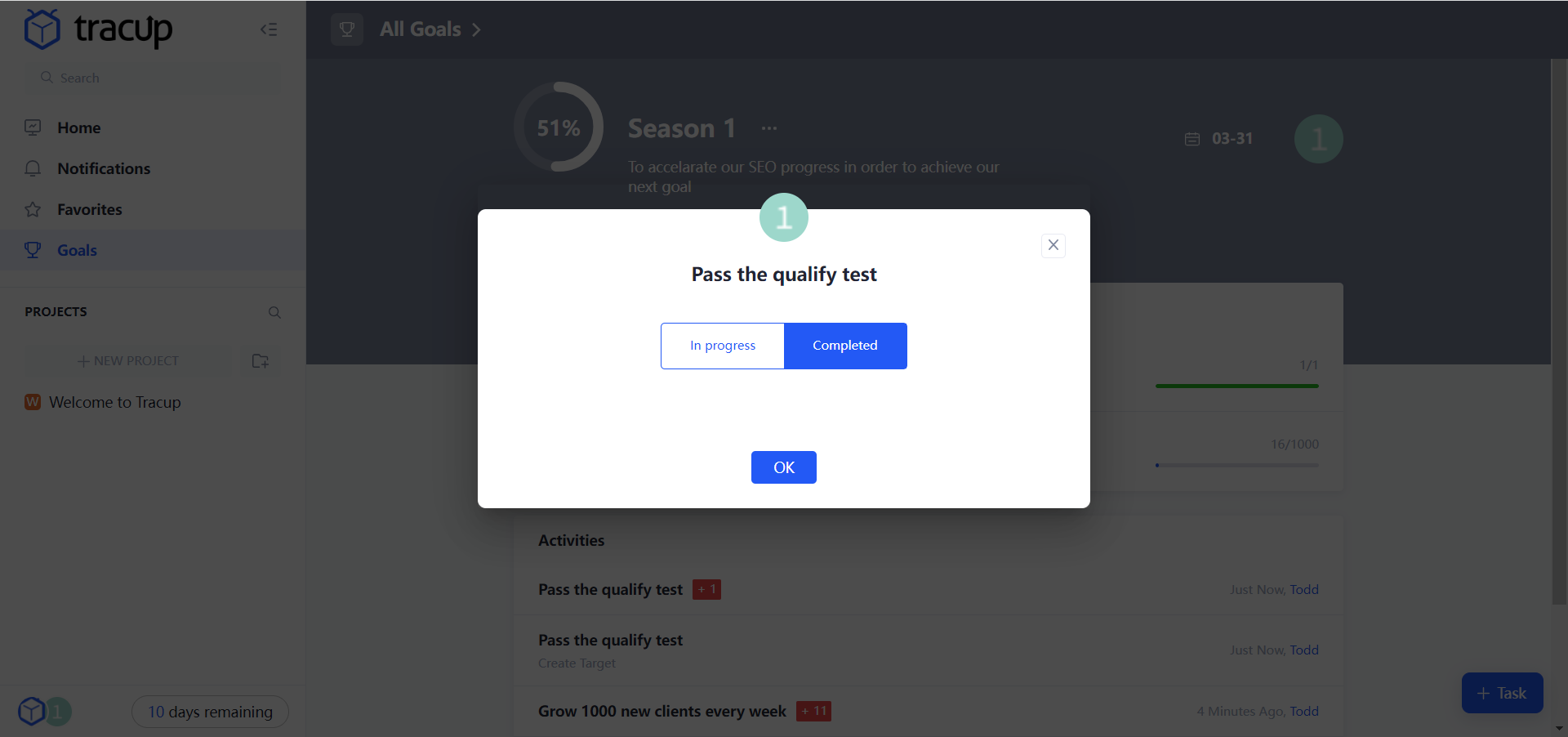 Simply open the created target in True/False form, and you will see two options for you to choose: In Progress and Completed.
It is very easy to understand what is this section for. Determine a status of a target, if it is finished, click the Completed button and make it a goal!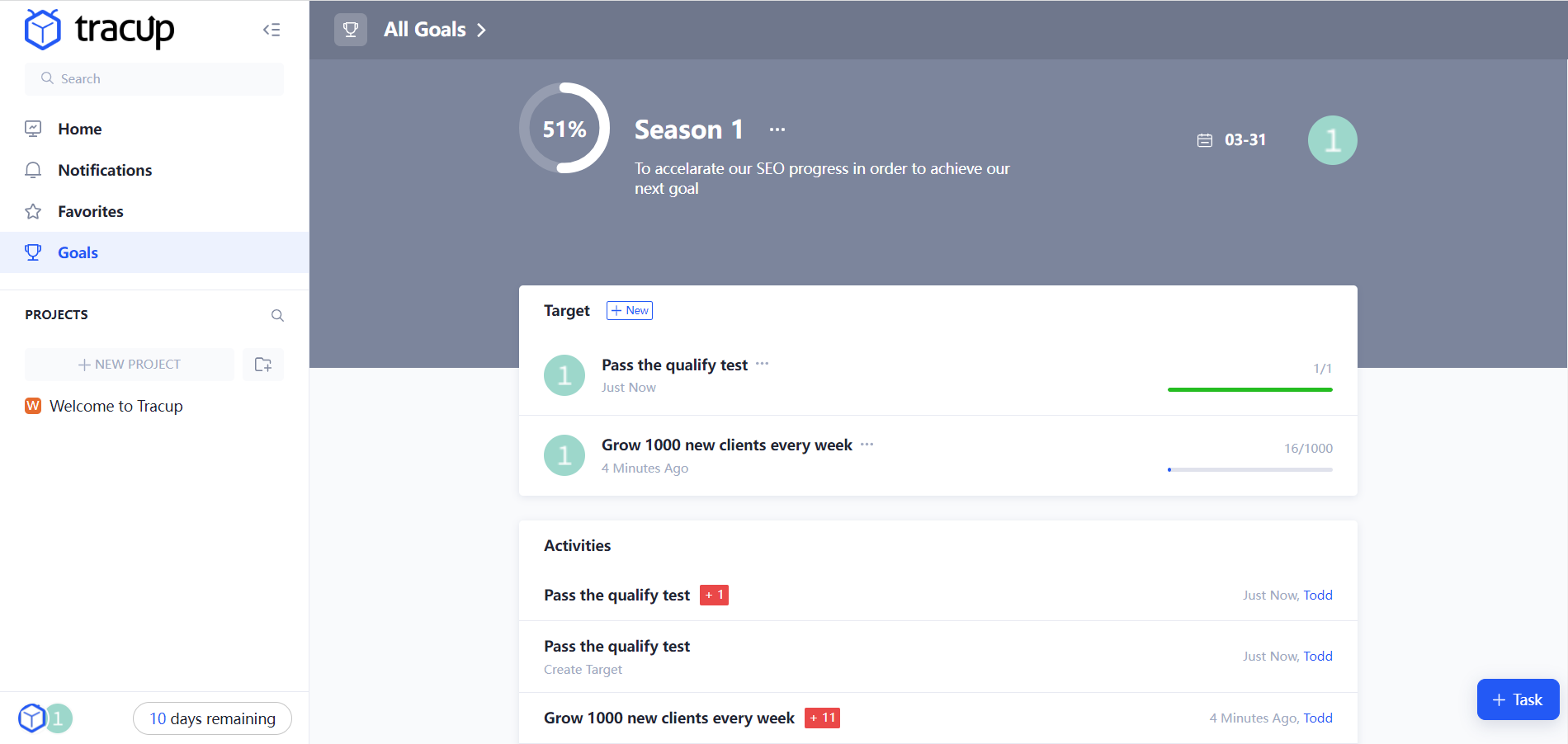 A completed target bar will turn green and make influence to the Total Progress section.
Work together and hit every target you make!
Currency
Setting up your budget for a program, project, event, short/long term plan is necessary for every provident group. Budget control prepares for any emergency situations.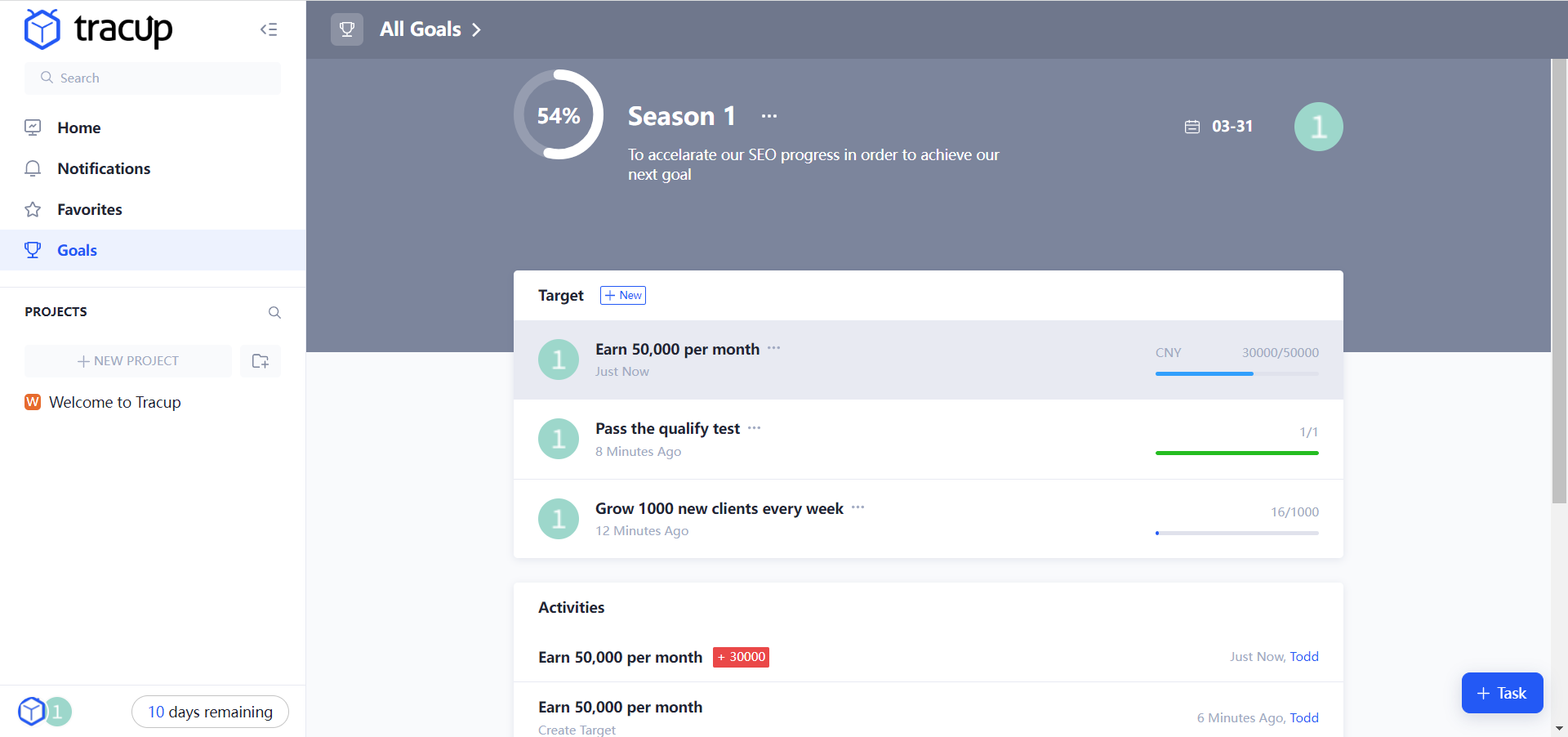 See the picture above, for example, we are having a business with a company located in China. They will pay for every delivered customized template. So we set up our target to produce an approximate amount of templates and want to get 50,000 CNY in revenue. Each earning could reflect on the target and show under activities.
This Currency goal setting is a great way to track your budget and inspire team to make more effort. With its easy-to-read bars, you can quickly identify where your goal is heading and how much you have left. Additionally, you can set up budgets to make sure you don't spend more than you have planned, enabling you to keep tabs on your finances more easily. All of these features make Currency a great tool for budget tracking.
Task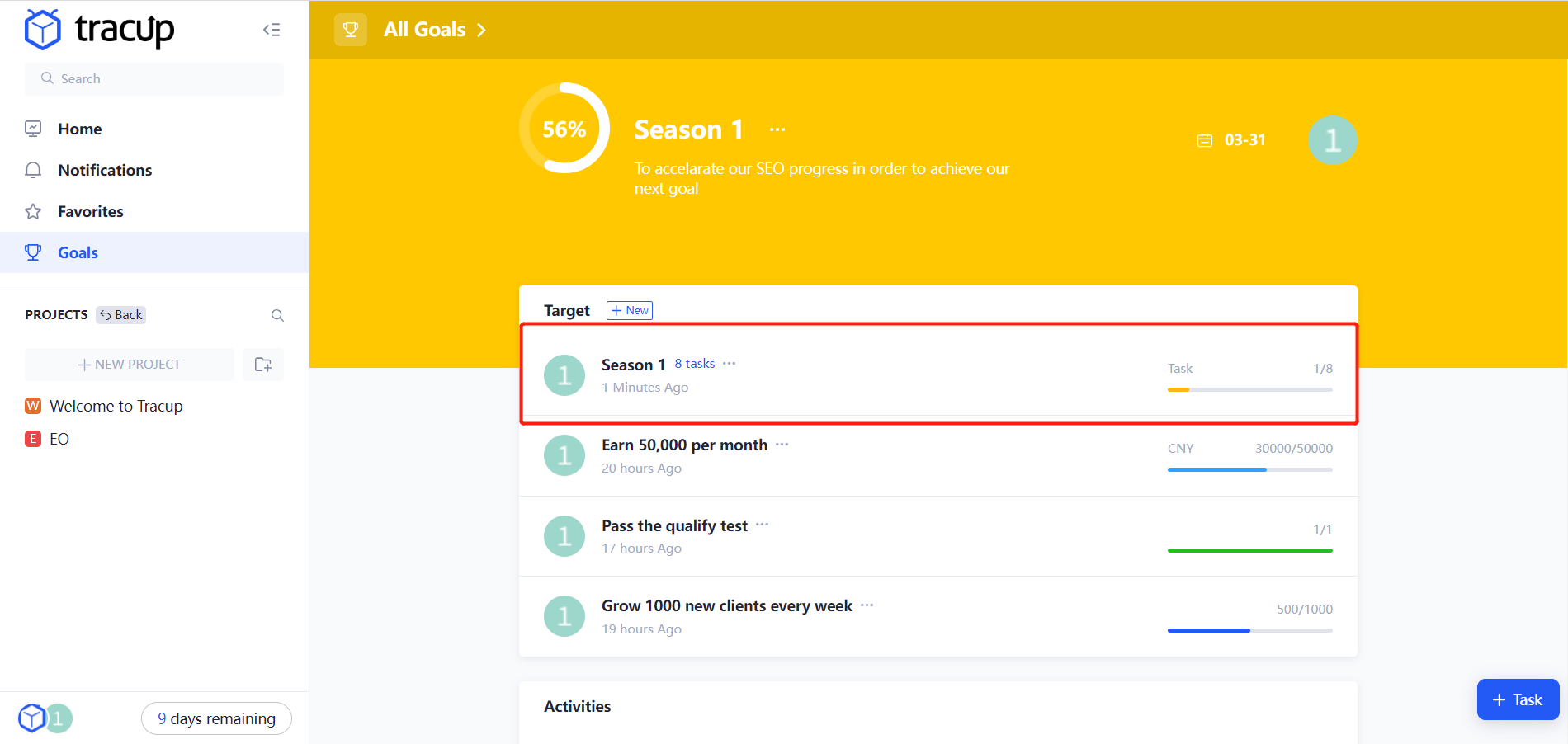 Task target operates in a different way from other 3 types of targets. To create a task related target, you are required to choose a series of tasks that linked with this target. The progress bar would move along with each completion of a task.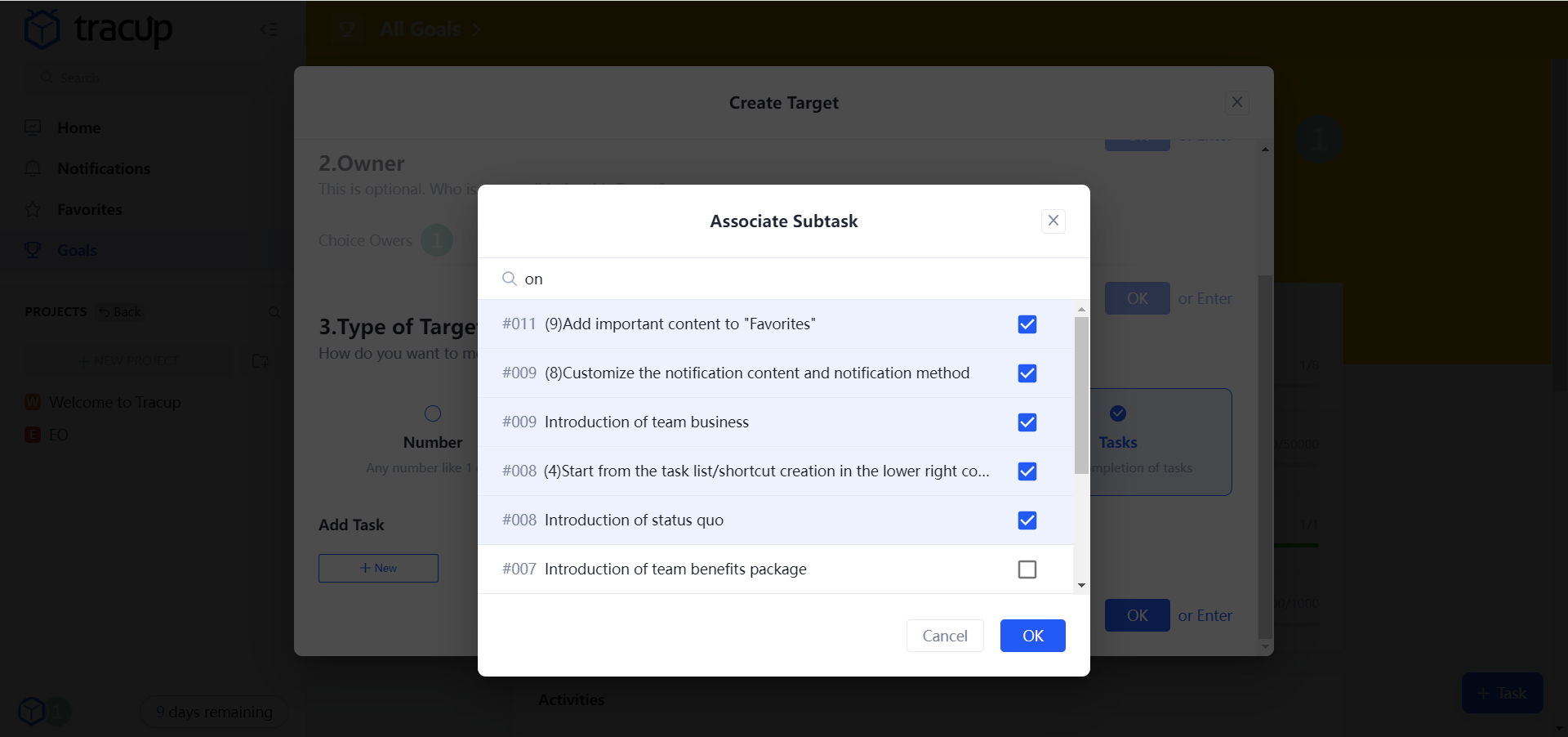 Task target is a great way that encourages collaboration, accountability and transparency. By setting milestones and goals, teams are able to stay on track and measure progress over time. This helps them to stay focused, while inspiring each other to achieve greater success. It is essential to have a good milestone system in place to help keep your team motivated, organized, and productive. Milestones help teams stay on track and strive for the best possible outcomes. They also inspire creativity and innovation, encouraging everyone to work together to reach the end goal. Tracking milestones visually can be a great way for teams to monitor their progress and stay encouraged about reaching their goals. All of these things can be tracked and managed in Tracup too.
Pick A Color for Your Goals
Pick a background for your Goals to make it special!
Simply click "…" next to your Goals' title and choose "Change Color."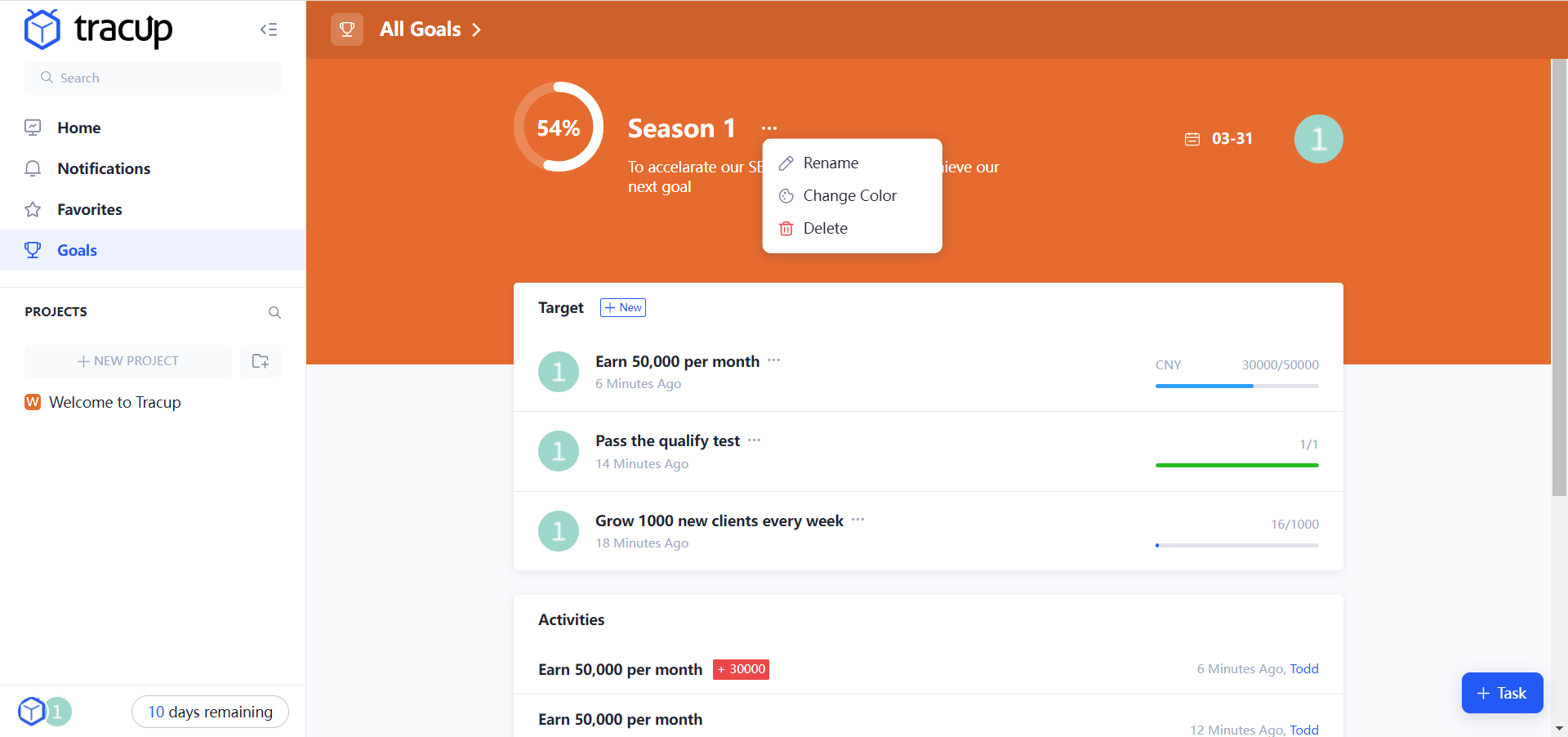 Differentiate goals in various colors, for example, make a busy season goal in red, make a slack season goal in gray.
The end
The goal-oriented approach to project management software is a great way to ensure success on any project. By setting measurable goals, organizations can track progress and sustain momentum. Goals provide a framework for success, setting expectations and establishing milestones along the way to identify what work needs to be accomplished. Tracking goals also helps to keep teams on the same page and focused on key objectives, so the desired outcome can be reached in a timely manner.
Having a full understanding of where the project is in terms of progress and milestones can also reduce stress and eliminate potential hiccups. Project managers will also benefit from goals, as they allow for improved organization, communication, and collaboration throughout the entire project planning process. In conclusion, goal management in project management software is beneficial for all stakeholders—from the customer to the project manager—and provides an effective framework for smart and successful project management.
Tracup is revolutionizing the way we view success. By helping both business professionals and students become more effective and productive, Tracup allows users to get a better understanding of their individual goals and create strategies to achieve them.
Tracup's personal success tracking system helps users identify their goals, visualize them, and track them. It offers users the flexibility to manage their personal and professional objectives, set goals and arrange their workflows in the most efficient manner.
Tracup also motivates users by providing reminders and visual progress updates, giving them confidence to take on and achieve new goals. With inspirational messages and words of encouragement, Tracup helps build self-discipline and awareness for greater achievement.
This is the ultimate tool for achieving success and staying competitive in these ever changing times. By offering the right balance of motivation and organization,Goals help users break their ambitious goals down into manageable pieces, making success far more attainable.
You may always send us an email at todd@tracup.com with your suggestions and experiences, which we could include in any of our next pieces. Please forward this content to anybody you think would find it interesting. Discover more at Tracup blog.